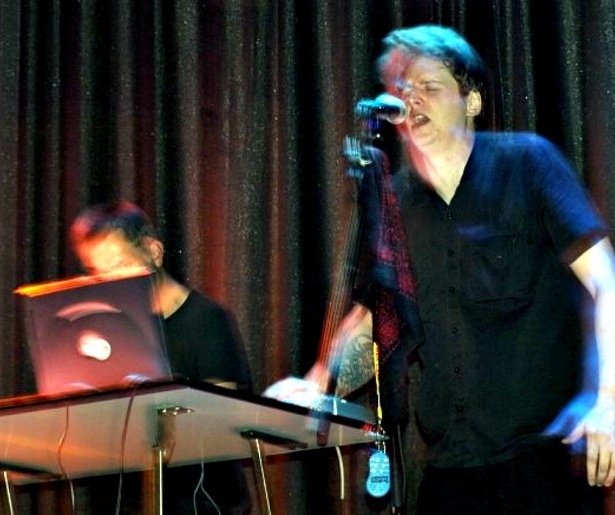 Call it the soundtrack to the end times, but in this new millennium, human beings seem more and more drawn to noise as music. Some people, of course, still need structure, a backbeat even, in order to regard sound as official music. But in New Orleans – and many of America's other 'hip' cities – pure sound is often enough.
"From my perspective, in the last two to three years it's actually become what you could call a scene as opposed to just a curiosity," says Michael Bevis, who has been a local noise and sound artist for almost three decades. "There are noise shows all the time now. It's always been here, but a lot of us were loosely confederated because there was no rallying cry."
Bevis remembers New Orleans's last noise "renaissance" in the late 90s: "There was MC Tracheotomy and Quintron doing noisy music at the time. Crash Worship would come from the west coast and play, and that really influenced New Orleans. Our band GIMP was arguably the first straight noise band in the city."
"And after like '96 or '97, real life took hold, and a lot of people drifted off," he adds. "But now it seems to have come back, and reached a point of legitimacy," chuckles Bevis. "The old cats are still here, but now the younger kids are picking up the noise banner and running with it, and they have a lot more energy and resources than we did."
Deacon John's son Keith Moore first designed New Orleans's now 12-year-old NOizeFest as a place where all the city's random outcast noisemakers could meet once a year. NOizeFest remains more a convention of noise artists, with almost no traditional audience.
For all that, Moore's festival enabled the meeting of many lonely bedroom noise artists who went on to collaborate, set up shows, and eventually accommodate more official events, like the touring International Noise Conference. Sebastian Figueroa, known as Proud/Father, regularly hosts noise shows wherever they'll let him, including the first New Orleans appearance by classic Japanese noise act, Hijokaidan. And now, this October brings us another two-night noise extravaganza: the New Orleans Sound Art Festival (NOSAF), which runs Oct 22-23.
"I didn't want to use the word 'noise' in the title," says NOSAF impresario Corey Cruise. "Among these artists there's so much diversity of sound, that 'noise' is not a good descriptor. This festival is just about: every sound doesn't have to have a structure or other preconditions for you to hear and enjoy it and learn from it. That's why I went with the term 'sound art.'"
Like "dance music," the words "noise" and "sound" are not truly good descriptors, since abstract audio comes in endless forms, with any type of instrumentation. "The first night of the New Orleans Sound Art Fest (Oct 22nd, Sanctuary Art Space) will have everything from beautiful drone-y soundscapes and ambient music to harsh noise and power electronics," promises Cruise. "It will go from very pastoral, kind of meditative sounds, to very aggressive and blistering."
Some 30 acts from 12 different states are slated to perform on NOSAF's first night. Thirteen of the acts are local, including Proud/Father, Frigid, and Fatplastik. "That's the more free form drone and harsh noise night," says Cruise. Also on the bill will be Michael Bevis' duo Star of Kaos with Karl DeMolay.
"This will be the first show we've done in three or four years," says Bevis. "We've changed a lot in that time; everything we use is analog now – no laptops – and everything is live, with no relying on sequencers. It's a lot of drone-y noise pastiche kind of stuff, but there's going to be some melody in there."
The festival's second night (held at Siberia on the 23rd), says Cruise, "is the more rhythmic end of things – I don't want to say it's more 'musical' but…there will be more structure, and longer sets. That's not any better or worse," he adds, "just different."
Along with out-of-town noise heavyweights Rodger Stella and John Vance, the NOSAF welcomes American drum-and-bass and breakcore artist, End.User, for a special two-hour long set. "He's one of the best in the world," says Cruise. "Not that many people in America are into that music, but he goes to Europe and plays all these huge festivals."
End.User's long, second-night set will include selected collaborations with local artists. "He was given the option of having some improv time, and he basically said he wanted to work with me," says an excited Michael Bevis. "He works more in the world of breakbeat, so I am probably going to do some ambient level stuff. It's his set, so I will let him lead."
Many artists like Cruise and Bevis long ago accepted life and performance on the margins. Still, they do enjoy the occasional period of musical equality. "For 25 or 30 years I've been making music in this city, and there are more noise musicians now than I have ever seen here before," says Bevis. "I am really excited for this to happen."
The New Orleans Sound Arts Festival, Day 1, will be held Oct. 22, at Sanctuary Cultural Arts Center (2525 Burgundy Street), 5pm door, admission $10. Day 2 will be held Oct. 23, at Siberia (2227 St. Claude), 9pm, admission $10. Above image – Star of Kaos via Facebook.