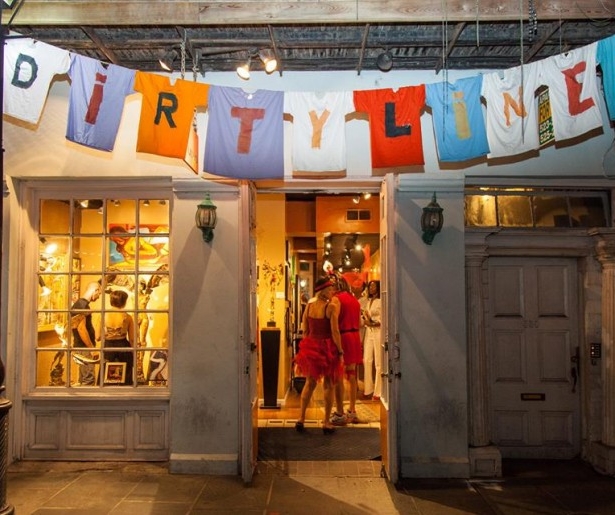 SHARE
Arts aficionados, or just those who like good food, drink and pedestrian thoroughfares: the 12th Annual Dirty Linen Night (presented by Iberia Bank. Thanks champagne – er, sponsors!) takes place this Saturday, Aug 10th, from 6-10pm, across the 200 to 1000 blocks of Royal Street. All nine blocks will be closed to vehicular traffic from 2-11pm, but pedestrians are invited – hell, encouraged – to stroll the street.
The Arts Council of New Orleans is expecting 10,000 guests, up from last year's 8,500, split fairly evenly between locals and tourists.
Dirty Linen started as a response/gentle tweaking of the nose of White Linen Night, held the previous week on Julia St. The idea came from Tracy Thomson, owner of Kabuki Hats if White Linen was Chardonnay and chic, Dirty Linen was a shot of whiskey in a funky co-op.
There's been a lot of bleed over between the audiences at the two events in the past 12 years; White Linen has some grungies and Dirty Linen has some glitterati. They're both damned fun. Here's an insider take from Morgan Sasser, who works with the Arts Council and has been organizing the whole shebang.
Any can't miss galleries?
I love Antieau Gallery. They've been at this for a few years. It's a really beautiful space. There's one female artist who works with quilt and collage concepts to design pseudo illustrative stories. They're homey without being decorative, and they're very unique, and they're very inspiring. Like your inner 10-year old child given creative reign, but done tastefully.
Tresor Gallery – they've just opened up. Just walking into the space, it's a small space, but it's great. It has more contemporary work, and they tend to have a younger artist clientele base, and there's just a lot of diversity. While older oyal St galleries may focus on New Orleans – which is great – I could see these guys taking precedent in Chicago or New York.
And Angela King Gallery, they're wonderful. Closer to Canal St. it's a bright beautiful space. There's a lot of painterly work, going all the way to more abstract, DaDa structure.
Where should I park?
If you were coming from out of town, there's a great lot, Central Parking Lot, at N Rampart & Conti. It's usually pretty open. There's also good street parking along Rampart street, but walk with somebody at night (Editor's Note Burgundy St in the Quarter is bad for muggings).
What about food?
We're adding food vendors this year for the first time. I looked no further than the vendors I use when we manage the arts market in Palmer Park. So we are working with Bratz Y'all and Woody's Fish Tacos, Crepes a la Cart and bon vivant. Plus Plum Street Snoball, which is always a favorite.
I gotta get my drink on.
Well, also for the first time, we have five bars on the street this year. We have Abita stocked at all of those bars, and we have Republic stocking our liquor. And those bars will all be manned by Arts Council staff members.
How does one come correct to Dirty Linen?
Although wearing Dirty Linen was kind of the joke, it's also definitely done. And I've seen people come out in dapper clothing. I've seen everything from full seersucker to burlesque dancers. It's more creative then what you see on Julia St, more nitty gritty. Ultimately, most people will wear cool attire that keeps them breezy.
After the show it's the…
After party. Definitely: hit up the after party at Latrobe's. There's gonna be drinks, DJs and drag queens. One is named Madonathan.
(from 9pm-midnight, 400 block of Royal Street; get tickets here).
What sets Dirty Linen apart from other Arts Council Events?
Our direct and immediate outreach to the community and the artists and the gallery owners. There are artists out there who are part of the Artist As Entrepreneur program, instructing artists on how to take their work to the next level, and it's really inspiring to see someone who maybe participated in the arts market a year ago, who now has their own space or is part of a collective with real estate Royal St. That's amazing.
Images courtesy of Dirty Linen