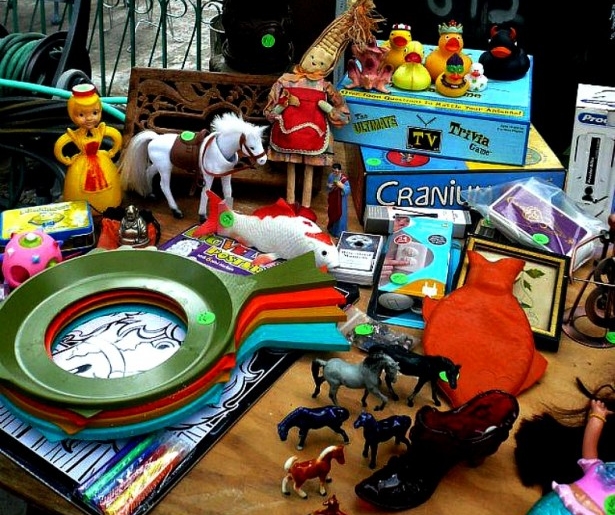 Flea markets are unlike other markets, as their loyal patrons and merchants are quick to tell you.
Clothing designer, nutria fur artist, author and frequent contributor to this website, Cree McCree, knows her flea markets.
"When I moved here in 2001, I assumed New Orleans would have a thriving flea market scene, like I'd seen all over the country. I buy vintage clothes, so I was looking for a place where they were selling weird stuff. After all, this is where Jean Lafitte had the original flea market!" says McCree, who has been a flea market maven since the 1970s in New York.
How much of a maven? She literally wrote the book on flea markets: the (now over 30-years-old) Flea Market America: A Complete Guide to Flea Enterprise. New Orleans writer Ian McNulty once called McCree, "the Godmother of New Orleans flea markets."
But McCree found that New Orleans, while boasting a lot of wonderful junk shops and art markets, only has a few true flea markets. "When I didn't find that here," she says, "I had to create my own."
McCree first improved the city with the Mermaid Gardens Flea Market at the now defunct Mermaid Lounge. "Mermaid Gardens was a great little market," remembers McCree, whose husband, famous noise guitarist Donald Miller, sells classic literature at all his wife's markets. "It set my template."
When the Mermaid Lounge closed in 2004, McCree moved her monthly market to the Kingpin bar, Uptown. "I found out only later that the site outside the Kingpin had once been one of New Orleans' original markets, back when there were markets all over town, mostly fruits and vegetables, but always other stuff that could maybe qualify it as a long ago flea market!"
At her current Piety Street Market (612 Piety St, second Saturday of each month) at the Old Iron Works in Bywater, Cree upholds the belief that, "A true flea market is about trash, and it's about treasure. And so, we have almost no rules," she says.
"Because we're not juried, and anyone can set up a table, it's artist and craftspeople, and musicians and regular people bringing their vinyl records, their garage sale stuff," she adds. "New merchandise is the cancer of flea markets. When people start showing up with the new white tube socks and stuff, I'm out. I want it to be like a garage sale, not discount prices on new merchandise."
When she needs a good local flea herself, Cree takes her money to the River Road Flea Market (3908 River Rd, Jefferson Parish, open Thu-Mon). "A lot of the hats I re-purpose I buy for them, including several from my new haute couture line," says McCree. The River road market has been open since 1988, and boasts over 4000 square feet of antiques, collectibles and more.
"River road is totally worth the title flea market because they have things that are junky and things that are fine: trash and treasure," says McCree.
Though the Algiers Mini Flea Market (2105 Behrman Hwy, every Sat and Sunday) offers lots of new cheap merchandise, it still basically fulfills McCree's ideal of a flea market: "A little village of all kinds of characters that just springs to life." In point of fact, the Algiers affair is three flea markets in one, and one of the more culturally interesting events in New Orleans to boot.
The first of its three markets, called Algiers Mini Mart, opened in 1974 as a simple sno-ball stand. Today it hosts booths selling hot-pants and hip-hop sneakers, a fruit and vegetable area, and a small fry kitchen. In the vast market's middle section, known as Algiers Flea Market, several barbers cut hair amid used clothing, old tools, DVDs and even video tapes. To be honest, it's nothing too amazing…
But the real draw of the Algiers market is the Latin food festival that emerges every weekend, with booths, stands and trucks selling delicious grub from all over Central America and Mexico. The market's back section, known as Dix Jazz Mart, hosts no less than three pupusa (stuffed tortilla) stands lined with picnic benches topped with jars of colorful curtido (fermented Salvadoran coleslaw in vinegar) chumol (pickled cauliflower, carrot, and jalapeno) and encurtido (pickled onion, jalapeno, and beets).
Fruit stands offer jugos naturales to wash down pollo con tajadas (fried chicken and green plantains covered in mole sauce, served over shredded cabbage), chuletas (spicy fried pork chops and fried yellow rice), carne asada (marinated beef flap steak, seared, topped with gravy, and served over yellow rice), costilla puerco (barbecued pork back ribs in a green sauce), and chicharra (chicharron) con yuca (a stew of lemon-fried pork served over starchy yuca plant). They even sell Coca-Cola in the extra thick glass bottles rarely seen in North America.
The city's other best flea market is undoubtedly Little Flea (Sophie B. Wright Park, Lower Garden District, 11am to 4pm on the second and last Sunday of each month).
"Little Flea is an outdoor popup with artisans and also used, vintage and new furniture, vintage clothing plus sometimes new designers — it's a good mix of local designers and retailers," says Jess Leigh Gholston, who has sold jewelry at the market since it started two years ago.
Though Little Flea passes muster for flea connoisseurs like Cree McCree, it's nonetheless very different from other markets mentioned above. "I feel like the crowd is a little younger than your typical flea market. "There's usually someone there making adult beverages. And not anyone can sell at Little Flea; they have to be pre-approved. Which screens out people who aren't selling anything vintage, just used, or else made in China crap," says Gholston.
She certainly understands the difference. "This is the only flea market I do because I am a maker, an artisan, whereas traditionally flea markets are more for people who are procuring a collection, and come to sell from their collection.
"A flea market," she says, echoing McCree's sentiments, "shouldn't be an art market."
Image: the Piety Street Market, via its Facebook page.