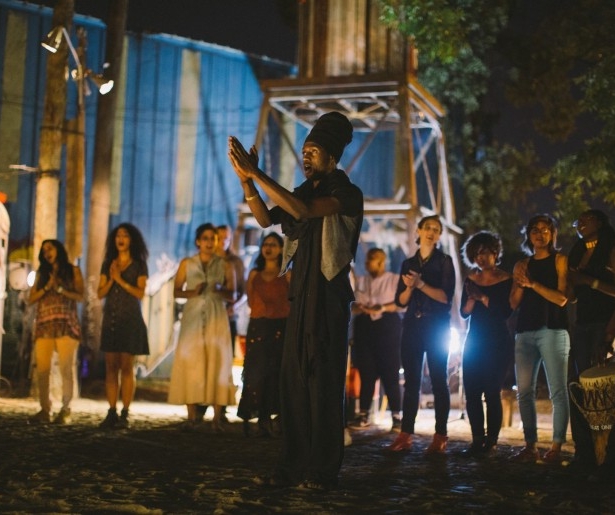 New Orleans gets so busy for Halloween in the weeks before Halloween, that by the time actual Halloween rolls around you can get sick to death of Halloween. But for those locals and visitors with stamina, All Saints weekend proper (which this year runs until Monday night, October 31st) offers some ghoulish treats:
For eighteen years, Voodoo Authentica has hosted this celebration – which is not to be confused with the similarly titled music festival in City Park. VoodooFest on Dumaine Street packs an incredible amount of information, entertainment, and voodoo-inspired gift shopping into one very full Halloween day event.
Priests on hand to speak and teach this year will include Houngan Matt from Haiti (conducting VooDoo 101), Haitian-Initiated Cajun Voodoo Priest Jesse Brunet (speaking about the history of Cajuns contributions to voodoo), and Priestess Mambo Marsha, who will give a talk about the role that song and rhythm play in honoring the Lwa – the spirits of the Voodoo pantheon – during a religious ceremony. Several authors will also speak on various voodoo-related topics, including Dr. Ina Fandrich, who will discuss the life and times of Marie Laveaux.
A small market will sell practitioner-made potion oils, gris gris bags, voodoo dolls, plus African and Haitian art (perfect presents for the upcoming holidays, maybe?).
VoodooFest ends at 7pm with a closing ancestral healing ritual, featuring Haitian Vodou priestesses, Mama Lola, Mambo Maggie and Mambo Marsha, plus New Orleans' own Voodoo Priest, Doctor Glover, with accompaniment by musician Sunpie Barnes, Luther Gray, Houngan Piterson and the Voodoo Authentica Ritual Troupe. Attendees are encouraged to bring drums.
2016 Witchcraft and Whimsy Halloween Cruise
This October 28, the Creole Queen Riverboat gets macabre to benefit the Pagan Pride Project. A regular five-star Creole buffet and drinks will be served on the old-timey cruise down the Mississippi. But on this night things are slightly…different.
On hand at the floating costume party will be tarot readers Helen Osterhold, a card reader from New Orleans Lamplight Circle, and Juliet Pazera of the New Orleans School for Esoteric Arts (formerly of Bottom of the Cup Tearoom).
Music ("witch rock") will be provided by The Long Losts, a band that describes itself as, "If Tim Burton hired Siouxsie Sioux and Johnny Ramone to write the soundtrack for a romantic movie that takes place at a haunted carnival."
Tickets are $77. Boarding is at 6pm, and the cruise lasts from 7-9pm.
6t'9 Social Aid and Pleasure Club's 9th Annual Pumpkin Parade
Following Hurricane Katrina, the 6t'9 Social Aid and Pleasure Club was born, to offer company and help to neighbors from the Sixth Ward to the Ninth Ward ('6t'9'. Get it?), and also put on the city's first costumed parade after the storm. Following a three-year hiatus (after some of its founders moved away), this year the torch has been passed and the Halloween-themed Krewe of 6t'9 has been resurrected for what is technically its 9th annual Pumpkin Parade, featuring this year's theme "6t'9 Lives!"
Rowdy revelers throwing candy to the masses will be lead by the Martin Luther King Jr. High School Marching Band, the Noisician Coalition and the Free Spirit Brass Band. This year's parade will honor neighborhood heroes Henry Youngblood and Ms. Marian Colbert.
The parade rolls on Saturday, October 29th, from 6 to 9pm, marching from the 6th Ward to the 9th Ward, beginning at 1020 Henriette Delille St, between St. Philip and Ursulines, and ending on the corner of Franklin & Royal. Membership in the krewe is $69 for an individual, $500 for groups of 10 or more. Children of members roll for free.
Rendez-Vous Doux in Three Keys
New Orleans is the site of the Ace Hotel's newest impeccably nice chain nightclub, Three Keys. Among the Ace Hotel's many ambitious events in its first year, "Rendez-Vous Doux in Three Keys" is a four-night Halloween festival of new and progressive music.
Friday night (Oct 28) features Inspektor Sodapop and the band Dead Marshes, plus sets by intelligent electro artist AF THE NAYSAYER, as well as other DJs and computer artists. Saturday night (Oct. 29) is the club's Viberian Experience, featuring Grace Gibson, Jneiro Jarel and Microclimate among others, while Sunday night (Oct 30) brings Sex Dex and the Fresh to Three Keys, with Lil Jodeci, DJ Otto and more.
Monday (Halloween night!) wraps up the series in the hotel's Lobby Bar, with DJs Skeez, Natty Boom and Perpetual Care. Each show is free with RSVP, and runs from 7pm to 3am.
Nightmare on Grunch Street at the Music Box
New Orleans' much-celebrated musical village, The Music Box – a conglomeration of fascinating sound-generating art installations – recently procured a permanent space in Bywater (where Rampart Street hits the Industrial Canal). On the 31st, the music box will be haunted by monsters, and from 6-7pm, those monsters will focus on giving out candy to young costumed trick-or-treaters.
At 7pm, the Live Monster Musical House Band provides an extra layer of sound plus interactive theatrics, followed by a live "goat ritual" (aka petting zoo). From 9 to 10pm, guests are welcome to explore and play the 'instruments' within the musical village.
'Nightmare on Grunch Street costs $13 for adults and $8 for kids under 12.
Beyond the Haunted Puddle, at PORT
Provocative New Orleans street artist You Go Girl conceived and produced this immersive haunting experience at the PORT art and theater space in the 9th Ward. The haunted artistic production revolves around the mystery of two children who disappear into a massive pothole puddle in the Ninth Ward. Though the early show is meant for kids, and the late show for adults, You Go Girl suggests that "those faint of heart, squeamish or prudish stay at home and keep your heads on your sweet soft pillows."
The show runs October 28-31st, at 2120 Port Street. Showtimes are 7-9pm (all ages), or 9-11pm (adults only). Tickets are $10 for children and $15 for adults.
_Above image: the Music Box Village, via New Orleans Airlift's Facebook. Photography credit Patrick Melon.