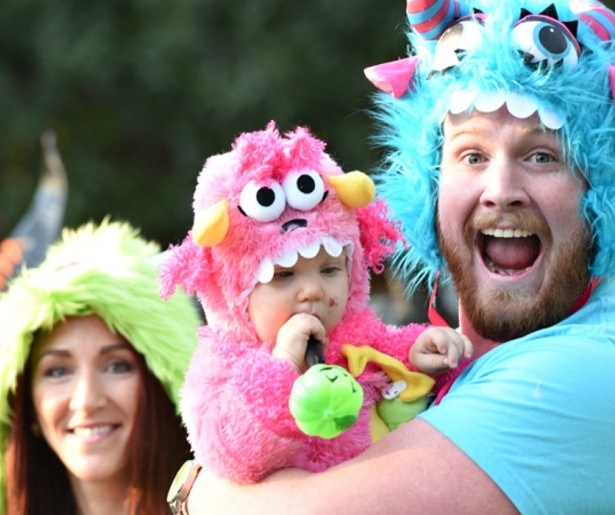 If you have a munchkin (or multiple munchkins) who loves Halloween (or dress up in general), you have probably already heard two questions this season: What am I going to be this year for Halloween, and when are we going trick-or-treating?
The answer to the first question might require some long trips to the craft shop, as well as lots of hot glue and sewing, but the second question has a simpler, more straightforward answer. While New Orleans has many great options for any family celebrating the spookiest time of the year, if you are looking for a little fright and a lot of fun, don't miss out on the Audubon Nature Institute's annual Boo at the Zoo celebration.
Spooktacular Nights
Since reconstruction following Hurricane Katrina, Boo at the Zoo has become an annual Audubon Zoo tradition. Each year, in anticipation of All Hallow's Eve, the 58-acre zoo and two thousand plus furry, feathered, and scaly inhabits are completely transformed.
Dozens of trick-or-treat stations, with festive pumpkin and skeleton decorations, are only the beginning. The zoo's train, which ordinarily provides park visitors with a showcase of the zoo's many animals and exhibits, is transformed into a ghastly zombie-themed ghost train with glow-in-the-dark lights. Plus, two haunted houses are installed on the zoo's grounds.
Bone Appetite
Carnival-style games also pop up throughout the zoo's facilities. And the concession stands, which normally serve hot dogs and nachos, are stocked with all your Halloween favorites – sticky candied apples and popcorn balls, and, of course, lots of candy.
Boo at the Zoo kicks off for two weekends in October: the 20th & 21st, and 27th & 28th. Each night, the gates will be open from 5-9pm.
Characters from the Star Wars movies and a selection of popular children's television shows will be making periodic appearances within the zoo. There will also be zombie-themed Ghost Train Ride (may be scary for young riders), a Monster Maze, trick or treat houses, a toddler area, scary and non-scary haunted houses, and live music every night, including performers like Gal Holiday and the Honky Tonk Revue.
And it is hardly a Halloween celebration without a costume contest! Attendees young and old are encouraged to wear their spookiest, furriest, most-fanged, and best costumes, with prizes being awarded for Best Group Costume and Best Stroller or Wagon (keep it G-rated).
Boo at the Zoo strives to provide a safe trick-or-treating experience for the whole family. With purchase of a ticket comes a zoo bag, and all candy and prizes given away over the course of each night is regulated by zoo staff members and a team of volunteers.
All Fur a Good Cause
If you need any more reason to stop by for one of Boo at the Zoo's fun-filled nights, remember this: proceeds from the event are going to the New Orleans Children's Hospital. Boo at the Zoo is consistently one of the Children's Hospital's biggest fundraisers, with thousands of dollars being raised to help families in need.
Image via the Audubon Nature Institute website.