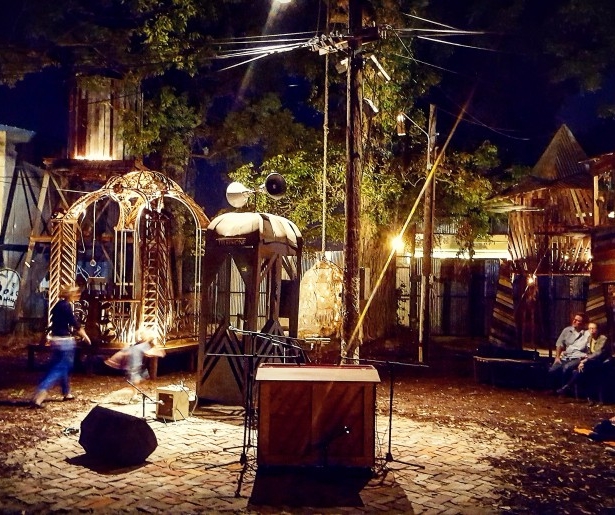 SHARE
Bruce "Sunpie" Barnes has often glimpsed his future in dreams, and as a boy growing up in Arkansas, he frequently dreamed in an unfamiliar language.
"I had lots of dreams in Creole," recalls Barnes. "I didn't know what it was until I moved to New Orleans, and started tracing my family's history in Louisiana."
But it came back to him in flash when he heard people here speaking Creole. Then he picked up the accordion – "I dreamed about the accordion before I played it" – and became a world-renowned musician leading Sunpie and the Louisiana Sunspots. Now he's tying those threads together with L'Union Creole, a consortium of Louisiana Creole musicians named after the first black-owned newspaper in the south.
On November 4 and 5, L'Union Creole joins forces with Martinique legend Dede Saint-Prix, Cote D'Ivoire percussionist Seguenon Kone and Opera Creole to celebrate the grand opening of the permanent home of New Orleans Airlift.
Did Barnes also dream about playing in the phantasmagorical sonic shantytown known as the Music Box?
"No, I did not," he admits with a laugh. "But it's very dreamlike itself, it gives you a dreamscape of sounds. My spirit and ideas get aligned with all of these marvelous musical apparatuses they've created with the houses."
Born in a Bywater backyard in 2011, the Music Box installation of handbuilt musical houses quickly became a creative playground for local and visiting musicians, from house conductor Quintron to Thurston Moore and Andrew WK. Under the direction of cofounders Delaney Martin, Taylor Shepherd and Jay Pennington, it evolved into a nomadic 'Roving Village'.
That incarnation culminated with a City Park installation last year, where musicians led by guest conductors William Parker and Arto Lindsay plucked, bowed, stringed, banged and rattled the ad hoc instruments, making the air reverberate with whirs, buzzes, whistles, chirps, gongs, chimes, clanks and all manner of creative sound, both natural and extraterrestrial.

Barnes was in that number for the knockout finale of the Arto Lindsay performances, along with a wildly diverse cast of players, from Solange Knowles and Meschiya Lake to pop-up brass bands to members of Barnes' own Skull and Bones Gang.
"I'd just come back from a 36-country tour with Paul Simon and Sting," Barnes recalls. "And one of the first things I did was the Music Box. That had a real grounding effect, to be back in New Orleans and dive into something like that."
Now Barnes comes full circle from the grand finale of the Roving Village to the grand opening of the Music Box's forever home.
Serendipitously located by the Industrial Canal, where passing trains and traffic over the St. Claude bridge provide an ambient sonic backdrop, the ever-evolving installation is built on an expansive tree-lined lot next to a massive metal fabrication warehouse, which serves as a workshop for building new structures.
Some constructions from previous incarnations are on the grounds, like the phone booth for vocalizing and the chime house (with even more chimes). Others are new additions, including a bell house that comes to life when you shake it and a defunct water tower salvaged from a railroad yard that acts like a sonic beacon.
Last month, at a sneak preview, house conductor Quintron gave the installation a test drive with a far-flung cast of OneBeat musicians from all over the world. That performance was pure magic, and set the stage for what's to come.
Steeped in history, Barnes' ambitious L'Union Creole production uses music, words and dance to give the audience a "tour of the Creole diaspora" from Africa to the Caribbean to Louisiana.
"[L'Union Creole] got a grant to do a CD of Louisiana Creole music, and we got the idea to have Creole-speaking musicians from other countries," says Barnes. "So I reached out to Dede Saint-Prix, who's one of my favorite musicians; I first saw him in Martinique, playing in the middle of a cane field. We did a series of concerts together, in Lafayette and New Orleans. So when they asked me about the grand opening, I wanted to keep the momentum going."
To help tell the story of the diaspora, Barnes collaborated with the Neighborhood Story Project to shed light on the historical Creole figure San Malo, who's also a patron saint aligned with Chango in vodou and St. Martin in Catholicism.
"San Malo was the leader of a huge maroon village just outside New Orleans, off Chef Menteur highway," explains Barnes, who did extensive research into his history. "He liberated enslaved people, and created a space for them, with a working sawmill that did business in and around New Orleans."
Fearing his power, the ruling Spanish authorities captured San Malo in June of 1784, and "brought him back to New Orleans," says Barnes. "After a very quick, no-recourse trial, he was executed in front of St Louis Cathedral and hung out over the levee."
Barnes commemorates the martyred saint in a song for San Malo that will be printed in a broadside poster, along with primary documents in calligraphic 18th century Spanish and artwork by noted Lafayette artist Francis Pavy, which will be available for purchase at the event.
The diaspora and San Malo provide a framework for a performance that also makes full use of the bounty of fanciful makeshift instruments the Music Box provides.
"We'll be packed full of surprises," promises Barnes. "I've got lots of ideas about creating movement, using organic sounds and combining them with music created by us. I want to serve up some Creole on a silver platter, and get people to think in Creole."
And maybe dream in Creole?
"Sure," he replies, laughing. "If you can get that, go right to it!"
Grand opening performances happen Friday, November 4 and Saturday, November 5 at 6:30pm and 8:30pm at New Orleans Airlift, 4557 N. Rampart St. Tickets, available here, are $20 in advance and can also be purchased at Euclid Records, 3301 Chartres St. $25 at the door.
Above photo by Adam Karlin.