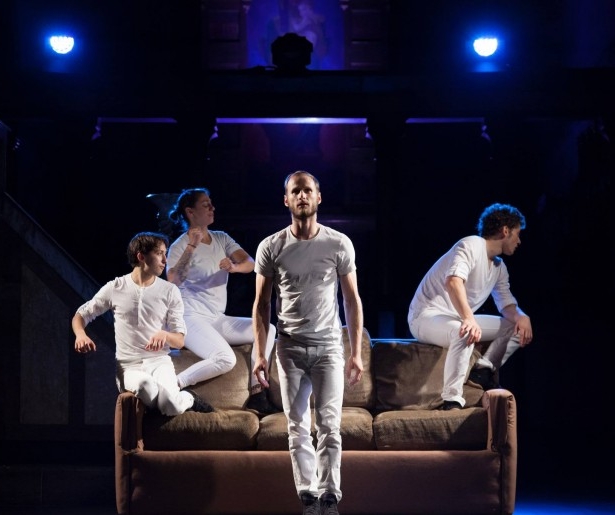 Do you like exotic cocktails? Experimental theater? Delicious food? Top-notch jazz? Parties with friends? If you like any of the above, the Faux/Real New Orleans Festival of Arts has you covered.
In its second year of existence, Faux/Real looks to bring an eclectic mix of words, song, theater, performance, food, and drink to the Crescent City from November 3-13 at a variety of locations across town. Executive producer Ben Mintz said this year tickets can be purchased online and at individual venues (the festival has abandoned the button/ticket system it used in previous years to reduce ticketing confusion).
In general, according to Mintz, this year's event will be streamlined but diverse. "We think it'll be less overwhelming, but still have lots to see," he said.
Esperanza Spalding Presents: Emily's D+Evolution
Faux/Real Festival kicks off on Thursday, November 3rd at 8pm with Esperanza Spalding Presents: Emily's D+Evolution at the Orpheum Theater.
For those unfamiliar with Esperanza Spalding, she won the Grammy for Best New Artist in 2011, beating out Justin Bieber and prompting a meltdown from Bieber fanatics on the Internet. But she didn't follow the pop-star route.
Instead, she has grown ever more adventurous and experimental in her work. The 'Emily' of the title is an alter ego of Spalding as a child. The show combines music, narrative, and performance art.
"Her work tackles a lot of the things we're talking about now – faith, gender, and race," Mintz said. "It's a theatrical performance…It's as much like a play as it is like a rock concert."
Ticket prices range from $34.50 to $59.50, but must be purchased via Ticketmaster or the Orpheum's site. This is the only Faux/Real show with this specific ticketing arrangement.
Election Night Party at Cane & Table
When Mintz saw that election night would fall during Faux/Real, he pondered how the festival should best handle the event.
"We didn't want to program any performances on election night, but we still wanted to do something in the spirit of the festival," Mintz said.
So at 7pm on November 8th, Cane & Table will host Faux's Real's Election Night Party. There will be drinks inspired by the original colonies, including an adaptation of a Ben Franklin recipe that was included in Poor Richard's Almanac. There will also be tankards of porter, which was the traditional beer at the time of the American Revolution.
Coverage of the election will be broadcast on a projection screen. Actors dressed up as town criers will ring bells and announce the election results from each state as they are finalized.
The cost of admission into Cane & Table is free. Tankards of beer will be half off for attendees who show up in colonial costume or dressed as a former U.S president.
Deconstructing Pops
It's hard to think of a more iconic New Orleanian than Louis Armstrong. On November 6th at Cafe Henri in the Bywater, Faux/Real with celebrate an evening of Louis Armstrong with Deconstructing Pops.
The event will feature a band performing classic Louis Armstrong songs in their original arrangements, and will also feature free jazz riffs of Armstrong's music.
Some of Armstrong's favorite food items will be available for purchase as well. Red beans & rice was a staple in Armstrong's diet – so much so that he'd sign letters "Red Beans & Ricely." Chop suey was another favorite – he actually wrote songs about it. The third and oddest dietary love of Armstrong's was Swiss Kriss – a laxative he used daily.
The red beans & rice and chop suey will be easy enough for Cafe Henri to serve. They will not be serving a laxative, but they will offer a better tasting version of Swiss Kriss that won't make patrons run to the restroom.
Attendees can either enter Cafe Henri for free and order a la carte or choose a $30 prix fixe option with food and drinks.
Short Plays at the Hi-Ho
On the second weekend of the festival (November 11 and 12), there will be two sessions a night featuring short 40-minute plays. There will be three different one-performer plays in each session.
The plays range from avant-garde, experimental theater to reboots of Samuel Beckett classics. Each session costs $10 at the Hi-Ho Lounge.
For more information about the festival, visit the website and enjoy! Above image via the Faux/Real Facebook page.