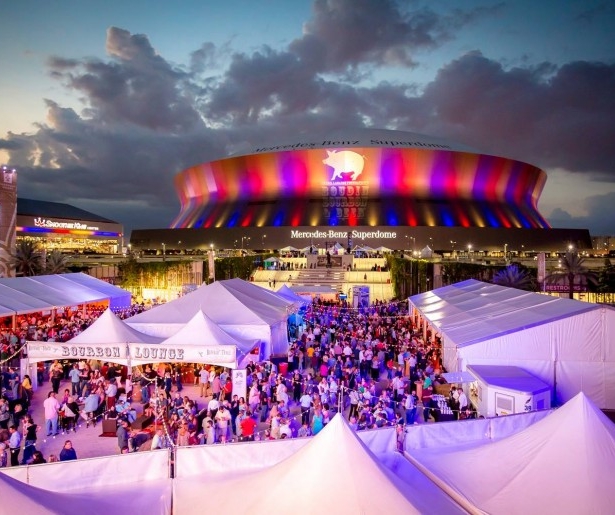 November 3rd will mark the 7th celebration of annual Boudin, Bourbon & Beer Festival, where over 60 of the nation's best chefs come together for the love of the event's namesake fare, all in support of the Emeril Lagasse Foundation.
The celebration, a 21 and over affair, kicks off in in Champion's Square from 6-10:30pm. With that said, the party originated in the parking lot between Cochon and Emeril's in the Warehouse District.
Today, the event brings in thousands of people. The idea: celebrate Louisiana via a party that is accessible to locals, alongside great food and excellent music.
Speaking of music, the 2017 musical lineup features Nathaniel Rateliff & The Night Sweats, Langhorne Slim & The Law, Kristine Diable & The City, and Silverado Pickups. An open bar with beer from Abita, specialty cocktails from Buffalo Trace and a selection of wine will be served to wet the palate for the array of boudin-inspired creations.
Best Spots for Boudin
Lovers of boudin will usually direct you outside of New Orleans for the best of the best. The tasty blend of meat, rice, onion, green pepper and seasoning is a Cajun specialty, and as such, the best examples can be found in Cajun country. With that said, we're opening with two Orleans parish favorites.
Cochon Butcher
930 Tchoupitoulas St, New Orleans, LA 70130
This New Orleans hotspot from the Link Restaurant Group serves up a classier boudin in-house or packaged to go. Their recipe uses poblano peppers and chicken livers, giving an elevated flavor to a traditional rice-to-meat ratio.
Best Stop
615 LA-93, Scott, LA 70583
Voted number 1 for 16 consecutive years by the Times of Acadiana Readers Poll, boudin here comes in the form of two links per pound. Their recipe? A combination of pork meat (including liver); onions, bell peppers, red pepper, black pepper and salt boiled and then ground; mixed with rice and more seasoning before being stuffed into a sausage-like casing.
Billy's Boudin and Cracklin
523 Apollo Rd, Scott, LA 70583
At this bare-bones shop, boudin balls are the hands down favorite. Also on the all-star list are their boudin egg rolls with pepper jack cheese – perhaps what dreams are made of.
Boudreaux's Boudin & Cajun Meats
4628 LA-22, Mandeville, LA 70471
Fresh smoked boudin satisfies palates on the North Shore. These folks serve up professionally butchered Cajun-inspired dishes for all of your down-home cravings.
Chevron
3605 N Causeway Blvd, Metairie, LA 70002
Don't ask; just go. This one is a stone's throw from New Orleans. The people like it. You will too. And fill up on some gas while you are there.
Chops Specialty Meats Inc
1019 Albertson Pkwy, Broussard, LA 70518
This place comes highly regarded thanks to their perfect mix of liver and rice. Other tasting notes? The meat is chopped, not ground, so it has lots of good texture.
Don's Specialty Meats
730 I-10 South Frontage Rd, Scott, LA 70583
These folks offer the standard and delicious combination of rice, ground pork and seasonings enshrined in sausage casing. They sell several boudin variants, in addition to standard links.
Jerry Lee's Cajun Foods
12181 Greenwell Springs Rd, Baton Rouge, LA
Family-run for over 33 years, the Duplantis family offers traditional boudin – sausage casing stuffed with fresh pork, rice, vegetables and Cajun spices.
Johnson's Boucaniere
1111 St John St, Lafayette, LA 70501
This highly regarded Lafayette restaurant and market is known for producing boudin with a "perfect flavor" thanks to notes of black pepper.
Legnon's Boucherie
410 Jefferson Terrace Blvd., New Iberia, LA 70560
Finely minced meat draws fans to this meat shop. The recipe? Ted Legnon combines Boston butt, pork trimmings, pork liver and long grain rice (in a 1:1 meat-to-rice ratio) with seasoning and vegetables.
NuNu's Fresh Markets
509 Lafayette St, Youngsville, LA 70592
This grocery store's homemade sausages won the 2008, '09 and '10 People's Choice Acadiana's Best Boudin; Boudin Cookoff. Also for sale? NuNu's Cajun Seasoning.
What is the best way to eat boudin? A traditionalist will tell you to eat it is steamed out of a crock pot or a rice cooker, still in the casing. Then pull it out between your teeth. Delicious.
More contemporary takes include "Memphis Sushi," a piece of cheddar cheese, smoked sausage and a saltine cracker with barbeque spice sprinkled on top.
Many locals swear by rural Louisiana gas stations that usually also sell diesel and cracklins. Truck stop boudin often comes with saltine crackers and yellow mustard.
Image: Emeril Lagasse Foundation, BoudinBourbonandBeer.com