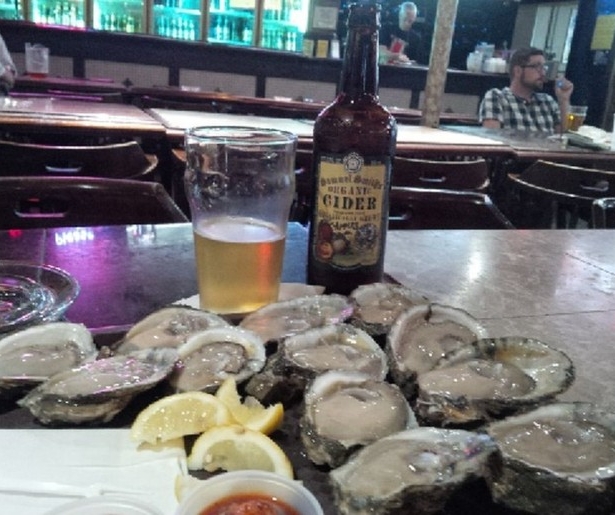 SHARE
The Riverbend is a neighborhood I rarely get the chance to enjoy. But recently, I wanted to remind myself what I've been missing. So when the right day-off came I did just that – jumped on the St. Charles Streetcar and headed uptown.
First: no matter how many times you've done it, that streetcar ride uptown to Carrolton is beautiful. And then I'm there, St. Charles and Carrolton, and I get out and walk towards the river.
Cooter Brown's is the first stop on my stroll. I can eat oysters. I frankly eat everything, but I'm not so sure I'm an "oyster guy", per se. Well, after my dozen, cold freshly shucked oysters, accompanied nicely with a Sam Smith's Cider, I decide there's still time to make the switch—they were delicious and refreshing. Also, I like that there's a 'make your own cocktail sauce' station. This was the perfect place to start my evening, and could be considered ground-zero in regards to Carrolton/Riverbend nightlife. Start here, then walk out and away from the river up Carrollton.
My next stop was the Drive-thru Daiquiri shop (8100 St Charles Ave). It's hot, I'm going to be walking up Carrolton and the Daiquiri shop couldn't be in a better location. I was eyeing the White Russian, but decided on the CrawGator. Refreshing, and possibly the best way to walk a New Orleans neutral ground. Walking up Carrollton Ave, I had almost forgot Riverbend had so much going on in terms of restaurants.
La Macarena caught my eye, so I stepped in. What made this an easy decision? The B.Y.O.B sign out front. In with my Daiquiri I went. La Macarena serves Latin cuisine, with a focus on smaller tapas plates, and it calls itself a Pupuseria. I've never heard of a pupusa before (Editor's Note: they're fried corn meal cakes with a hot filling, usually melted cheese or pork, and yes, they're wonderful), and who knew frozen daiquiris went well with tapas? Well, they do. Along with my CrawGator Daiquiri I enjoyed the Tamalitos de Cerdo and the Rellenitos de Camarones. Next time – and because of the Rellenitos there will be a next time – I'll have a pupusa.
When walking out of La Macarena, I decide to take Dublin, a street parallel to Carrollton. I wanted to capture a feel some of the neighborhood on my trek to Oak Street., and was struck by the beautiful cottages and grand homes along the way. There are a lot of perfect little strolls in this town.
I finally get to Oak Street and find I'm in a small need of a pick-me-up, so I step into Z'otz for an espresso. I love the quirkiness of this cafe, the little rooms and funky décor. It was a nice break for a relaxing read between bars and restaurants, and its open 24 hours as well.
After that caffeine shot I had to check out Mellow Mushroom. I've never been, and I know it's a chain, but it looks made for Oak Street.
Because each store is its own franchise, it does have a local feel to it (the bartenders help). I took a Negroni on ice to the balcony and looked down on Oak Street. The Maple Leaf Bar was looking to get started, so my cocktail and the river breeze was a nice jumping off point to getting things going.
Sundays, Mondays and Tuesdays are big music nights for the Maple Leaf, and on this particular night my friend Jon Cleary was playing. I love being in the Maple Leaf. Its beautiful pressed-tin walls and ceiling; the way the room fills with music and conversation; the way it always, always feels upbeat inside. The long, thin live music side of the building feels like a former shotgun house, and it's funny – and kind of awe-inspiring – to think of how many big name musicians have played here.
I can't describe the feeling I have each time I'm here, but whatever it is, I'm feeling it all over again. I'm in this tube with other people: watching, singing and dancing to whoever is on stage, and I have the same feeling I get in an airplane…we're going somewhere. I know when I leave I'll walk out onto Oak Street, but inside this rectangle, I just feel as if we're in motion.
Maybe it's just the cut-out image of James Booker above the stage that makes me feel like someone is captaining this ship. He is wearing a ship captain's hat, after all…as well as nothing else but his eye patch and tighty-whitey undearwear. Ah, New Orleans.
Jon Cleary and his band kept me later than I had planned, which is normally the case with him, but I did manage to make it to the last stop on my Carrolton/Riverbend excursion: Camellia Grill. I got to Camellia just in time for a slice of pecan pie and a song from Adriene, my server. The Grill is known for characters behind the counter, and even at last call they're as colorful and hospitable as when they open for the day. Being in the industry myself, I know this to be a rare quality. I'm impressed. And as I get back on the streetcar towards Jackson Avenue, I'm impressed with something else.
A perfect evening off in the Riverbend.