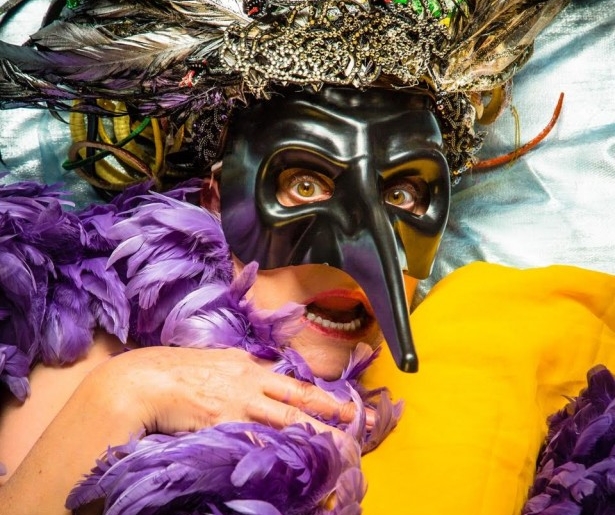 SHARE
Guy walks into a bar with a stripper and a bunch of birds. And since the guy is Tennessee Williams, high hilarity ensues amid ribald lectures in ornithology delivered by burlesque queen Bunny Love.
Welcome to Dangerous Birds, a campy evening of fun stitched together from three late-career Williams one-acts and presented in the outdoor patio of Phillips, complete with show-themed drinks from a tropical tiki bar.
"The fall show is our wild card show," says Augustin Correro, co-artistic director of the Tennessee Williams Theatre Company, which presented Small Craft Warnings at Mag's 940 in last year's wild-card slot. "And we don't hate that we keep ending up in bars. Phillips is a gem of an Uptown bar that's been around for ages. Bunny Love went there for pizza in high school."
Recently seen as The Strega in TWTC's production of The Rose Tattoo, the versatile Love segues from haggish soothsayer in Tattoo to sexy slapstick in Dangerous Birds, and is the glue that holds the madcap production together.
Love plays the title character in "The Gnädiges Fräulein," the longest (and wackiest) play. And as Professor Birdine Hazzard, she also serves as our guide to "Sunburst" and "The Pronoun 'I'", playing a bird-brained ornithologist-turned-dancer with a penchant for shedding her clothes.
"From baseball bats to megaphones to body parts, props will be flying," says Carrero about the manic action in the plays, which Williams himself deemed "cartoonish and wild". Plot points careen from crazed English royalty to political revolution to assaults by giant birds, with reefer-smoking, jewel thievery and cold-blooded murder thrown in for good measure.
Still, Williams being Williams, there's a method to all the madness.
Written during the latter part of Williams' career, with the oldest play dating back to 1964, the three one-acts touch on the playwright's personal and professional struggles at a time when his Broadway star was fading and he was pushing the bounds of conventional theater.
"The emotional punches in the plays are thrown with physical sight gags, broad comedy, and often crude and lewd characterization," says Correro. "But Williams' poetic spirit shines through, like it always does."
All three plays also celebrate prototypical "nasty women": Indomitable spirits who refuse to be cowed by circumstance or the men who try to subdue them, fighting against the odds with every tool at their disposal, from trickery and guile to bare-knuckle brawling.
While Love is the axis around which the plays revolve, Dangerous Birds is hardly a one-woman show. She's aided and abetted by a stellar ensemble of players, who double and triple their roles as they stir things up under the night sky with talons out and feathers flying.
Because the production is al fresco, theater-goers are advised to dress accordingly. "We're expecting it to be as cool or a few degrees cooler than the average theater," says Corerro, alluding to the fact that most local venues blast the AC. And if you need a little internal warmth, you can always belly up to the bar.
"Come expecting camp, low comedy, high comedy and ridiculous situation after ridiculous situation," advises Corrreo. "We want you to leave having had a good laugh, and still somehow understanding the human situation better. Which is always what Tennessee Williams was after."
'Dangerous Birds (If Agitated)' runs Friday-Sunday, November 4-20, at 8pm at Phillips Bar & Restaurant, 733 Cherokee Street, corner of Maple. Tickets, available here, are $25 general admission and $20 for students and seniors. Special dinner + performance tickets will also be available at the venue. Above image – Mary Pauley, by James Kelley.