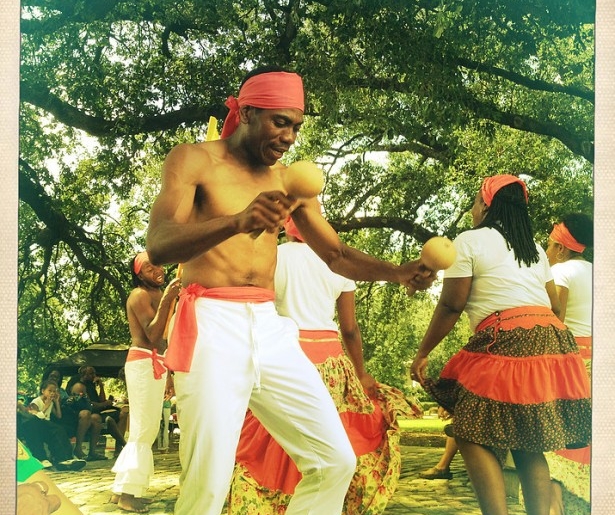 Despite all the talk of New Orleans being the "northernmost Caribbean city," our Caribbean residents here can sometimes feel lonely, set apart from one another. For this reason, 14 years ago, St. Lucia Island native Marilyn LaForce created the Bayou Bacchanal Festival as a meeting point for the New Orleans based Caribbean diaspora.
"If you've never seen the Caribbean culture for yourself, you will walk into Armstrong Park for Bayou Bacchanal, and see how we celebrate," promises LaForce. "It's an educational experience in our culture and customs. And we are all from different islands, so we all have different ways of doing things. But all of us just love our cultures and the histories that follow those cultures."
This year's Bacchanal is particularly timely – in 2016, President Barack Obama proclaimed that Louisiana would participate in Caribbean Heritage Month, which falls in June (the month when many Caribbean Islanders celebrate carnival season). LaForce's family came to America in 1982 as part of a mass Caribbean migration to Louisiana that started in the 1970s.
"Before I came here I'd never even heard of New Orleans or the name Louisiana," laughs LaForce. "We moved here for economic reasons. After the refineries was built here many of our men moved here to work. But St. Lucia too is Creole speaking, like a few other islands, because of the French influence, so I found New Orleans a lot like home. The weather, and some of our Caribbean foods, are here."
To this day, most of New Orleans' Caribbean nationals are concentrated on the West Bank. LaForce has done her part to spread that culture around the city. "I was invited one year to French Quarter Festival, and enjoyed it, and so started going to festivals around town, and wondering why we didn't have a festival," she recalls. "I once walked into a Hispanic market and saw a sign that inspired me, for the Latin American Grocers Association. I thought, if they have that, I can at least start a chamber for my people."
In 2001 LaForce founded 'Friends of Culture,' which still works year-round to link island nations of the Caribbean with New Orleans by providing information on the Caribbean's diverse cultures, and serving as a point of contact for expats. Friends of Culture led on to LaForce's own Caribbean carnival: Bayou Bacchanal.
"Until our Bayou Bacchanal there was nothing in the South really representing the Caribbean culture in this fashion," she says. "We have people now coming from Atlanta, Alabama, Florida, Houston, because Bayou Bacchanal celebrates history, culture, customs, through dancing to soca music, eating food such as curry goat — and of course our big carnival parade."
Dancer and dance instructor Marissa Joseph got involved with Bayou Bacchanal four years ago. "When I heard about it, I was very excited to have another opportunity to connect with the Caribbean side of our culture, the black part of our culture; that's very important to our Creole culture," says Joseph. "I'm originally from New Iberia, so I am a 4-H kid and a descendant of farmers, so I love to connect with people who come from agriculture, and the Caribbean culture is full of stories of agriculture."
And of course as a dancer, Joseph loves the Caribbean's soca music. "Soca is this hyper sound of emotion and feeling that generates this happiness," Joseph says, attempting to describe the genre. "It's almost a combination of our jazz and New Orleans bounce. It's the sound of the people, their stories and their happiness when they're getting ready for their carnival. Soca is the soundtrack for their carnival, like brass is the soundtrack to our second line, our Super Sunday. Everything you want to know about Caribbean culture and life, you get an idea or a feel of it through soca music."
At this year's Bayou Bacchanal, Joseph, who has created a fitness program using New Orleans bounce rap, will teach a master class with Trinidad native Keisha Huggins, who created a Caribbean music workout called Fet-Ness. "She gets people healthy and motivated through Carnival music, soca, reggae, dancehall, anything that comes from the Caribbean, in hopes to find wellness in these cultural traditions, in which they take great pride. Then what I will add to her class will be Louisiana Creole movement, and New Orleans bounce dances, all to soca music," says Joseph.
The festival begins Friday in Gretna with a "White Party," where attendees are encouraged to wear all white, and to bring and wave their "flags and rags" of various colors, representing the many Caribbean nations. On Saturday morning, at 11am, a Caribbean carnival parade rolls from Harrah's with the People's Choice Masquerade Group, Buffalo Soldiers horse riders, the steel pan band Pan Vibrations, and many a DJ, all leading dancers onto Basin Street, and finally into Armstrong Park.
Activities throughout the day should feel familiar to New Orleans residents. "We'll have masqueraders from the Caribbean, some will be coming from Houston wearing large feather headpieces, two piece type costumes with beaded and sequined costumes," says LaForce.
The festival is followed by a nighttime Fete Dance featuring DJ Lady Peppertree, the 418 Band from Jacksonville, FL, and DJ Natural Touch from Houston.
"It's something just to imagine…the family connection people feel to their native land, at Bayou Bacchanal," says Joseph, who says she is ready to dance. "We have this chance to meet people from Caribbean areas that we've never met. Everyone gets to speak in their own patois, wherever they are from, and we can hear the history and culture in the voices and in the Caribbean music that's played the entire time, all day, and in the beautiful ornate costumes. It's folk art in sound and motion. But in the end what I love most is that Caribbean people are very big on just being good neighbors. Every Bayou Bacchanal, I smile all day, just being around the people."
Here's the line up for Bayou Bacchanal: today (Nov 4), 11pm, The White Party at Cozie's Sports Grill (724 Franklin St, Gretna), $10 cover. Saturday, Nov 5, Bayou Bacchanal at Armstrong Park (701 N. Rampart St). Parade leaves from Harrah's Casino on Canal Street at 11am, and there's an after-party at the Stallings Recreation Center (4300 St Claude Ave) at 9pm, featuring DJ Lady Peppertree, DJ Natural Touch, and the 418 Band (Jacksonville, Fl). After party tickets are $25, or $35 at the door. Image via the Bayou Bacchanal website.