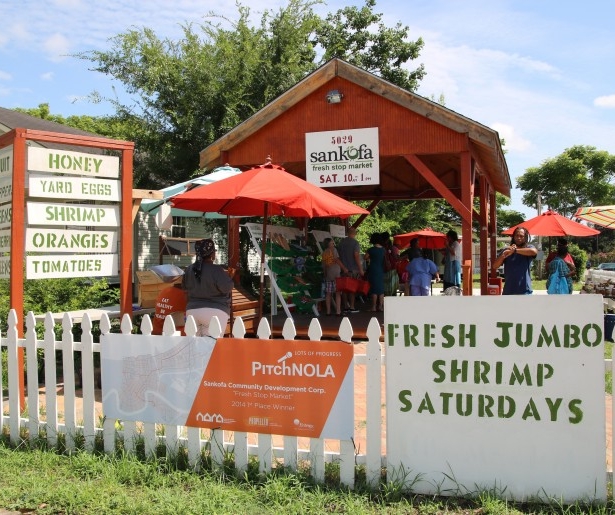 "Summertime we endearingly refer to as okra-and-eggplant season," says Wil Crary, Market Manager at the Crescent City Farmers Market, which operates markets in four different locations in New Orleans. Though he says summer is a great time to "get creative with okra in the kitchen," fall, on the other hand, means citrus season.
"Expect Louisiana satsumas, navel oranges and grapefruit," says Crary. Elisa Munoz, Farmers' Market Manager, French Market Corporation, adds greens, squash, potatoes, radishes, carrots, and broccoli to the list of seasonal produce shoppers will find in abundance this season.
Crary also offers a list of the niche products: fresh Louisiana seafood, homemade tofu and soy milk, fresh herbed goat cheese, goat and lamb meat, locally grown bananas, heirloom mirlitons, Creole cream cheese, Mexican tamales, muscadine grapes, and more.
"We have anchor vendors who we know will always attract a large audience because the quality of their products is so above the cut of what you can find in your average grocery store," says Crary. "Besides those, we rely on innovative vendors who are offering products that can only be found at the farmers' market."
Crary also calls the shoppers' attention to the MarketMatch program, which applies to all Crescent City Farmers Markets, where up to $20 in SNAP purchases will be matched halfway.
In another recent development, the company has established a Crescent City Fund to help vendors affected by the flooding. You can donate online or in person at any of the markets. According to Crary, over $80,000 has been given so far directly to the market vendors.e.
Here are our top five market picks in town.
Crescent City Farmers Market – Saturday, Downtown
The Saturday Crescent City Farmers market has moved from its present location at Magazine and Girod streets around the corner to the May gallery lot at Julia and Carondelet streets, right on the St. Charles streetcar line. On most days, you can expect live music, cooking demos and kids activities.
750 Carondelet Street (at Julia Street)
8am – 12pm
Crescent City Farmers Market – Thursday, Mid-City
This market operates out of the American Can Co. building parking lot. It offers a variety of Louisiana seafood (drum, catfish, softshell crabs and jumbo shrimp are the usual), bread, jam, seasonal harvest, dairy, soup, tamales, fudge, frozen popsicles, and more.
The vendor lineup stays more or less the same and has a loyal following. Many customers combine the visit to the market with the Pearl Wine Co. free wine tasting (5pm – 7pm on Thursdays) held inside the store located in the American Can Co. building.
3700 Orleans Avenue (Bayou St. John at the American Can Co. building)
3pm – 7pm
The Hollygrove Market & Farm (HM&F) – Open daily, Hollygrove (Gert Town)
The Hollygrove Market & Farm stands apart from the rest of the multiple-vendor tented pop-up farmer's markets because it's a brick-and-mortar store with an adjacent community garden/urban farm that's open seven days a week.
Tucked away on Olive Street behind the U.S. Post Office just off South Carrollton Avenue, the market looks like a little oasis of community garden plots, compost areas, a stage, and the "farm" space maintained by mentor farmers/master gardeners. Harvests from the latter can be often found in the store.
The market honors the Community Supported Agriculture (CSA) model, but you don't need to buy farm shares or a membership to shop there, and walk-ins are welcome. Its setup resembles a corner store (if your corner store only offered farm-to-table locally grown food), including freezers full of meat and dairy, home and beauty products, and a $1 clearance bin (per bag, bunch or pound).
Gracious Bakery and Bellegarde are represented with pastries and baguettes. The rest is a who's-who on the sustainable local farmer and grower list from here to Mississippi.
The retail space is decidedly community-centered. Last time we visited, the checkout line seemed to be on a first-name basis with both the staff and other shoppers. There are also a community board, a bottle return stand from Mauthe's Progress Milk Barn, fresh flowers, and compost bins ($50) for sale.
One of the most remarkable offerings is a $25 box of produce, walk-in or online with home delivery (or by subscription). The Weekday Box is available Tuesday-Thursday, the Weekend one Saturday-Sunday. Content changes twice a week, but it's usually a combination of fruit and veggies, plus herbs, and anything from raw sugar to beans and rice.
If you wonder what's in the box, check out the HM&F Facebook page for twice-weekly descriptions and pictures. You also can view the seasonal list of everything else online, and buy online and have groceries delivered. HM&F offers $95 yearly individual membership as well as discounts to Hollygrove residents and students, and also 20% off for SNAP purchases.
8301 Olive Street
Monday-Friday: 10am-6pm
Saturday & Sunday: 9am-5pm
The Farmers Market at the French Market – Open daily, French Quarter
"We have a large selection of prepared food vendors in the French Market Farmers Market," says Munoz, offering "freshly made crepes, sandwiches, cheese plates, raw oysters, pralines, fresh fruit daiquiris and other uniquely New Orleans dishes. The French Market also boasts a good number of vegan and gluten-free options," she adds.
The Farmers Market Pavilion also hosts the Crescent City Farmers Market on Wednesdays 1pm to 5pm (back from summer break on October 12) and Artisan Saturday Market 10am to 2pm with local crafts, art and specialty foods.
Ursulines and North Peters Streets
Daily, 10am-6pm
Sankofa Mobile Market – Tuesdays and Fridays, Lower Ninth Ward
Sankofa Mobile Market is run at several locations throughout the Lower Ninth Ward by Sankofa Community Development Corporation. The sustainably grown produce is sourced from local farmers and the Sankofa Garden at 27 St. Claude Court.
"Late September into early October is a very exciting season for us," says Tomas Kerr, Market Coordinator. "The August heat subsides and by working with local farmers we are able to bring cucumbers, zucchini, satsumas, tomatoes, okra, grapefruit, navel oranges, sweet potatoes, mandarins, mustard greens, collard greens, and more to our market."
An assortment of local vendors also offers such items as homemade curry, bread and flatbread, tea, skin products, and locally grown flowers.
Just like HM&F, Sankofa brings fresh produce to underserved communities and boosts the local economy by supporting local farmers and backyard growers. It also teaches sustainable farming practices and providing training programs to New Orleans residents.
Mobile Market Stops
Every Tuesday: 11am-11:30am
1616 Caffin Ave
Every other Tuesday: Noon-12:30pm
1017 St. Andrew St
Every other Friday: 10am-noon
1601 Perdido St, New Orleans, LA 70112