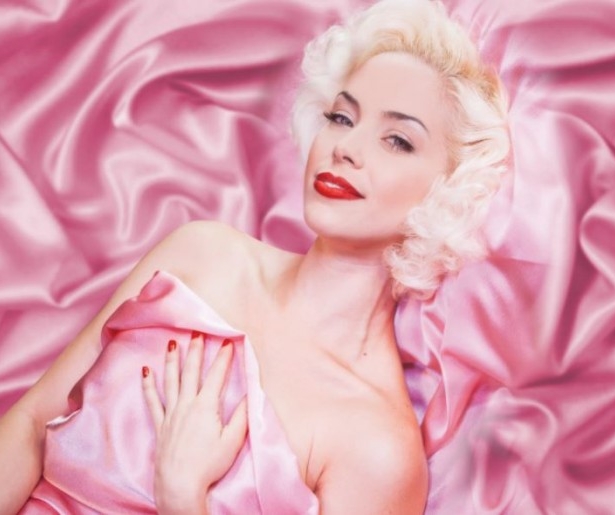 Even though she died in 1962 at the age of 36, Marilyn Monroe remains an American icon of beauty and glamour. But to most people, that's all she is – an idealized vision of beauty seen on posters and in films like Gentlemen Prefer Blondes and Some Like It Hot.
Writer-director Cavan Hallman hopes to provide a deeper insight into who Marilyn Monroe was as a human with his new musical Pictures of Marilyn, playing through November 27th at the National WWII Museum's Stage Door Canteen.
Courtney Boe, who plays Monroe, said the project has been discussed for almost two years. She had been told on many occasions that she bears a striking resemblance in looks and mannerisms to the film legend.
Victoria Reed, director of the entertainment department at the National WWII Museum, told her the museum wanted to develop a Marilyn project and asked if she'd been interested in the part. Boe eagerly accepted the challenge.
"I'm over-the-moon excited about it," Boe said. "She's such an iconic American character."
Cavan Hallman wrote the script and directed the play. Once he started doing his research, he decided he wanted to do something different with Monroe's story. The public mostly views her as a glamour icon who died too young of a drug overdose. Hallman wanted to avoid that cliche.
"I didn't think it would be appropriate as man for me to write a story with Marilyn as a victim," Hallman said. "The idea of her being the tragic victim didn't interest me…I want her to be seen as more of a complete person."
Pictures of Marilyn's story centers around an incident in Monroe's career where she went on strike for fairer wages. At the time, the Hollywood studio system tied stars down to contracts that heavily benefitted the studio. These arrangements were even more unfair for women.
But even compared to other female stars, the studio treated Monroe unfairly. For Gentlemen Prefer Blondes, Monroe made $18,000 while co-star Jane Russell made $200,000. Hallman believes Monroe's willingness to stand up for herself and for equal pay in an era that wasn't kind to women's rights makes her more of a feminist then she was ever given credit for.
While the production highlights a part of Monroe's life many people don't know about, it doesn't ignore the stylish fun of the era. The show is a musical, after all, and features many rousing performances of era standards like "Diamonds Are a Girl's Best Friend" and "I Wanna Be Loved by You."
"It strikes the balance of being entertaining and honest," said local actor/comedian Mike Spara, who plays Monroe's photographer Milton Greene.
Hallman is delighted with the resources the WWII museum provided the production, and with the work of the cast. Supporting parts are played by accomplished actors like Broadway vet Curtis Billings, who plays Bob Hope. And Hallman has been blown away by Boe's performance in the title role.
"Courtney just has this incredible level of commitment," Hallman said. "There's no sense of irony at all or winking at the audience…She has a laser focus and plays the role with beautiful sincerity."
In preparation, Boe said she came to view Monroe as having three different personas. There was Norma Jean (her birth name), the young, naive woman she was before she became famous. There was what Boe calls "capital MM," the glamorous sex symbol on posters and film. And there was what Boe calls "lowercase mm," the woman behind the scenes who was dedicated and passionate, but still vulnerable and human.
For Boe, the performance is rewarding and bittersweet. It will be her final performance with the WWII Museum. Before Pictures of Marilyn, Boe also served as one of the Victory Belles, a group of singers who perform at both the museum and around the globe singing 40s and 50s standards from artists like the Andrews Sisters.
"I'd like to consider it my swan song," Boe said. "At the end of the show, I sing 'This Will Be My Shining Hour.' For me that's a very powerful moment because it's been such a beautiful journey."
The musical Pictures of Marilyn will play on weekends at the National World War II Museum's Stage Door Canteen through November 27, 2016. Above image via the theatrical production. To purchase tickets, visit the National World War II Museum Stage Door Canteen.