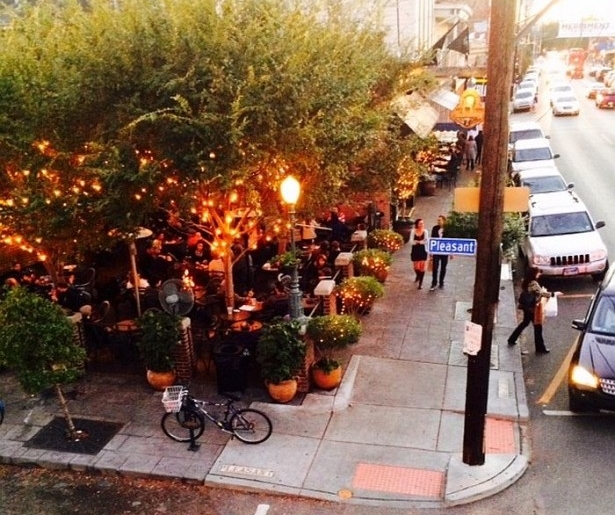 New Orleans's number one Thanksgiving pastime is the traditional burning down the house on accident, while deep-frying a turkey. Number two would be the eating of Cajun turducken: a chicken cooked inside of a duck cooked inside of a turkey.
For those who find neither of those local holiday options appetizing, here are several more Thanksgiving events a local or visitor can enjoy:
Horse Racing
In New Orleans, opening day at the Fair Grounds Race Course has seemingly eclipsed the whole 'pilgrims having a big meal' as the real reason for the Thanksgiving holiday. Everyone is there at the track – everyone – sipping cocktails while dressed in their finest, all topped with the most remarkable hats.
On Thanksgiving, the racetrack's Clubhouse offers a fancy traditional holiday dinner with all the trimmings ($70), or else the common man can stay amidst the crowd and pick off the holiday buffet ($32). For those who might attend the actual horse racing: the first of the day's ten races begins at 11am, and top sprinters will later compete in a $100,000 Thanksgiving Handicap race. But again, the real point is: hats.
Where to Eat
Not having to wash an extended family's worth of plates, silverware, pie pans and gravy bowls wouldn't be the worst part of Thanksgiving to miss out on. You could go out to eat (just like the pilgrims did!). For $55, the Bistreaux at Maison Dupuy offers a price fixe meal, with choices of various gumbos or a stuffed mirliton to start, before a main course of special turkey or pan-seared redfish, ending with dessert choices including an artichoke bread pudding and smoked tomato buerre blanc.
Oceana also boasts a three-course price fixe meal ($65 adults, $32.50 kids) and a raw bar menu, while at Restaurant R'evolution, chefs John Folse and Rick Tramonto go all out on a "feast for the senses" Thanksgiving buffet.
Thanksgiving Day Parade
You might wonder what holiday it really is this Thanksgiving weekend, when the Tigers of Grambling State meet the Jaguars of Southern University for the 43rd annual Bayou Classic in New Orleans. Each year, football crashes into the holidays for a four-day feast of events, starting with a massive Thanksgiving parade from the Superdome to the French Market, featuring some of the country's absolute best marching bands.
Friday morning offers a career and college fair (10am), followed by the Bayou Classic Greek Show and the legendary Battle of the Bands, which can get as competitively heated as the football game proper. After all that, there's also some sports: one of America's hottest college football rivalries, detonating at 4pm.
Shopping the Quarter and Magazine Street
If you really must enact the whole Black Friday consumerism ceremony, why not do so at a local business? Keep that money in Louisiana! The French Quarter hosts many gift shops, and bars, and toy stores and bars and clothing boutiques and bars, but is also home to America's greatest holiday store, Santa's Quarters on Decatur Street (which itself is close to many good bars).
On the other end of town, Magazine Street shop owners have come together to offer Merriment on Magazine, a shopping initiative offering everything from sweets to spirits to clothing, jewelry, and crafts, with a an extra large helping of holiday decorations and other good cheer. Also, bars.
Celebration in the Oaks
This year marks the 30th anniversary of one of America's most elaborate holiday light exhibits, which opens on Thanksgiving Day at New Orleans's verdant City Park. This year, enjoy 25 acres of holiday cheer – from Storyland, to the Botanical Gardens, to the amusement park – with Celebration in the Oaks' 2016 theme: the Merry Makers.
Drink hot buttered rum on a famous two-mile train ride while soaking in themed displays of Christmas lights hanging from moss-covered oak trees, all reflected in City Park's lagoons (Nov 25 to Jan. 1).
Image: holiday shopping Magazine St, via the Merriment on Magazine website.