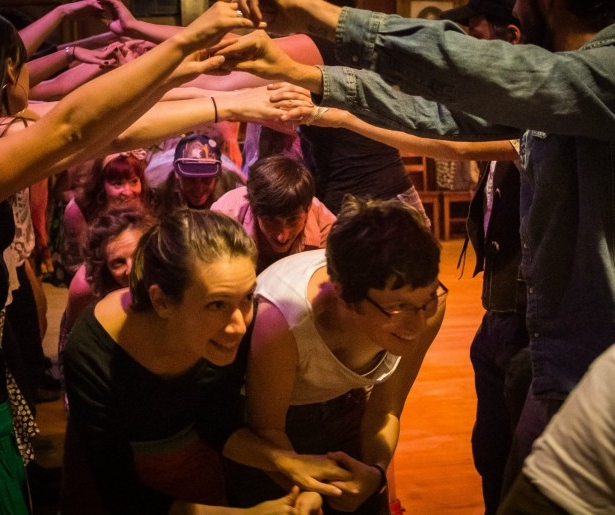 When one thinks of Louisiana dancing, they usually imagine a Cajun line dance, or zydeco two-step. Maybe even twerking. But the official Louisiana folk dance is, in fact, square dancing.
"When I grew up here, we got square dancing at Fontainebleau public school. I think Abita Middle had it too," says Louisiana native and square dancer Victoria Coy. "I do it now as an adult and it is honestly crazy, stupid, 'I don't usually laugh this hard while clothed' fun. Bad square dancing is far better than good square dancing, too. The collisions are stunning."
For the last four years, Coy has been able to get her square dancing fix at Square Dance NOLA's monthly meet-ups at New Orleans's First Presbyterian Hall (5401 S. Claiborne Avenue).
"The square dance would traditionally be the place to meet up, exchange recipes, it was great for courting in particular – a comfortable way to meet and dance with a lot of people," says Dan Wally Baker, who organizes Square Dance NOLA's monthly events.
"In the 50's, square dancing clubs were ubiquitous out in the West," he adds. "Only three still have their doors open today. That type of square dancing though, it's more a club, where you have to learn the dance and pass the test before you're allowed on the dance floor. Ours is a barn-raising community dance."

Square dancing was supposedly invented in 17th-century England, and was very popular with the first American settlers. A traditional square dance includes four couples (eight dancers) each arranged in a square, everyone facing the middle. These dancers are prompted or cued through a sequence of steps by an individual known as a "caller."
"I am the caller," says Baker. "That means that before the dance I also lead an introduction and a practice round. Everybody does it once without the music so they know the calls and moves. Then the band fires up. Each dance lasts about eight minutes. We do eight or nine dances where we walk through the calls."
Baker's square dance calls include 'Weaving the Basket': "That's four hands over, eight in all! The ladies bow, and gents know how – to squeeze a gal! Another call is: 'Diving for oysters, digging for pearls, swing all the pretty little girls!' Clearly that one didn't come out of the mountains," Baker laughs.
He's even gone a little native with his calls, noting, "I've made up a couple New Orleans calls, like "Going uptown. Going downtown.' These are all partner moves, but you're in a bigger group."
Like Louisiana's Florida-imported brown pelicans, Baker had to import Louisiana's official state dance from North Carolina. "I grew up in the mountains there, and on summers they'd close down main street, throw down cornmeal, and have community dances," Baker recalls. "This small mountain town is where I learned square dance, and calling."
Baker says his New Orleans square dancing nights draw a diverse crowd. "It's old and young," says Baker. "There are French people at every dance, many French teachers from Louisiana. Many non English speakers come to the dances."
For the most part though, he says, his Square Dance NOLA skews young. "There are a lot of young people in New Orleans right now who like this fiddle and banjo music. Lots of young fiddle players and other musicians here too. We have about ten events a year, and I could book all New Orleans strings band," he claims.
"Lost in the Holler is the band that started the dance with me; the members are still the volunteers that run the dance. But we also book New Orleans string bands like the Swamp Lilies, My Wife's Hat, Soundwagon, the Puddle Jumpers, Get Up Rounder, and the Levee Toppers (playing in Dec)."
For those who need more than one night a month of square dance music, Lost in the Holler also leads an informal outdoor dance every Wednesday on the bridge outside Cabrini High School on Bayou St John.
While Baker admits that the more advanced versions of square dancing can get a bit complex, "This is very beginner friendly," he maintains. "If you just know your right hand from your left hand, and one foot from the other, then you already have a leg up."
Square Dance NOLA meets at First Presbyterian Church (5401 S Claiborne Ave) on the second Monday of each month. $5 entry. 7:30 beginner's orientation. BYOB (yes, you can drink inside the church), with red beans and rice for sale. Image courtesy of the Square Dance NOLA Facebook page.