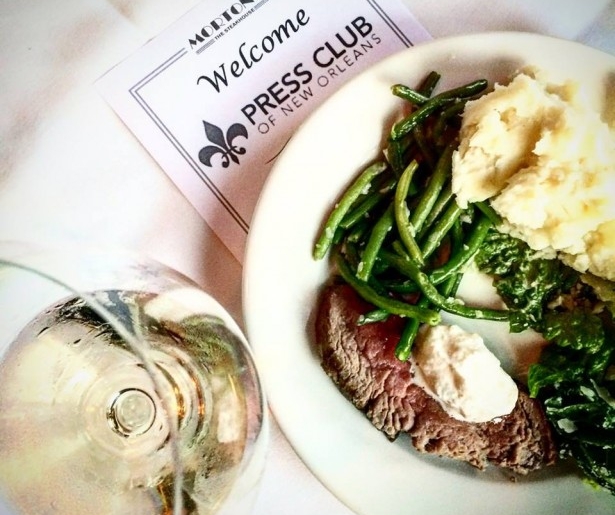 Since 1957, when reporters wore suspenders and smoked in the newsroom at their typewriters, the Press Club of New Orleans has provided an excuse for scribes to socialize, schmooze, and learn about what can feel like the world's least-respected profession.
Since the '50s, our city's Press Club has doubled in size to 200 editors, staff and freelance reporters, and PR professionals. And lately, thanks to some new blood, the club has gotten a little more fun.
Former Houston Chronicle reporter and current Renaissance Publishing editor, Melanie Spencer, has helped bring back the feisty spirit of the Press Club's social events.
"When I became a board member two years ago, my goal in getting involved was to bring some things to the club that I wasn't getting as a members," says Spencer. "There just wasn't very much going on apart from the awards and the occasional charity happy hour once or twice a year. We were pretty consistent about Halloween and Mardi Gras parties, but didn't have enough going on all year long."
In her second year on the board, Spencer became the Press Club's Vice President and gave herself the first assignment of bringing back the club's "monthly media mixer." "It used to be a regular happy hour once a month at Molly's on the Market," she recalls.
"But over the years a lot of the people in the industry, people who drove that night's success, went into different professions or got laid off, so I think it gradually faded away. Since no publications are based in the Quarter anymore, we moved the happy hour Uptown to Kingpin, and that seems to have been a good move. I know we've seen an increase in attendance," she says.
Though Spencer promises that the Press Club of New Orleans is more than just a series of occasions to drink (more), she clearly understands the value of connections made over cocktails. "At the happy hours we get people from Associated Press, and people from Loyola School of Journalism…a very diverse group from a diverse group of publications. It's especially good for freelancers to come and meet editors that they haven't yet come in contact with."
While the Press Club is perhaps best known for giving local scribes an award to strive for (its annual awards banquet rewards excellence in both media and public relations), Spencer sums up the club's current agenda as, "A cross between learning opportunities and access opportunities."
The Press Club's Professional Development and Events Committee member, Louisiana Weekly editor David Baker, initially recruited Spencer. "I joined the board myself about three years ago, with the intention of getting more actively involved in the journalism community," says Baker. "I thought maybe there were some opportunities there for my career. And not wanting to go back to the university, I though it a better idea to just learn more from my colleagues in the Press Club."
Baker also makes a point to add, "We do offer opportunities for networking that aren't at a bar."
With Baker and Spencer's help, The Press Club is this year increasing the number of professional development seminars it offers on topics such as ethics and libel. Baker stresses that, "The Press Club is for everybody," noting that some of its programs are open to non-members, such as the "Lunch and Learn" and "Newsmaker" series, which bring in speakers of interest to the general media to discuss economic development, criminal justice and other serious topics.
The Press Club's "Meet the Press" series creates a triangulated dialog between the audience and one person from broadcast radio or television, and one print journalist.
Baker says he currently also has three major professional development events in the works, including a criminal justice reform panel featuring Kenneth Polite, the US Attorney for East District of Louisiana, and Simone Levine, Executive Director of Court Watch NOLA.
"Another one, an Economic Development, isn't as planned out yet," says Baker, "And the third is a food journalism panel with Poppy Tooker, that will bring in two chefs and two food journalists to talk about how food writing has had to adapt in the era of Thrillist and Yelp, and how those things effect their beat." Baker also hopes to conduct a music journalism panel later in the year.
But OK, sure, the Press Club of New Orleans is partially about giving local journalists a chance to drink somewhere else besides at their typewriters (OK, computers). To be fair, the Halloween Party was at the at Cellar Door. "Technically, that's a restaurant, not a bar," Baker points out.
Image via the Press Club's Facebook page.