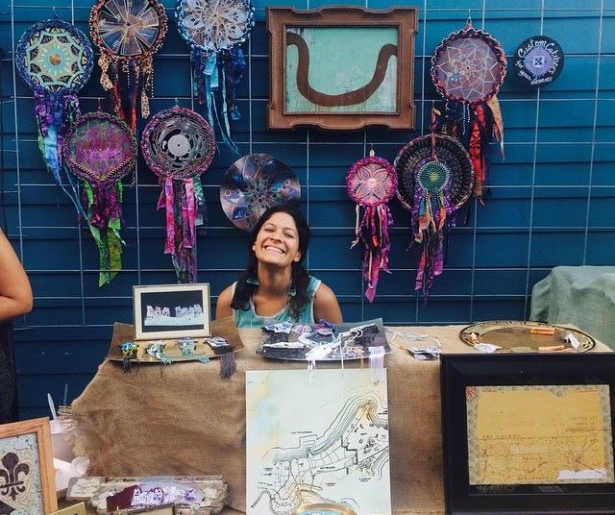 SHARE
New Orleans has always been known as a haven that embraces creative types and professional artists, but now that the cost of living is perpetually increasing, it's more important than ever to support local artists.
The next time you're meandering down Magazine Street on a weekend, with or without a purpose, check out one of the latest welcome additions to the Garden District neighborhood, the Magazine St. Art Market in the courtyard of Dat Dog (3336 Magazine St).
It's an art market that popped up just last year and, unlike some of the nearby high-end galleries, it features plenty of affordable goods in a relaxed environment.
Items that can be discovered at the Magazine St. Art Market include include drawings, paintings, and multi-media art, along with handmade accessories, beauty and bath products, jewelry, casual clothing and costumes.
It's more than just a place to shop, though: its existence has also fostered a developing community of up-and-coming, inventive artists in a celebratory, supportive, and family-friendly environment. It's also a nice enhancement to the area, which is already filled with boutiques, bars and restaurants.
Every Saturday and Sunday the market is open from noon to 6pm., drawing in visitors and locals of all ages. Some stick around all day, enjoying drink specials, snacks and mingling, while others pop in just to browse for a few moments at all the colorful goods.
The Magazine St. Art Market was started in May 2015 by Dat Dog and Monica Kelly Studio. From the beginning, MAM has uniquely been an "art market built by artists," with early involvement from Ashlee Arceneaux Jones (of Smallchalk) and Emily Swietlik (of graNOLA: GrassRoots Artists of New Orleans).
Swietlik notes that the "successful artist hustle is always a full-time job," and as director, she oversees and promotes the market while working closely with its vendors.
She says the market supports new artists and has helped creative types band together as they make a living. The atmosphere is supportive, not competitive, and Swietlik also notes that the art market recently expanded its community to welcome traveling and international artists and that the participants and vendors look forward to working with younger generations by helping local high schoolers embrace their artistic sides in the upcoming year. The organization is also mindful of local causes, and earlier this month accepted donations for disaster relief supplies.
"We aim to create a successful venue for our creative community; one that fosters opportunities for local artists to make a living off their craft," says Swietlik. "We offer a unique and flexible approach, where we work with artisans on an individual basis in order to create a space that works for them."
Though not every vendor will be there every week, there is a good chance you'll encounter mainstays including multimedia artist ChandarChandar as well as jewelry makers Chained Dreams and Mykah Angela.
The market kicks off on saturday and Sunday, noon-6pm, at 3336 Magazine St. If you wish to find out how to be a vendor or get involved, email magazineartmarket@gmail.com. For more information and a schedule of curated events, you can stay in the loop on Instagram: @MagazineArtMarket, and on their Facebook page. Above image via the Dat Dog Facebook page.