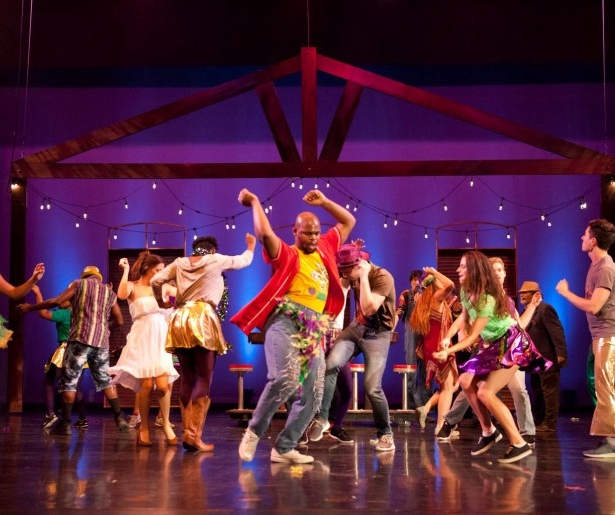 SHARE
"Don't burn the gumbo roux!"
As any cook worth his black pot will tell you, that's an iron-clad rule in bayou country, where food and music are the center of life. So it's only fitting that it's invoked in the opening number of Jambalaya, the Musical, a spirited celebration of Cajun culture that opens at the Orpheum Theater on November 30.
Like many others before her, Jambalaya mastermind Nancy Gregory fell in love with the people and traditions of Southeast Louisiana when she first set foot in Lafayette eleven years ago. But Gregory was no ordinary tourist. As an impressario who's staged countless musicals and theatrical events, from Las Vegas spectaculars to Super Bowl halftime shows, she immediately thought: this could be a musical.
"I started thinking, here's a culture that hasn't been touched yet," recalls Gregory, an Ohio native and longtime Los Angeles resident who landed in Lafayette after her brother married "a terrific Cajun girl." And once she had that eureka moment, she was off and running.
"I came down to Louisiana by myself for three weeks, went to every club, learned about the dance, learned about the music, met with people at the university, met with Beausoleil," recalls Gregory. "I also learned about the mysticism and history. Then I went home and wrote the story, and American Express actually got very interested in it."
"And then Katrina hit."
In the devastating wake of Katrina and her evil twin Rita, which ravaged Cajun country, Gregory shelved Jambalaya. But the passion project continued to smolder in her heart. It moved to the front burner early this year, when Gregory partnered with songwriting legend Jeff Barry, whose deep catalog of hits includes "Be My Baby," "Chapel of Love" and "Do Wah Diddy Diddy."
Working with local musicians in Lafayette, the team brought the show to life with a Louisiana cast, which had its own trial by water last summer.
"We had just three and a half weeks to rehearse in Lafayette, and right in the middle of that there was an epic flood," says Gregory. "Really bad. So we lost three days, and had to put it together really fast. But when that flood hit, I looked around and saw how people cared for each other, which made the show even stronger."
After a smash-hit run in Lafayette, Jambalaya hit a few bumps in the road to New Orleans. Gregory lost 10 cast members, who had other obligations, and had to recast those roles on the brink of mounting the Orpheum production. She chose her replacements wisely.
When I sat in on the first rehearsal with the new cast, they were just a few hours into learning 16 original songs and the fancy footwork that accompanies the infectious Cajun and Zydeco music. But if Gregory hadn't told me, I would have thought they were old hands.
Like the original cast members, who include many of the principals, the newcomers are Louisiana to the bone and dove into the material with gusto. Indeed, the songs are so catchy, I found myself joining the invocation to "Put It In the Pot," and seconding the motion to "party like it's Mardi Gras."
Like most good musicals, Jambalaya tells a love story. But the boy-meets-girl pas de deux between Thibodaux (T) and Danielle isn't the only romance that unfolds.
"People are worried that the culture is going to die, because the kids are all leaving," explains Gregory. "So Jambalaya is also a love story between a man, Boudreaux, and his culture. And he leads us through this culture. And it's a love story between a young man and his dreams; Boudreaux's grandson T doesn't know if he should stay or go. I tried to show both sides."
The kids get their say in "This Is Our World, Too," a powerful piece of music driven by a haunting minor key theme. But as Boudreaux leads the audience deeper into the bayou, he makes his case so convincingly – and so humorously – that he and T end up fighting the good fight together and love conquers all.
Like any bayou legend, Jambalaya is laced with hoodoo. It has its own gris-gris man to stir the pot, and Gregory even invented a new mystic character called the Lady in the Moon to shine her light on the swamp.
But the feel-good show, which features Chubby Carrier and his band in an on-stage zydeco club, never strays far from its central mission: laissez les bon temps rouler.
"When we did the show in Lafayette, I was sitting in the back," recalls Gregory. "And when I went down through the throngs of people getting up, the thing I heard the most was 'Wasn't that great? That was so much fun!'"
Allons! Jambalaya, the Musical runs November 30-December 3, and has a second pre-Christmas run December 21-23. Curtain at 8pm at the Orpheum Theater, 219 Roosevelt Way, New Orleans, 70112. Tickets, available here+, are $25. Image via the show's Facebook page.