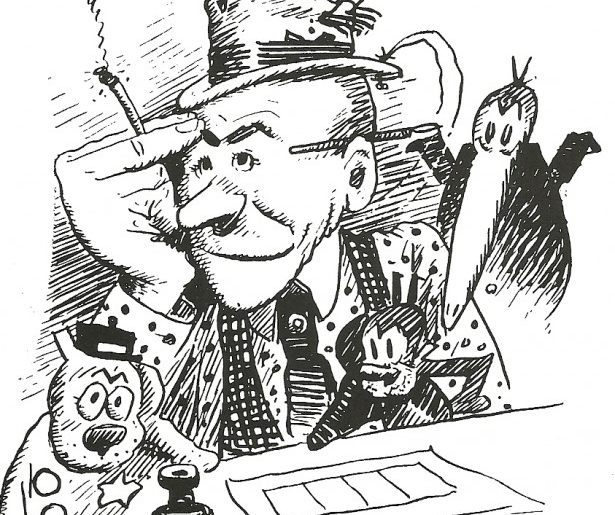 When I moved to New Orleans in 2001, Michael Tisserand was then editor-in-chief at Gambit Weekly. When I worked there, I found him smart, funny, and deeply sympathetic to writers in a way that we all missed once he quit Gambit after Katrina to become a professional author.
Before Michael evacuated, he had begun an ostensible Gambit cover story about New Orleans-born-Los Angeles-raised George Herriman, who drew comics that weren't traditionally funny — most notably, the much-dissected, early twentieth century cartoon Krazy Kat.
"The last thing I did before I evacuated Katrina was put that stack of Inks comics magazines about Herriman up on my desk so they might stay dry," says Tisserand.
Over ten years later, in December 2016, Harper Collins will release Tisserand's 560 page book Krazy – George Herriman, a Life in Black and White.
Some comics fans love reading Krazy Kat but never laugh at it. Others find it (perhaps obliquely) hilarious. "Sometimes I just laugh at the visuals, the way the cat's tail bends, or the mouse's single-line arms flail when the brick is sailing," says Tisserand (every Krazy Kat strip ends with Ignatz Mouse tossing a brick at Krazy Kat). But as with other pathos-driven comics like Charles'Schultz' Peanuts, and Matt Groening's Life In Hell, Tisserand ads, "What I read into a Krazy Kat cartoon changes every time I read it. I see it as a very sobering strip sometimes."
As with the best art, part of Krazy Kat's fun is learning to understand the artist's personal language. The central conflict of Herriman's masterpiece strip revolves around a dog (Offisa Pup) who is in love with a cat (Krazy), who is turn in love with a mouse (Ignatz), who hates said cat. At its core, Krazy Kat was all about disrupting the "natural" order of things.
"Like the background scenes of Coconino County where he lives, Krazy's gender and race shift, at random sometimes, but more often according to his social situation," wrote Elisabeth Crocker in the Herriman essay, "Some Say it With A Brick." Scholars seem to agree that Herriman used Krazy Kat to express his own poetic feelings about living his bi-racial existence in America.
"Krazy's dialect itself is the entire rude language of America, from Creole to Spanish," Tisserand points out.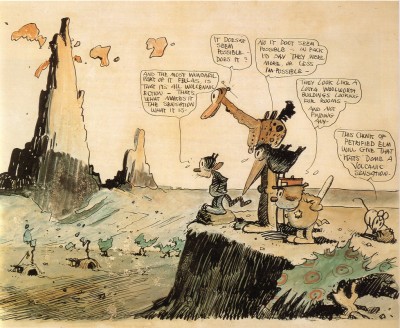 "One thing that's really unique about Krazy Kat is it's so basic and simple that people can read all kinds of things into it," says comics historian Brian Walker, who helped Tisserand with some research and corrections. "Comics historian David Apatoff once said something about how comic art allows that certain auteurism, where one can create their own little world, because it's not a collaboration with writers and directors and actors — just the artist and their imagination."
Herriman's was a special case. Even though Krazy Kat did not set the world on fire at the time, the strip was supported wholeheartedly by Herriman's employer and fan, newspaper magnate William Randolph Hearst.
"So Herriman had an extra advantage because no one was bothering him or paying attention to him," explains Walker. "There was no interference, and he wasn't concerned so much with what people thought of his work."
Tisserand's ten-year long book project involved much archival research. "I was trying to find letters at City Hall. There was nothing in civil records, so the the Archdiocese archives were especially helpful," he says. "Herriman's granddaughter Dee Cox was a huge help. I now know more about her family than I know about mine."
Currently a Lusher chess team coach, Tisserand previously published The Kingdom of Zydeco, about the history of the famous genre of rural Louisiana dance music. After Katrina he wrote Sugar Cane Academy, a memoir of sorts about helping to start an unusual school for his children in Katrina's turbulent wake.
"After that, on a personal level, I was looking to write a book that would give me a personal connection to New Orleans, but that I could write while still living outside of New Orleans; I hadn't come back yet," he says. "I loved comics so much as a kid, and not much real hardcore investigative work had been done into Herriman's life."
Brian Walker, son of Beatle Bailey creator Mort Walker, currently writes for the cartoon Hi and Lois. Much of his academic work revolves around the study of Herriman.
"I though [Tisserand] really had his work cut out for him, because Herriman was kind of a mystery man even during his lifetime," says Walker. "In the end [Tisserand's] book is interesting because there has been a lot written about Herriman's art, but they were mostly visual compilations, whereas this is the first real scholarly work.
"I like what it revealed to me about Herriman's career before Krazy Kat," he adds. "All the other strips [Herriman] did – sports cartoons and political cartoons — at a time when the art form was just being invented. Also, people thought of Herriman as fairly reclusive. But in reading this book, it seems Herriman was definitely a carouser, staying up all night with his friends, going to fights and burlesque shows and smoking cigars."
Tisserand admits that compiling his new book was indeed laborious, but a true labor of love. "I hope people will take this biography and build upon it," the author says. "I hope I have started some new dialogue on Herriman's use of language, and how he plays with race and gender in really fresh ways, and hopefully I've suggested some ways to look at Krazy Kat anew."
Images via Wikipedia and Wiki Commons.