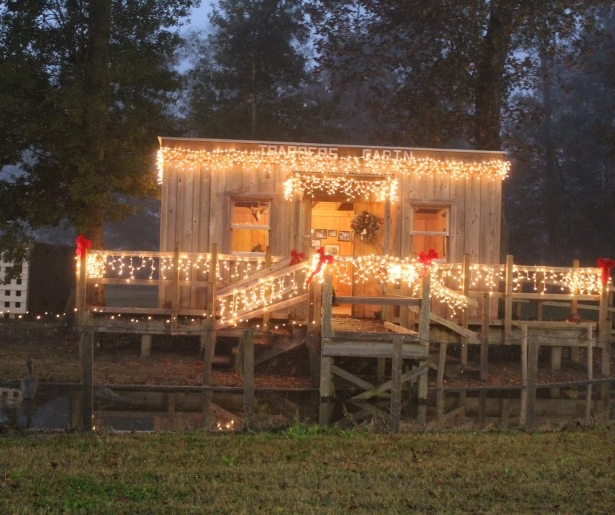 The last vestiges of Spanish Colonial Louisiana reside in the least fancy of places: New Orleans East. Out in St Bernard Parish, just before the land tapers off into the water, decedents of Canary Islanders known as Los Islenos have kept their culture alive for over two centuries.
The Los Islenos Heritage Cultural Society's chairperson Kathy Serpas-Ziegler describes the Isleno attitude as, "A quieter way of life. We have more trees, are more in touch with nature. Ever since I was born I can remember, being on the water fishing for our food, hunting. Just up until Katrina we had a camp on the water. Living off the land was our way of life — which is very different even from people in New Orleans, much less a city like New York."
"In St. Bernard, the majority of the people are Islenos still," she adds. "We lost quite a few in Katrina, a lot of us left St Bernard, but we still have plenty."
Some still even speak the archaic Spanish dialect, she says. "We still have a few, they are mostly older. But we're trying to work on that, to get our children back into speaking our language, so they can just have it in their life. Cause I don't," she sighs. "It just got away from my generation."
Beginning in the 14th century, the Canary Islands became Spain's first colonial territory. A series of 13 islands (although only seven were inhabited), the Canaries served as gateway to the Americas for those arriving by ship – even British ships arriving in the northern colonies took water on in the islands.
The first locals Islenos arrived in Louisiana between 1778 and 1783, along the banks of Bayou Terre-aux-Bouefs. Here, the Spanish strategically settled the new immigrants in four areas where they would be tasked with protecting New Orleans from approaching ship attacks. The Islenos were also useful farmers, providing New Orleans markets with most of the garlic, onions, beans potatoes and poultry consumed in the late 18th and early 19th centuries.
Isleno colonists also later popularized the domestication of cattle in Louisiana, and St Bernard Islenos still enjoy the traditional dish of caldo, or white bean stew. "It's so good during a cold season," promises Serpas-Ziegler. "It's similar to a vegetable soup, except it starts off with white beans."
Isleno culture is on display at the Los Islenos Historic Museum & Village (1357 Bayou Rd, St Bernard), which consists of seven historic and replica structures and a museum complex, including The Estopinal House (built in the 1780s), the Esteves House (circa 1890), the Cresap-Caserta House (1910), and the cypress board and batten Coconut Island Barroom, erected in 1920.
All of these structures, and the grounds of the museum complex itself, will be open to the public and decorated for the holiday season with lights, garlands and other decorations during the upcoming annual Los Islenos Christmas Celebration.
A tradition first begun in 1992, the celebration begins at 4pm with students from five different St. Bernard schools singing carols.
"After that we have the very popular hay ride," says Serpas-Ziegler. "A tractor pulls a big hay wagon all around the grounds." At sunset the Islenos light their traditional holiday bonfire, which ushers in Santa Claus, who also coincidentally arrives on a hay wagon.
No caldo will be served at the Christmas celebration, but cider, hot chocolate and cookies will be provided for free, with hot dogs and chili available for sale.
"These sort of things bring together all of the Canary Island descendants," Serpas-Ziegler points out, "while also making sure our culture is not forgotten."
The Los Islenos Christmas Celebration is free, starting at 4pm at Los Islenos Museum Complex, 1345 – 1357 Bayou Road, St. Bernard, LA. Image via the event's Facebook page.