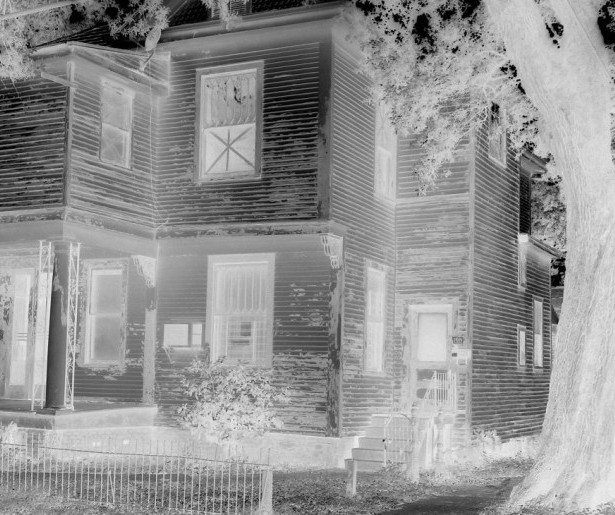 SHARE
Ghosts and the supernatural are a big chunk of the New Orleans brand. Haunted tours remain incredibly popular, and New Orleans itself has served as the backdrop for any number of horror moves and TV shows; Angelheart, Interview with the Vampire and American Horror Story all spring to mind. Then there's the haunted restaurants, bars, hotels…

But as you may gather from the above, the ghostliness of New Orleans can be a little more candy corny than creepy. People think this city is haunted because it's old, or more accurately, because it looks old, particularly in the French Quarter. The Vieux Carre is where the lion's share of haunted tours ply their trade and location scouts find spooky establishing shots. But age alone does not make for scary, and make no mistake, New Orleans is scary. There are dark whispers and unsettling spaces within this city. They just tend to be be found outside of the adult theme park corners of the Quarter. Here are some of our favorites.
F Edward Hebert Defense Complex, 700 Poland Ave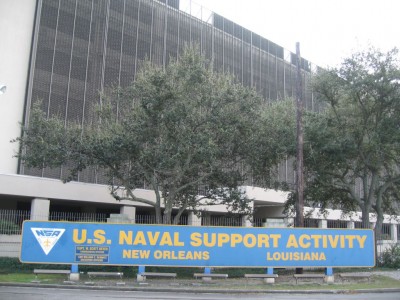 These days, most people head to Poland Ave for Bacchanal. But look across the street, at the brutalist confabulation that is the F. Edward Hebert Defense Complex building. If the 1970s had a nightmare and crapped out a building in fear, this is what it would look like. The Hebert complex is by far the most intimidating building in New Orleans. Hobbits go there to destroy rings of power. It's a sullen, grey, industrial edifice, an execution in sharp lines, razor angles and stark, efficient geometry, plunked into a city of soft focus, bright colors and borders gently eroded by rivers; there can be no greater contrast in building styles than the Hebert complex and the adjacent Bywater, and something about that aesthetic jumble is figuratively haunting, and perhaps literally as well.
Ghosts are produced by unhappiness, by damage to their old land or place, and I can't help but see the Hebert building as anything but an architectural middle finger in the center of the 9th Ward. It doesn't help that this cold complex was one of the first sights to greet visitors fleeing the flooded Lower 9th Ward following Katrina.
Lindy Boggs Medical Center, Bienville St & Jeff Davis Parkway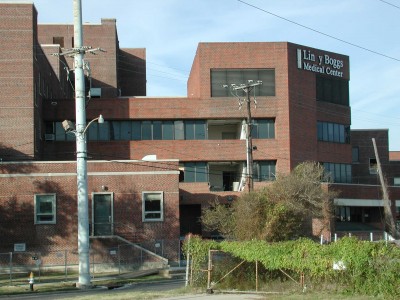 Once one of the city's primary healthcare locations and a keystone of Mid-City, the Lindy Boggs Medical Center was abandoned after Hurricane Katrina. Today the sprawling structure, with its crumbling brick and broken windows, looks like a hideout for the post-apocalyptic cannibals who inhabit Cormac McCarthy's The Road. The ghostly visage of the building is exacerbated by its tragic history; 45 patients died here during Katrina, when the power failed and they were left without life support in the swelter of a late New Orleans summer. There are some amazing, soulfully creepy pictures of the interior of the structure here. If you've seen Session 9, these shots may remind you of the hollowed out inside of Danvers State Hospital.
Maspero's Exchange, 440 Chartres St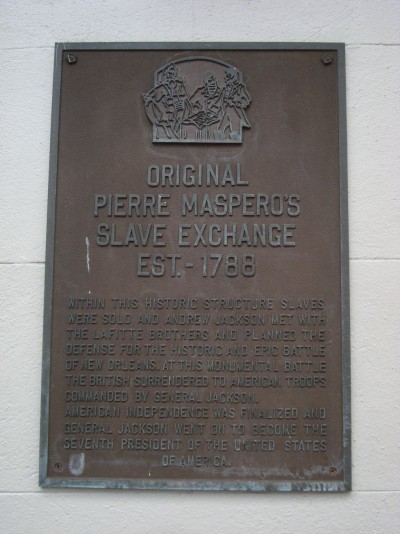 This is the only place on this list located within the French Quarter. While restaurants have come and gone at this location, its earlier history is far darker. A plaque commemorates this past, and reads:
Within this historic structures slaves were sold and Andrew Jackson met with the Lafitte Brothers and planned the defense for the historic and epic Battle of New Orleans. At this monumental battle the British surrendered to American troops commanded by General Jackson.
Nevermind the rah rah Go America story; this is where, after surviving the living hell of the Middle Passage, slaves of African descent were divided into lots and sold, separating wives from husbands and children from parents. It was a slave market, cold and cruel and simple, surely haunted by the ghosts of its victims.
Likely as not, said victims practiced some form of voodoo. It's particularly galling this religion, which is no more mystical or occult than any other existing belief system, is now commoditized and hawked as a merchandising gimmick by the businesses that are adjacent to the place where voodoo practitioners were once sold as human chattel. Ghosts derive from the restless, angry dead, right? I'd be pissed as hell about all that.
Also worth mentioning: Jean Lafitte met with Andrew Jackson at this spot because he was a slave trader. In modern terms: a human trafficker. Why is this guy a folk hero?
The Old Insane Asylum, Marigny & Decatur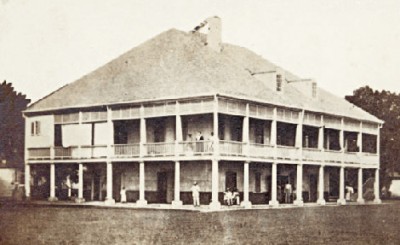 There are just warehouses and empty lots here now, but back in the day, this was a processing facility for mental patients before they were transferred to East Louisiana State Hospital. The city library system has released records of the patients once kept here, and there are some chilling entries. These are all from 1882.
Jane Bird Washer-woman – Insanity on day of Admittance – Hallucination, to-day the same – Imagines that snakes are after her, with obscene intentions.
Pete Beverly Speaks of two men whom he (is said to have) killed in the parish prison. Considers his deed as the most natural, and finest ever performed by any one – Says that he killed them by striking them on the back with a piece of wood and 'so nicely was it done that not a drop of blood was spilled.'
Unfortunately, many of the records are just tragic; one, for a man named Ah Sing, reads This man is very excited. Being a Chinaman nothing can be obtained from him, which suggests Mr. Sing (likely not his real name) was just trying to be understood by the nursing staff.
(Editor's Note: I think the above address is correct for the asylum; the records I found list Marigny and 'Old Levee Rd', which I understand is now Decatur St. If I'm incorrect, please drop us a line so we can fix the error).
Anywhere on the bayou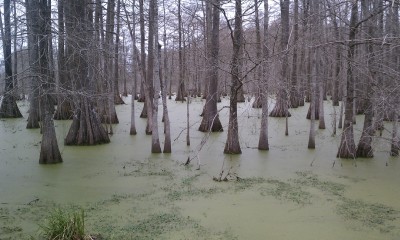 OK, so technically not in New Orleans, but the swamps of south Louisiana are surely haunted, if not by human spirits, then the animistic old totems of a watery landscape that has been betrayed by some of the humans who inhabit it.
The old Police Jail & Patrol Station, St Philip & Dorgenois St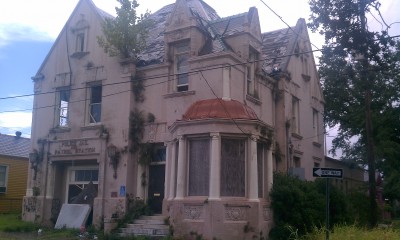 This is where American Horror Story needs to send their location scouts. Have you seen this building? It's the rotting mansion you stumble past in your nightmares. Stephen King is a master of horror partly because he has perfected describing places where the universe has gone 'sour', where the metaphysical fabric of reality is off. This is the most 'sour' space in New Orleans. Do not be fooled by the My Little Pony paint job; there is a demon clown from the deepest pits of hell living here.
Finally, while I don't want to disparage anyone who lives here, I'm certain the area around Harmony Oaks is haunted. Today Harmony Oaks (bounded by LaSalle St to the south, Claiborne Ave to the north, Washington Ave to the east and Louisiana and Toledano Aves. to the west) is one of the city's most attractive public housing communities (there are market rate apartments as well). But back in the day this was the Magnolia Projects, which had one of the highest murder rates in the nation.
When we think of ghosts in New Orleans, we often imagine pirates and prostitutes, a seedy element that can be romanticized by the hindsight of a few centuries. But we rarely consider how many modern New Orleanians die under violent, illegal circumstances, even though these are the same conditions thought to produce the Victorian ghosts who supposedly flicker under French Quarter gas lamps. And hey – maybe those ghosts are there in the Vieux Carre. But I'm certain they're competing for space with the spirits of gangbangers and their victims.
Sleep tight.