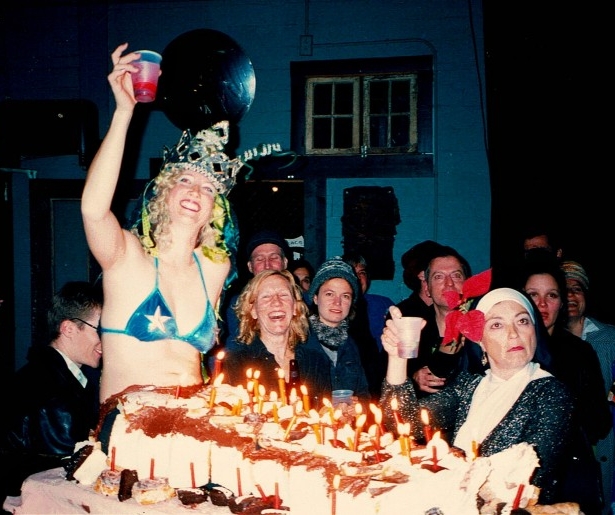 SHARE
"Did you hear!? The Mermaid is closing!"
Twelve years ago this month, in December 2004, that news was greeted with stunned disbelief by the hundreds of musicians, artists and free spirits who called the Mermaid Lounge home.
What!? No more nights of sonic mayhem when anything could happen, from Gas Tank Orchestra tuning up their homemade instruments to Egg Yolk Jubilee pelting you with fake fried eggs? No more seeing incredible touring bands like Midnight Oil and Throwing Muses on the cheap? No more Halloween Masked Band Balls with inspired impersonations of Captain Beefheart and The Velvet Underground? No more family happy hours with kids and dogs running free in the courtyard? No more cheap Schaefer beers?
In the face of such a disaster, there was only one thing to do: Go out in a blaze of glory.
That December was one long farewell party, culminating in an epic grand finale. Resident curator Shawn Hall encased living mermaid Kathy Randels in a mermaid tail made of cake (pictured above), which was set ablaze with candles and solemnly borne aloft on a bier by six "priests." While Randels sang an ancient mermaid lament, they set her down on the bar, where we all feasted on her tail in a final sacrament of communion.
Now, mirabile dictu, that indefatigable spirit is being resurrected. On December 9-10 at the Truck Farm, the Mermaid Lounge Reunion brings together most of the old establishment's extended family, and a slew of artists who played the Mermaid, all the way back to the "floor days" when bands set up in a corner.
"The Mermaid was this incredible little clubhouse of creativity," says Jeff Treffinger, one of eight founding owners – artists and musicians all – who ponied up $500 each to open up an "island in the middle of nowhere" on a Warehouse District cul-de-sac in 1994.
"It was a destination, not something you stumbled upon, so we needed to do quirky interesting things to get people there," recalls Treffinger, who spent countless hours on the phone giving lost souls directions in that pre-GPS era. "If you had a wild hair up your [butt], you could pull off just about anything you wanted to do."
That could be a performance art piece that invited patrons to take showers in the club's back rooms. Or a flea market anchored by the polka band Apolkalypse Now, who served hot bratwurst from the stage. It could be an outrageous fashion show staged on the bar, which required day manager Brendan Gallagher to raise all the hanging lights so the models could strut their stuff. (He grumbled but always complied).
But what really put The Mermaid Lounge on the map was the club's commitment to creative music of every genre.
"It had truly open and diverse booking, without being deliberately eclectic for its own sake," says guitarist Rob Cambre, whose free-form Cambre/Capello duo with drummer Dave Capello will revisit their glory days during the Saturday lineup.
"Back then," Cambre adds, "things weren't so pigeon-holed and niche-marketed. The Mermaid wasn't concerned about 'branding' itself."
Louisiana artists from Quintron to Galactic to the Hackberry Ramblers all played there. So did touring artists as diverse as Carl Perkins, Neutral Milk Hotel, Will Oldham, Victoria Williams and free-jazz bassist Peter Kowald, who did a week-long residency.
In between, the schedule was packed with emerging acts and established bands like Treffinger's own Tribe Nunzio (who masked as The Monkees one Halloween) and The Geraniums (fronted by Gallagher).
Many of those acts were recorded by Treffinger, who set up a studio above the bar with "genius engineer" Clint Montz, and played live recordings of Mermaid shows every Saturday afternoon on WTUL. There, he met fellow DJ and Turducken Productions impressario Anthony Del Rosario, who booked hundreds of acts at the Mermaid and is producing the big reunion at Treffinger's Truck Farm property on St Claude Ave.
Wait, wasn't the Truck Farm sold? Actually, it wasn't; that deal fell through at the last minute. So the much-beloved Chaz Fest may rise again next festival season, and turn the amp up to 11 for its 11th year. Meanwhile, there's "winter Chaz Fest," as Cambre dubs it.
Two dozen storied acts from the club's decade-long run will appear at the reunion. Some still play out all the time, like Panorama Jazz Band, Egg Yolk Jubilee and NO Klezmer Allstars. Others pop up only rarely, like The Geraniums, Royal Fingerbowl and Supagroup.
And some haven't been around since the Mermaid's heyday; Gas Tank Orchestra faced the daunting task of replacing Katrina-damaged instruments at a time when gas tanks aren't that easy to find.
To mark this auspicious occasion, Shawn Hall is orchestrating a slew of installations that's sure to pack a punch, and many of the original Mermaid bartenders are slinging drinks. Among them: Helena Shoh, who'll do double duty with the New Dopey singers; and co-founding artist Pat Cronin, who set up a confessional booth at the 2004 closing party where Mermaid miscreants atoned for our sins. The bar will even be stocked with now-hard-to-find Schaefer beer, specially imported from Texas.
Back in the day, "a can of Schaefer was $1.50 so you could put $2 up and still tip the bartender and feel like a big shot," recalls Cambre. "For those of us who went there a lot, and played there a lot, the Mermaid was part clubhouse, part watering hole, part laboratory, part workshop, part salon. That's how communities come together."
Even if you never went to the Mermaid Lounge, the reunion will teleport you to the inner sanctum of New Orleans' own scruffy Camelot, enshrined forever as a pre-K magic kingdom.
"For me personally, it was an amazing thing to be part of," says Treffinger, who's still a little awed by the legacy he helped create. "I had this bar, with these people who were my partners, who were just wicked intelligent. And we each sort of found our own jobs."
The Mermaid Lounge Reunion, a Festival at the Truck Farm (3020 St. Claude Avenue) runs from 4pm on Friday, December 9 until 11:30pm on Saturday, December 10. Two-day passes ($35) and single-day tickets ($20) are available here, and benefit The New Orleans Craft Guild. Food available for purchase from Juan's Flying Burrito, Sugar Park, Two Girls One Shuck, and Gianna Chachere.