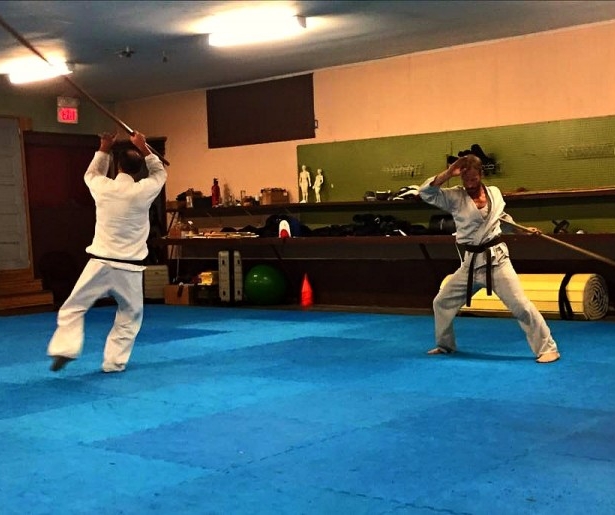 Fighting and meditating might sound like opposite activities to those of us uninitiated in the martial arts. "But our teachings come from Shaolin Zen Buddhist temples, sometimes Taoist temples in China, from monks who were trying to meditate," explains Sam Killpack, a manager and teacher at Shaolin-Do Kung Fu and Tai Chi on St. Claude Avenue in Bywater.
Killpack goes on to link the mental rhythms of meditation with the practice of self defense. "Because [the monks] were being attacked by a government that didn't like what they were doing, they started learning to combine meditation with a physical practice that would help them protect themselves and protect their way of life."
This, according to Killpack, marks the first time Kung Fu was combined with a meditative spiritual practices.
"The fighting arts are the path to achieving meditative success. Here, we're not just punching and kicking. We're learning that, of course, but we want to combine it with meditation, so you can live a happier life, a life where you're taking care of yourself and protecting your own energy."" says Killpack, a second-degree black belt who first entered Shaolin-Do six years ago as a student.
Shaolin-Do Kung Fu and Tai Chi (aka "Powerful Fitness" to neighbors who remember its iconic old sign) was founded in 2001 by Kung-Fu teacher, actor and comedian, Joseph Meissner.
"Powerful fitness was just a headline I used on ads," laughs Meissner, "because I didn't figure people would know what Shaolin Do Tai Chi even was."
Meissner began teaching Kung Fu in a rented studio on Magazine St in 2001. "That went really well," remembers Meissner. "We got so much energy and enthusiasm. So I shifted gears and put all my energy into teaching."
The studio was later moved to Bywater, at the corner of Spain and Burgundy, in the spring of 2002, then moved again to the old copy-shop building on Elysian Fields and Burgundy. Finally, in December of 2004, Meissner bought the current building on St. Claude (4210 St Claude Ave) — and he had barely opened when Katrina became one of his first customers.
Since its restoration, Shaolin-Do Kung Fu and Tai Chi studio has gained many new neighbors, art galleries and restaurants. The New Orleans Redevelopment Authority Recently completed a beautiful facade renovation for the building.
The studio, however, is in another transition process, says Meissner, who currently lives part-time in Los Angeles, where his wife recently found employment.
"I consider myself now halftime in New Orleans and halftime in L.A. as of about a month ago," admits Meissner, who adds, "Luckily, I trust Sam [Killpack]. He's got some good ideas, so I am trying not to stand in his way too much."
For the studio's upcoming 15th anniversary, Killpack is opening up Saturday classes to the public, who won't need a membership or experience to get an entry-level view of what's on offer at Shaolin-Do Kung Fu and Tai Chi. Killpack is also set to debut the studio's new Temple Sound event on December 11th.
"It's going to be a concert with singer Tasche De La Rocha, but instead of everyone standing around, we'll all be focusing on relaxation and comfortable postures, all laying or sitting on mats," says Killpack. "Tasche De La Rocha mostly uses just an acoustic guitar, making light pretty music. She sings, but for this she'll do some humming and make soothing singing noises, to help promote the meditative state that we're trying to go for."
Killpack says that the Temple Sound event is open to those without martial arts experience. "Everything will be completely led," he promises. "You don't have to know anything. All the postures are very simple and can be modified for any body type. We're even really encouraging our regular martial arts students to go, because we feel it's important to not just focus on the fighting arts; it's also very important to be comfortable doing nothing."
Temple Sound, featuring singer Tasche De La Rocha, kicks off Sunday December 11, 4:30pm; $10 ($8 for members) at Shaolin-Do Kung Fu and Tai Chi, 4210 St Claude. Above image via Shaolin-Do & Tai Chi's Facebook page. Visit the Shaolin-Do & Tai Chi website for more information.