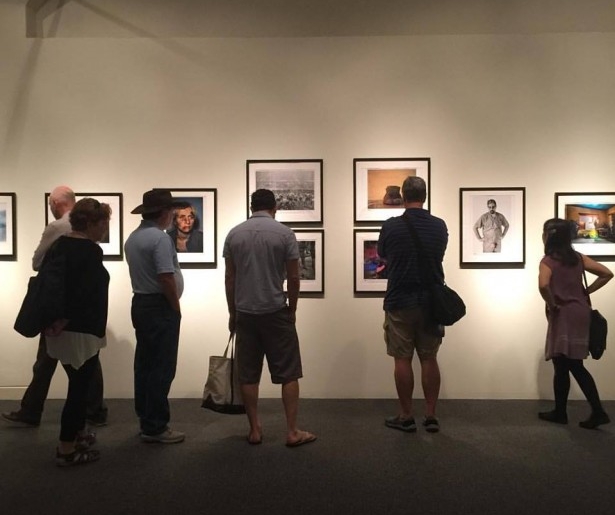 This week, New Orleans celebrates its vibrant community of photographers and welcomes artists from around the world to PhotoNOLA, a series of gallery openings, lectures, and workshops held annually between the first and second weekends of December.
Events provide photographers invaluable opportunities to acquire new skills, experience new art, and meet others artists. For the general public, gallery openings, largely coinciding with second Saturday, spotlight the city's best artists as well as larger trends in the art world.
PhotoNOLA celebrates its eleventh anniversary this year. The event grew from brainstorming sessions Don Marshall (of the Jazz and Heritage Foundation) held to work on economic recovery post-Hurricane Katrina. Those sessions led to the development of the New Orleans Photo Alliance, which serves photographers living in the Gulf Coast, and presents PhotoNOLA each year to highlight photographic arts and continue to spur economic recovery in the city.
Events begin Thursday (Dec 8), and include a printing demo at Carmo (527 Julia Street) from 10am-4pm. Anyone can bring a digital image file and receive a free fine art print of said image courtesy of Canon and Hahnemuhle.
Workshops for photographers also kick off on Thursday, including a two day documentary photography project in Central City with Radcliffe "Ruddy" Roye. The day culminates with award winning photographer and Guggenheim fellow Arno Minkkinen giving this year's keynote lecture at PhotoGALA, PhotoNOLA's annual fundraiser and gala event with a raffle and live jazz band.
PhotoGALA will be held from 7:30-10pm at the New Orleans Museum of Art tickets are $25 in advance and $30 at the door.
Friday (Dec 9) night means the Ogden's annual NOPA members showcase, Currents, juried this year by Kevin Miller of the Southeast Museum of Photography.
PhotoNOLA culminates Saturday (Dec 10) night, when galleries and alternative venues across the city will host dozens of photographers. The following list includes the shows I plan to attend, but like most people familiar with second Saturday wanderings, I'll be stopping at as many other nearby shows as I can.
This is a night where it is impossible to see everything, but fun to try. Determined souls might start in the CBD and explore around Julia Street, then make a few stops in the Quarter on Royal before finally heading to the St. Claude corridor, but even that route misses some outlying venues.
Revolt: Transmissions From the social/political Battlefield
Gallery Eight One Eight, 818 Royal Street
Show features work from husband and wife team Cecilia and Jose Fernandes, with a focus on the universality of the human condition, as seen through the pair's extensive travels.
Jose grew up in Portugal and moved to New Orleans in 1988, and creates striking black and white photography that pulsates with life and experience (both good and bad), in images taken around the world.
Until the Water, Frank Relle
Frank Relle Gallery, 910 Royal Street
Relle's work focuses largely on the natural environment of South Louisiana, with large scale, eerily lit, portraits of camps and bayous. Relle took these photographs at night, working from a flatboat with aluminum poles stuck in the water to keep his camera – rigged with lights, a generator, and piping for tripods – steady all the while.
Cut, Tear, Burn, Sew: Valerie Corradetti, Maria Levitsky, and Jeffrey Rinehart
UNO St. Claude Gallery, 2429 St. Claude
UNO Department of Fine Arts Artist in Resident Ariya Martin curated this show, exploring architecture and the structure of images. The artists use collages, print making, emulsions, and sculpture as part of creating the forms they photograph. This PhotoNOLA event marks the exhibition's closing reception; it's the last chance to see these works here.
UnNatural History, Diane Fox
Antenna Gallery, 3718 St. Claude
An exhibition about taxidermy! Part of Fox's work looks at dioramas in museums in and outside the US, using reflection and anachronistic objects not meant as part of the exhibit to show disconnects in the relationship between humans and animals.
Fox also takes portraits of taxidermied animals, showcasing them as though they were 17th-century aristocrats. Her approach prompts the viewer to think about the treatment of animals in life and death.
Spiritual YAYA: Voudou, Mary Lou Uttermohlen
Second Story Gallery, 2732 St. Claude
An exhibition of Uttermohlen's photographs showing Sallie Mae Glassman's Voudou Society, La Source Ancienne Ounfo, part of a larger series documenting voudou in New Orleans called Spiritual YAYA. The projects seeks to connect coexisting communities and remove some of the mystery outsiders see surrounding voodoo practitioners.
Politico Popup 2, Group Show
New Orleans Art Center, 3300 St. Claude
An exhibition of artists with work of a strong political or social context. The nine-day show includes photography as well as painting, sculpture, printmaking, video, performance art, live music, artist talks, and live collaborative pieces.
The exhibition includes recent photography like Kim Coleman's work documenting protests in Baton Rouge following the murder of Alton Sterling, as well as older pieces like Michael Fedor's painting of David Duke during his 1990s gubernatorial campaign. Opening night includes live music from ZenBeatz and poetry from Rodger Kamenetz.
Photo NOLA runs December 8 through December 11 at venues across the city. You can find a complete listing of events here. Image via the PhotoNOLA Facebook page.