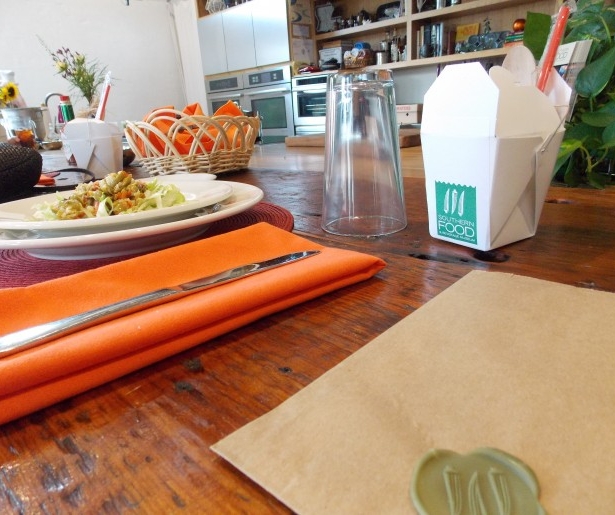 There are plenty of restaurants in New Orleans where $40 won't get you through appetizers and pre-dinner cocktails. But a $40 ticket to one of the Southern Food and Beverage Museum Lunch Demonstrations will not only buy you a huge three-course meal (with sides and beverages) – it will also grant you access to the history behind New Orleans' rich and layered contribution to food culture.
"Creole food" – New Orleans' food – as Lafcadio Hearn first pointed out in La Cuisine Creole, is unique. It counts the French, African, Italian, German, and in its more modern iteration, Vietnamese cooking traditions among its influences, including others, and, as Liz Williams, founder and director of SoFAB points out, it "is constantly changing" as new people visit the city and incorporate their own unique flavors.
Williams and SoFAB coordinator Jyl Benson came up with the idea for New Orleans-inspired lunch demonstrations in the museum's open-plan, state-of-the-art kitchen. The pair wanted to share the heritage of Creole cuisine with New Orleans' natives and visitors alike.
Throughout its history, New Orleans has attracted immigrants and tourists from all over the world. This means that many of the dishes that end up on plates in restaurants and homes across the city have their roots in cuisines from halfway across the world.
Take, for example, that New Orlean favorite: the muffuletta. This thick sandwich, composed of a rich olive salad, cold cut meats like salami and ham, provolone cheese, and an oversized sesame seed bun, is a staple in any restaurant in French Quarter or grocery store in Uptown.
"[New Orleans] certainly didn't invent the [muffuletta]," says Williams, "but we did popularize it. And we were probably the first ones to call that sandwich by that name."
Sicilian immigrants – sailors, laborers, and other blue collar workers – are more likely responsible; these men and women wanted quick and easy lunches that had ingredients familiar to them.
Perhaps the most important part of the muffuletta, the part that gives it a distinct, tangy flavor – the olive salad – is made from ingredients not native to the swamps of Louisiana, but the gently sloping hills and jagged coasts of Italy: crushed black and green olives, bright olive oil, and salty anchovies.
And while you can find this olive salad in many places around New Orleans, it is only at the SoFAB lunch demonstration that you learn how to make it yourself. It's just one of the distinctly New Orleans dishes on the menu.
Benson walks you through the steps of making each dish, from prepping spices and herbs before the cooking starts to adding orange and lemon zests to a finished sauce to brighten it. As souvenirs go, the idea is novel and excellent – rather than a string of beads or a plastic daiquiri cup, you can travel back home with a new favorite recipe to share with your family and friends.
And while you wait on the sauce to thicken for the main course, you are treated to a guided tour of the SoFAB museum, led by Williams.
Benson and Williams, with the help of sponsor donations, grants, and volunteers, have cultivated one of the most extensive and unique collections of New Orleans cooking and food artifacts around. Two of New Orleans' oldest restaurants, Tujague's and Antoine's, have dedicated exhibits, and there is an entire wall dedicated to the influence New Orleans has had on the cocktail.
Among the museum's exhibits are many things that you would perhaps expect from a museum dedicated to food: gold-filigree china used by a president, ornately-carved pure silver cutlery, and prized crystal decanters.
But there are unexpected gems of a bygone era as well: 1930's paper grocery bags, with ads for local politicians seeking election; unopened bottles of cheap, store-brand bourbon; and commercial wash basins from a time before indoor plumbing.
The museum itself is built in part of the old Dryades Market, and much of the grocery store's original architecture, including the scaffolding, is still visible.
The best part of the demonstration, of course, is getting to eat the delicious foods. While other museums might discourage you from eating or drinking inside, at SoFAB, you are encouraged to dig right in. And there's plenty for second helpings.
To attend a Southern Food and Beverage Museum Lunch Demonstration, you can purchase a ticket at SoFab's website. Demonstrations run from 11am-1pm and are scheduled into 2017.