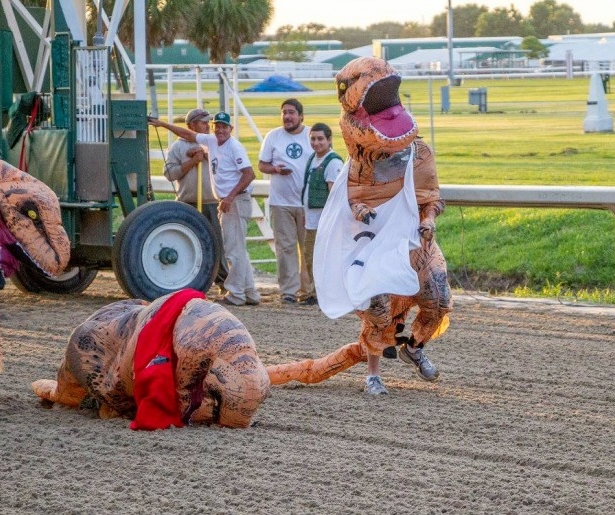 It's a Thursday, and Keith Juneau is having a good day at the races.
"I've been betting at the track with my dad since I was 9; I grew up in Gentilly," he says. "I remember in the 1960s, there used to be segregated areas for betting with a line down the middle dividing white and black."
Placing bets at the New Orleans Fair Grounds Race Course and Slots complex used to mean waiting in long lines. "Before everything was computerized, tellers took all the bets," Juneau says. "Nowadays you can bet on races all over the place and you don't have to talk to anybody."
Juneau is eating a hotdog, like almost everyone else surrounding the gambling machines on the bottom floor of the building. On "Throw Back Thursdays" the fair grounds serves both hotdogs and Miller Lites for $2. He is wearing a faded blue sweatshirt, jeans and flip-flops, while holding a rolled-up guide to the day's races. For novices, he recommends disregarding such information.
"I used to bring my girlfriend here and she didn't know much about horses. It's better to just bet on the one whose name you like. Don't waste your time reading about the horses or trying to understand the lengths and speeds. You're more likely to have beginner's luck if you pick the name you like the best," he says.
An announcer offers other betting tips via a loudspeaker. Juneau bets on Offshore Fantasy, the No. 4 horse for the 4:30pm race. Both horse and jockey wear bright blue and move anxiously behind the starting gate. As the horse's head butts the gate and attempts to rear, Juneau appears unconcerned.
"He's ready to go. Could be good, could be bad," he says, waiting.
"Call to post," says the announcer. Almost everyone looks up.
Offshore Fantasy starts with a strong lead, upsetting some fans nearby. "Stop the race," one man yells dramatically, largely ignored by the people surrounding him. Juneau also ignores him, saying little until the race's final seconds when Offshore is edged out by the No. 5 horse, Winner Take All.
"Got him by the nose," he says, returning inside for another Miller Lite, out $20 for his lost bet.
The wagers are much higher in the clubhouse four stories above, where the majority of the millions of dollars in bets and prizes originates and returns.
The next Thursday is Thanksgiving. Cars surround the fair grounds and cabs drop off already tipsy locals relocating from Bloody Mary brunches to the horse races. First post is at 11am and by mid-afternoon thousands of people circle the grounds. Smaller crowds will also return at Christmas, New Year's and Mardi Gras.
Aside from a $10 entry fee for the clubhouse, entrance to the fair grounds is free. A wide variety of people occupy the lower levels. Bets are made on the bottom floor, equipped with televisions simulcasting racing events around the country.
The floor above has a viewing area for live races with rows of seats facing the racetrack. The building's track side is entirely glass, rising high above crowds of mingling people waiting for the next race to begin.
Outside, track regulars peruse weathered racing guides and quietly discuss odds amongst themselves. A jockey's family waits near the finish line, speaking in Spanish next to a group of men wearing wigs and high heels. Fashions run the gamut from $12,000 mink coats to wrinkled sweatpants.
Gabrielle Trimm and Irene Plax arrive from Bacchanal, where the two work. They met for raw oysters and champagne before heading to the track. Neither plans to bet.
"I didn't really come here to gamble," says Trimm. "On Thanksgiving people come to see and be seen. It's like a city-wide costume party where everyone is dressed to the nines, New Orleans style. Dramatic hats are important."
Plax and Trimm both wear fur collars, a trend from the past that has made a recent resurgence at the races, despite the heat. It's a typical winter day in New Orleans – sunny and around 75 degrees.
"It's hot, but everyone here loves an occasion to dress up," Plax says. "There are people who have been coming here forever."
Upstairs in the clubhouse, visitors enjoy a Thanksgiving Day spread – $70 for seating in row seven and $125 for seating on the first row, next to the glass. No shorts, t-shirts or sandals are permitted. Menu highlights include corned beef and cabbage, roast turkey with gravy, roasted grouper, green bean casserole and a fruit and cheese display.
There has been a racetrack on the site of New Orleans fair grounds since 1852. Races were interrupted during Union occupation as troops raided nearby plantations and sold many of Louisiana's thoroughbreds to New York buyers. Despite an ensuing lack of quality horses, races continued, and gambling on the sport became a sometimes lucrative pursuit in the city.
By 1908, resentment towards increasingly corrupt bookmakers and gamblers manifested in the form of the Locke Law, which banned horse racing for seven years and effectively shut down the racetrack. The law's repeal in 1915 reopened the track, though races halted briefly in 1919 following a fire in the grandstand.
The fair grounds almost closed again in 1941 when it was put up for auction; the grounds were eventually purchased with a 30-day option by a group of businessmen and horse owners.
Disasters have occasionally interrupted the races since then. A gas line explosion destroyed the clubhouse in 1993, and Katrina tore open the grandstand and flooded the grounds, leading to the first winter without races in 91 years.
Despite temporary closures and setbacks, the races continue, and so does a tradition pre-dating Churchill Downs. There's something for everyone at the fair grounds, whether you care about racing or not.
Above image: Tyrannosauras Rex races at the New Orleans Fair Grounds Race Course, via that entity's Facebook page.