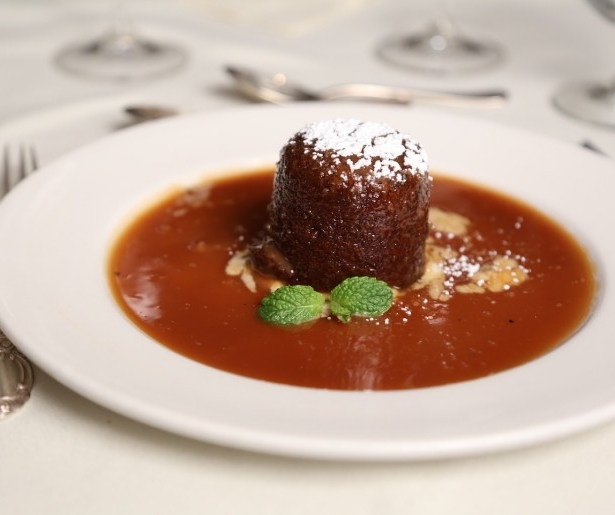 Just like caroling on Jackson Square, the St. Louis Cathedral concerts, or bonfires on the levee, Reveillon dinners are a beloved Crescent City holiday tradition. This year a whopping 53 local restaurants are offering specially priced multiple-course Reveillon menus, ranging from $34 at the Gumbo Shop to $110 at Commander's Palace.
In the 1800s, Creole families would end the daylong Christmas Eve fast with a lavish post-midnight-mass feast at home. By the 1940s, the tradition had all but disappeared, but was revived in the 1990s and is now kept alive and thriving thanks to French Quarter Festivals, Inc., the enthusiastic participation of local bars and restaurants, and our appetite for the decadent abundance of the city's culinary traditions.
Thankfully we don't have to wait 'til 2am on Christmas Day to gorge ourselves on oysters and turtle soup, nor do we have to make them ourselves, as those prix fixe dinners will grace restaurant menus through New Year's Eve – some faithfully recreating traditional menus the city has enjoyed since the 19th century, others adding a contemporary twist.
"Reveillon is a unique culinary celebration in one of the most culturally rich cities in America," says Rick Gratia, co-owner of Muriel's Jackson Square. "While the custom has been modernized, we are honored to participate and do our part to keep the tradition of Reveillon alive and thriving."
All Reveillon menus are presented in two categories: traditional and contemporary. The traditional menu contains the ingredients that would have been available to the French Creole families in the 1800s. The contemporary menu is a modern-day adaptation, with no limitations imposed by the historic frame vis-a-vis ingredients, techniques, and trends.
Georgia Rhody, the French Quarter Festivals, Inc. Food & Beverage Manager curating the event, says the program has the same structure this year, but with more participants. Among the new options available this year is Carmo, which is pioneering new Reveillon territory: vegan options, like oyster mushroom groundnut soup.
Rhody is particularly excited about newcomer Seaworthy's menu, with its "focus on seafood and local products," as well as a Puerto Rican-themed Reveillon at SoBou. Another favorite is Upperline. "They do a classic Reveillon," she comments. "It's consistent from year to year."
"Commander's Palace always blows us away with their decadent seven-course meal," adds Rhody. "They do an amazing job with the attention to their menu. And restaurants like Antoine's and Tujague's have been with us since day one."
"There are many formal restaurants presenting Reveillon, but there are, too, some casual ones that are more affordable," says Rhody. "Still, you get four courses, and in some of those you get choices. There's a price point for everybody."
You can sip your Reveillon, too. Only three years old, Reveillon on the Rocks highlights holiday-themed and inventively named cocktails from the participating restaurants and bars.
"If you don't want to invest in the time and the cost of the Reveillon meal, you can just have a cocktail at a great spot," says Rhody.
For example, you can try Antoine's Fiery Gingerbread Man with cinnamon and butterscotch schnapps and bourbon, which will be served on Christmas Eve and New Year's Eve.
The Columns' Passe Pommes with whiskey, cinnamon, and Angostura bitters will be served on Christmas Eve and Day, while French 75 offers its take on wassail with Pimm's and apple brandy.
Whether you sample the menu of a restaurant you've always wanted to visit at a bargain price, start a family tradition of your own that still involves togetherness (just no cooking), or sip a creative cocktail to invoke the spirit of the holidays, there is plenty of cheer and bread pudding going around this month.
The Reveillon chefs are pulling out all the stops, and now is a good time to bask in the old-school ambiance of the city's finest restaurants. Here are our top seven picks below.
Antoine's (from $49)
713 St Louis St
A traditional four-course menu offers a choice of charbroiled oysters or alligator bisque, plus crab- and shrimp-stuffed drum, and eggnog bread pudding with praline rum sauce.
Arnaud's (from $49)
813 Bienville St
Arnaud's traditional take on Reveillon is a four-course dinner with Creole onion soup and beef carpaccio. The third course has three choices: flank steak with whipped goat cheese and pimento grits, roasted rabbit loin with French cassoulet and boudin, or seared drum; plus either crepe Suzette or chocolate absinthe trifle for dessert.
Commander's Palace (from $110)
1403 Washington Ave
Commander's Palace's stunning seven-course menu (eight, if you count a cocktail listed as a fourth course) offers one choice for each course, but what choices they are: oysters, Gruyere Croque Madame, rabbit confit, cochon de lait (of wild boar), and chocolate "Hubig's" pie ("Gone, but not lost").
Galatoire's (from $50-$60)
209 Bourbon St
Galatoire's offers at least two choices for each of its four courses, such as escargots and shrimp scampi, duck and andouille gumbo, and Bananas Foster.
The Gumbo Shop (from $34)
630 St Peter St
The bargain-priced, mouth-watering menu has chicken andouille gumbo, turtle soup, oyster and artichoke soup, crawfish etouffee, crab cakes, pecan pie, and hot bread pudding. The fourth course offers Southern side favorites like mashed potatoes, Creole creamed spinach, corn maque choux, and smothered turnip greens.
Muriel's Jackson Square (from $48)
801 Chartres St
Muriel's sticks to the traditional four-course menu with fried oyster chowder, butternut squash bisque, grilled veal chop, and creme brulee.
Tujague's (from $48)
823 Decatur St
Tujaque's Reveillon menu is only available on Christmas Eve and includes bacon-wrapped Louisiana oysters, crawfish and goat cheese crepes, marinated crab claws salad, turtle soup, filet mignon, chicken Pontalba, as well as the traditional offerings of pork chops, chocolate bread pudding and creme brulee.
Image courtesy of Muriel's Jackson Square.