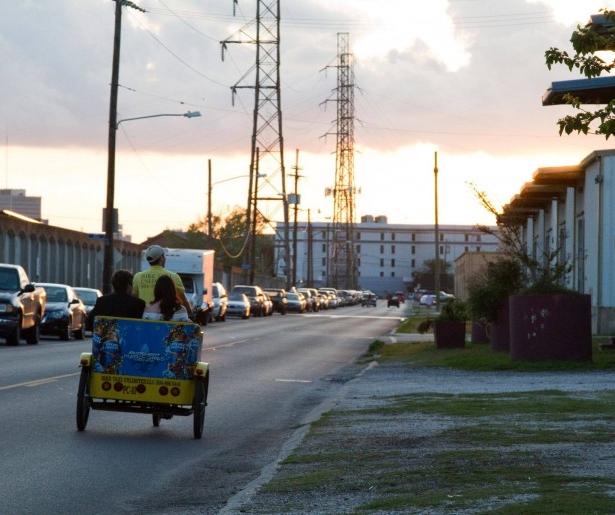 As of 2011, the French Quarter's taxis and put-upon mules began facing competition from 45 new adult tricycles – 15 being the City Council mandated maximum for each of the city's three pedicab companies.
Just five years later, it's almost difficult to remember a time when pedicabs did not roll across New Orleans's touristy landscape.
"I worked as a server in a restaurant for a while, but I definitely prefer pedicabbing," says Laura Harris, who has pedaled for Bike Taxi Unlimited for four years. "I feel like I am providing a more useful service on the pedicab, plus I don't have a manager looking over my shoulder telling me I am not folding napkins right."
Avid cyclist Erin Hansen began driving pedicabs in April of 2015, "I had just ridden my bike across the country and when that was done I wanted to have a job that approximated that – just being outside all day, being exposed to the environment and feeling part of the world, interacting with people I normally wouldn't put myself in contact with at a traditional kind of job."
City law sets the basic fare at five-dollars per passenger for the first six blocks of a trip, plus $1 per passenger for each block thereafter. Mind you, that rate is all year around.
While during certain seasons, pedicabbing might look like the ideal occupation, during the winter months and especially the summer ones (when just going out to your mailbox might give you heatstroke), one wonders how pedicabbing is even possible.
"In the summer you feel like you're going to get heat stroke," confirms Harris. "You're just desperately trying to find your shadows and ride in them. Then in the cold months you often just sit there, not making any money."
Hansen is more idealistic: "There's something that makes you feel very alive working through the heat and the cold," she claims. "Summer in particular, I find that pedicabbing…you have to move slowly, sit in the shade at Jackson Square and regroup. You have to have a handheld fan, and drink a virgin daiquiri from Tropical Isle."
Hansen, though, eventually admits, "I took a little time off cause I didn't want to do it all summer."
But, we ask, doesn't pedicabbing has to keep you in the best shape of your life? "Physically I don't know if it's better for your body," Harris says. "If you work a lot, you feel like you walk like an old man."
All this to say: pedicab drivers deserve your tips.
Each company has dozens of drivers vying for shifts. All drivers rent their bikes from their respective companies, and then keep whatever money they make driving.
"We sign up for our shifts the week before, because it's kind of competitive to get a Saturday night," says Harris, whose bank account benefits most when she works during Saints games and festivals.
"The biggest surprises for me this year were French Quarter Fest and Buku Fest," says Hansen, who at the time of our phone interview was stationed in Baton Rouge, driving pedicabs at an LSU game. "It was a young crowd at both, and I just had a lot of fun while making a lot of money."
Occasionally, people will hire a pedicab driver for an entire day, as a documentary film crew recently did for famous New Orleans musician Dr. John.
"They actually hired two pedicab drivers from 8am to 6pm: one of us to carry Dr. John and an interviewer, and one to carry the camera and other gear," Harris recalls. "Dr. John is pretty old by now, so I was bringing him back and forth from Armstrong Park to his trailer. While I was driving him around, so many people recognized him. People yelling out, 'Do the Popeye's commercial!'"

Both Harris and Hansen say that meeting people of all stripes from around the country is a fun aspect of the job.
"People will confide in us and tell us their life stories," says Harris, who adds that it isn't always fun though, especially for young, female drivers. "I would say we certainly have good tourists here, but some people come here just to party, especially bachelor parties, and you have to deal with those people a lot…they come to New Orleans and they act in ways they wouldn't at home…I personally don't like to work night shifts."
But both women say that the positives of driving a pedicab do outweigh the negatives.
"The face of transport in New Orleans is changing, with Uber, the new streetcars and all of that, and we are at the forefront of that," Hansen says. "The pedicab might be slower and cost a little more, but many of us have been doing this for a long time and we consider ourselves experts on the French Quarter and Downtown, so a pedicab is much more than just getting a ride, it's also getting access to a local's perspective and what we know about what's fun to do."
"On my pedicab I also have music, I have balloons, and I even started taking credit cards. You are paying for a ride, but also for info, and a unique experience…you are paying for fun," she adds.
Image via Bike Taxi Unlimited's Facebook page.