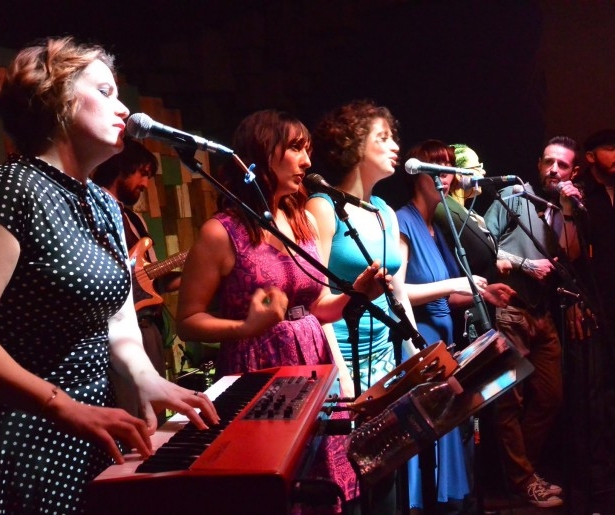 On a Sunday afternoon in November, The Asylum Chorus plays to a packed house at The Spotted Cat on Frenchman. Wandering in off the street, it takes a several songs to take in all the performance elements.
There's a three piece backing band crammed onto the back of the stage, bassist nearly touching the large window of the building's facade, and in front of them, seven men and women sing complex harmonies. Another singer directs things from below, playing piano, singing verse and adding to the array of tambourines and shakers accompanying the music.
One of the pianos won't fit onto the stage, leaving the lead singer partially obscured by the crowd below and adding to the general sense that things could go of the rails at any moment – in a good way.
As the group segues into another track, the lead musician changes and someone else takes the helm. This time it's Sybil Shanell, who leads the other vocalists on "Living In," the last track on the band's newest release, Take A Piece. The song represents a somber moment in an otherwise largely jovial performance.
Shanell's vocals (along with doo wop a capella backing from the rest of the singers) tell the story of a world where "people die because of their skin, or because of their religion" and people respond by "buying new shoes and keep on walking." It's politically prescient and moving, and the crowd responds with hearty applause.
Other songs like Amy Trail's "I Want To Love You So Much" show the group's country and soul influences, with more subtle harmonies solely accompanying the chorus. It's a love song, also on the band's new record, their fourth full length EP, which was released this November.

Take A Piece showcases The Asylum Chorus's myriad influences – bringing a capella, funk, country, rock, soul, hip hop and other genres together, the inevitable result of eight different vocal performers writing songs and contributing harmonies to the album's six tracks.
"In 2011 I was in a group called The Bingo Show that had clowns and roulette dancers, and through that I met a variety of different musicians," says founder and band member Lucas Davenport. "I had always wanted to do a gospel chorus, which turned into a singing chorus because I'm not particularly religious, so I got some of these people I had met together and we started rehearsing."
After six months or so, the group of nine musicians had prepared a two hour show, which they performed at Preservation Hall. The original group included Davenport and Trail, as well as local luminaries like Helen Gillet.
"A lot of us never got a chance to just sing without playing an instrument, or sing with other people, so we wanted to do that more for fun and our own personal enjoyment than anything else at first," says Davenport.
Several members of this original group of performers continued to meet regularly, eventually performing French Quarter Fest and Voodoo Fest, among other local events.
"We decided to pursue things at a more serious level, and our new release is the culmination of all that. We saved all our earnings from shows for a year and made our highest quality release yet. We've also crafted a three hour set that we think people will be entertained and engaged by that works in New Orleans' clubs," says Davenport.
"We have people coming from opera, folk, and show tunes, just so many different musical influences. We are combining all that to produce an experience with lots of different elements and two different goals. One is constructing songs with all the parts moving at the same time and complex harmonies, but we also want songs that are traditional with a lead and background harmonies built around that," says Davenport.
The Asylum Chorus's eight singers have been part of the New Orleans' music scene for decades. Roan Smith was one of the founding members of Media Darlings, a hip hop collective, in the late 1990s. Mike Cammarata and Melanie Gardner sing opera, and Melanie also fronts a jazz group. Amy Trail and Hannah Kreiger-Benson perform as piano players at Pat O'Brien's, where their repertoire includes over 1,000 songs. Ashley Shabankareh and Kreiger-Benson also play in The Local Skank, and all girl (and one guy) ska band, as well as The Marina Orchestra, a world beat Caribbean soul funk band.
Shabankareh also works with Preservation Hall, where Davenport met her along with Kreiger-Benson through The Bingo Show. The Asylum Chorus's backing band rotates "basically due to availability," says Davenport, though Smith's brother, Kelly, has played bass regularly for the last year or so.
Future plans include more festival work outside of New Orleans to "expose more people to our music and what we do," says Davenport. "We are super fortunate to be doing this, and we consider ourselves pretty blessed to have been together as a cohesive group of eight singers for the last five years."