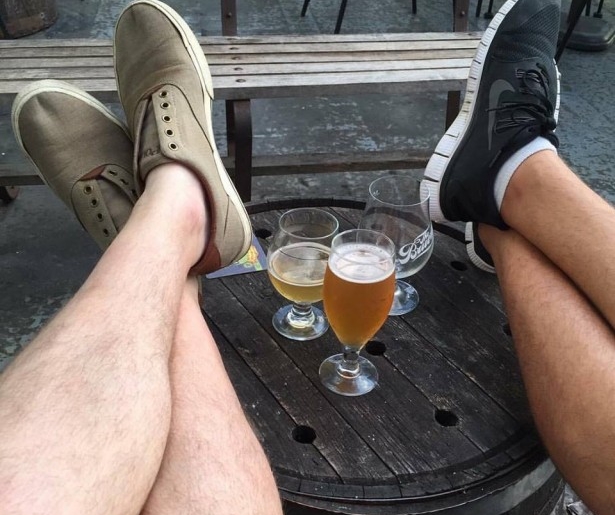 SHARE
The beer scene in New Orleans has exponentially expanded since 2010, ballooning from a few beer-specializing bars and one homegrown brewery to a series of brewpubs, microbreweries and even restaurants that specialize in beer and food pairings. The point being – when it comes to beer in New Orleans, there's more than Dixie on the shelves. Here are some of our favorite tap houses in the Crescent City.
NOLA Brewing Tap Room
3001 Tchoupitoulas St
NOLA Brewing is the godfather of post-Katrina homegrown New Orleans beer production. You can find their products at bars across the city, and their commitment to both good beer and civic engagement has been a happily consistent element of the company for years. The brewery's fantastic tap room is one of our favorite spots in the city to watch sports, and the space is now catered by McClure's Barbeque, so bonus.
Freret Beer Room
5018 Freret St
Look, food is great and beer is great, and even better is a restaurant dedicated to pairing the two together. Enter the Freret Beer Room, which already has well over dozen beers on tap, with many more on the way, all matched to a creative New American cuisine menu.
Junction
3021 St Claude Ave
A product of the good folks at Molly's at the Market, Junction combines two of our favorite things – cheeseburgers and draft beer – into one cozy package on St Claude Ave. One of the few spots in New Orleans to get a genuine New Mexico-style burger (i.e. topped with roasted chilies); the 40 some beers on tap is the hoppy icing on the cake.
Second Line Brewing
433 N Bernadotte St
The best thing to happen to Mid-City since they planted trees on Banks St, Second Line is that glorious unicorn – a place where you can grab a drink, enjoy the outdoors weather, catch a show, order off a food truck and bring your kids. It seems Second Line has started a trend of family friendly brewery beer rooms, and we're totally supportive of this civic development.
Urban South Brewery
1645 Tchoupitoulas St
Urban South isn't just producing some of the finest beer int the city – they've also exploded onto the local scene by hosting a ton of events, supporting great community initiatives, distributing their brew across a ton of bars, and generally reshaping the local suds scene in a fairly short amount of time. Read more about the brewery here.
The Bulldog, Mid-City
5135 Canal Blvd & 3236 Magazine St
With two locations to boast of, the Bulldog is a standby when it comes to local beer bars. It's the sort of place that consistently attracts a young and pretty clientele mixed with brew loving professionals; at the end of the day, the Bulldog is a rock in the NOLA bar scene. Plus, it's pet friendly.
Wayward Owl Brewing Company
3940 Thalia St
I admittedly haven't been to the Owl yet, but this brewery, which is already charming local beer aficionados, seems to have a ton of promise – they already have a gorgeous tasting room and are looking to provide excellent food to compliment their liquid bounty. Read more about the Owl here.
The Avenue Pub
1732 St Charles Ave
A classic by any measure, the Avenue is simply one of the great beer bars of the South (if not the country). There's great beer, great food, and a general atmosphere of playful anarchy and grinning subervsion – everything we want out of a New Orleans public house.
Image via the Avenue Pub Facebook page.