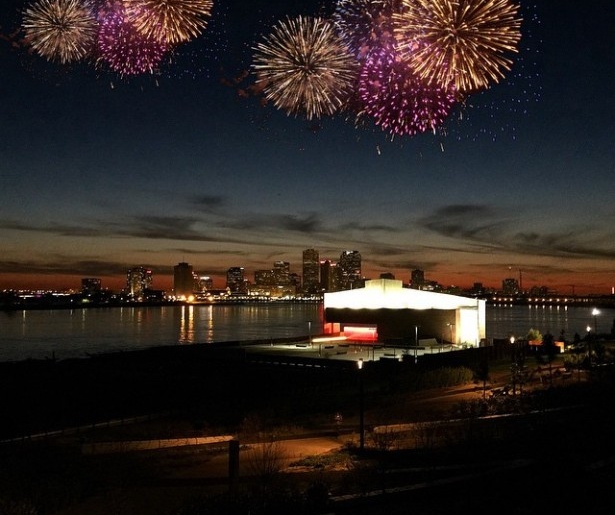 SHARE
New Year's Eve in New Orleans always delivers heaping portions of food, music and partying, with all of the above exacerbated by a new wrinkle in the New Year's calendar: for 2017, the Dick Clark Rockin' New Year's Eve production is hosting its first official Central Time Zone party in the Crescent City.
With all that said, it's important to stress: you don't have to get wild to usher in 2016. There are plenty of quiet ways to welcome in the New Year, even in New Orleans, but with that said, if you are in the market to get crunk on NYE, here are some of our recommended parties.
Family-friendly options
So, maybe it's fair to say that champagne at midnight and a kid's sleep cycle don't play nicely. On the other hand, you don't want the little ones to completely miss New Year's Eve fun. Well, you're in luck: there are a couple of kid friendly December 31st parties. We'd say the below are good for children aged 1-10, maybe a little older, depending on their temperament.
If you like animals, head to Zoo Year's Eve at the Audubon Zoo – the wildlife gets wild, as it were, from 10:30am to 1:30pm and includes a Pepsi toast and costumed characters. In addition, the Louisiana Children's Museum hosts an annual New Year's Eve Kids' Countdown to Noon! (9:30am-2:30pm), which features party favors, music, snacks and other fun accouterments.
Music Makers
New Orleans is indelibly linked to music, and several venues around town are hosting gigs. Combining local live music with a champagne toast is probably as good a way to end 2016 as anything.
You can head to Preservation Hall to see classic New Orleans jazz at Hall Lang Syne, which also wins our award for best punny title of a local New Year's Eve event. Tickets are $135, which gets you access to the Hall, a champagne toast and an evening with one of the world's great jazz ensembles.
New Orleans electronica artist Pretty Lights (also known as Derek Vincent Smith) will play a two day set at Mardi Gras World on December 30th and 31st (tickets from $60 for the show on the 31st). This is a great option for those who want more contemporary sound and a chance to play amidst the surreal installations of Mardi Gras World.
If you're looking for the quintessential Crescent City music experience this New Year's, I'm not sure you can do better than Foundation of Funk + Dumpstapunk the Joy Theater.
To messily paraphrase the late, great Allen Toussaint, everything about this show gonna be funky. Some of the city's best funk masters are uniting for the gig, including Zigaboo Modeliste and George Porter Jr.
Allstate Sugar Bowl Parade
Every New Orleans celebration needs a parade, right? The Allstate Sugar Bowl comes along with a New Year's Eve Parade that beginsat the 'bottom' of the Quarter, at the intersection of Elysian Fields Avenue and Decatur Street, at 2:30pm. The parade will proceed into the French Quarter and end at Canal St, with plenty of marching bands and trinket throwing happening along the way. The parade is affiliated with, and accompanied by, the Allstate Sugar Bowl Fan Fest.
LGBT Events
Some of the oldest dedicated gay bars in the country are throwing big time New Year's Eve parties in the vicinity of the 800 block of Bourbon St. If you'd like a quieter evening (although you should still expect some fun times), head to more laid back 'gayborhood' bars like Mags 940 or Big Daddy's.
Crossing the bridge to the Crescent Park
For many, New Year's in New Orleans means watching fireworks on the Mississippi. The Crescent Park is as lovely a venue for this sort of celebration as you'll find, with pretty views and big crowds, the latter ameliorated by the sheer size of the park.
Jackson Square swing
This is our Times Square ball drop (well, actually a fleur-de-lis drop). The Dick Clark party will likely focus on the crowds here, who will be watching for fireworks over the river. Expect live music, packed crowds and the occasional shining lights of the television cameras.
Above image: fireworks at the Crescent Park, via its Facebook page.