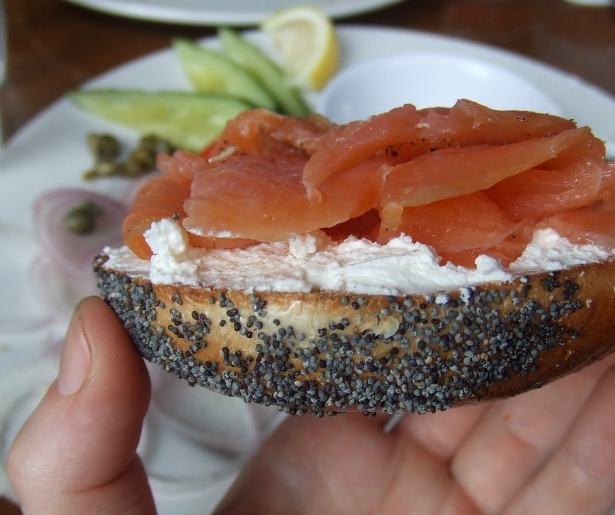 Ten years ago, you'd be hard-pressed to find a decent bagel in New Orleans. Mostly because none of the locals were looking for a bagel. This city is best known for serving beignets, fried and sugared to order.
For the transplant trying to find a bagel, the grocery store goods and flat, cardboard style stuff offered up at a few coffee shops did not make the grade.
In my early years as a student at Tulane, I regularly stopped at my hometown favorite bagel store in the early morning hours before my flight to New Orleans, in order to stock my Uptown freezer with freshly baked everything and sesame bagels, sliced and individually bagged.
Pre-Katrina, the hand-rolled nosh, which has roots in the Polish Jewish community, had only one notable spot in Jefferson Parish, where the majority of the Jewish population was concentrated. In New Orleans, there was a void.
One of the early pioneers of fresh-baked New Orleans bagels was Steve Himelfarb, of Cake Cafe & Bakery.
"Pre-Katrina, there really weren't any good bagels in the city and people would ask," says Himelfarb. "There was a place in Metairie that made bagels and they did a good job but it was very hard to find a good bagel in New Orleans."
When Himelfarb opened Cake Cafe & Bakery at the corner of Chartres and Spain, his priority was to make a "super good bagel." Growing up in Washington D.C., the bagel was an important part of Sunday brunch.
"Bagels, lox. Typical Jewish East Coast upbringing," he says, adding that bagel production at Cake is limited to the everything and plain varieties. "For us, it's not about becoming a bagel place, it's about having a bagel with the right sides. We cure our own lox too. That is really important."
Himelfarb spent time in Los Angeles and believes the L.A. bagel "is a little fluffier than the New York bagel, [while] the N.Y. bagel is a denser bagel than Philadelphia and D.C."
Cake Cafe also offers the added bonus of the stuffed bagel for grab-and-go. One is vegetarian and the other has meat and cheese. On weekends the meat offerings are replaced with a traditional lox and cream cheese variety.
Across town, Chef Ziggy Chichowski respects the traditions of his native Poland, as well as, Austria, Italy, Germany, and France at his bustling bakery, Maple Street Patisserie.
"Bagels are really time-consuming," explains Chichowski. "The process takes about 24-hours by hand."
Fortunately, the Patisserie has commissioned a 42-deck oven at their wholesale commissary to bake for around 67 hotels, restaurants and coffee shops.
Bagels done in the traditional New York-style are hand-formed and then boiled before being finished in an oven. Traditional preparations include a platter with white fish, cream cheese and lox, or a made-to-order bagel sandwich like a classic pork roll egg and cheese.
Other huge bagel markets include Washington D.C., the Tri-State Area and Los Angeles. Today, New Orleans bakers give a nod to this tradition with a spurt of new bagel joints across town.
Top 5 Spots for Bagels Right Now
Maple Street Patisserie
7638 Maple St
Open Tue-Sat 6am-5pm and Sun 6am-noon
Gracious Bakery
1000 S Jefferson Davis Pkwy #100
Open weekdays 7am-3pm Sat-Sun, 8am-2pm
Manhattan Jack
4930 Prytania St
Open daily, 6:30am-6pm
Stein's
2207 Magazine St
Open Tue-Fri 7am-7pm, Sat-Sun 9am-5pm
Small Mart
1303 Decatur St
Open daily, 8am-10pm
Image via Wikipedia and Wiki Media Commons.