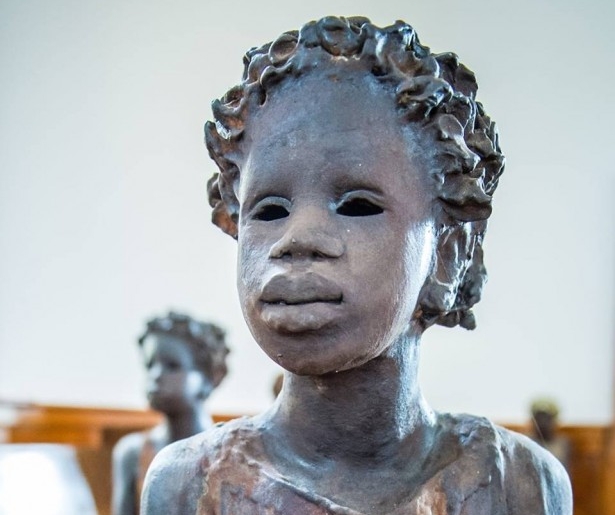 SHARE
Visitors to New Orleans often make day trips to the old Gold Coast plantations along the Mississippi river, where wealthy landowners made a fortune growing sugarcane harvested with the blood, sweat and tears of enslaved Africans and their descendents.
Though the Whitney Plantation is located in the heart of Gold Coast country, its visitor tour is a far cry from those of neighboring spreads. Instead of focusing on the Big House where the master and his family lived, it tells the plantation story as seen through the eyes of slaves who toiled and died in round-the-clock shifts to maximize the owner's profits.
It's not a pretty story. But it's a vitally important one, and the young man who tells it as he leads us around the property clearly feels it in his bones.
"You're going to learn more about slavery in America in the next hour and a half than you did in your whole career of schooling," says our tour guide Ali Johnson, who hails from nearby LaPlace, where his grandfather was a sharecropper in the not so distant past.
Boy, was Johnson right.
From the moment I stepped inside the Whitney visitor center in St John the Baptist Parish, about an hour's drive from New Orleans, the scales started falling from my eyes.
Wall displays trace the inception of modern slavery back to 1452, when Pope Nicholas V issued the papal bull that made it legal to enslave non-Christians in colonial Africa. They also depict African slave traders who built empires buying and selling people from other tribes.
"I never point fingers or blame people," says Johnson at the outset of the tour, a point he reiterates several times. "People of all races took part in the institution of slavery."
After directing us to grab umbrellas for shade from the blazing sun, Johnson leads our mixed-race group of visitors to the first stop on our tour: the lovely Antioch Church, built by former slaves as soon as they threw off their chains and were finally free to practice religion.
Johnson knows the church well; it sat directly across the street from his grandfather's house in Paulina. After it was damaged by a storm, it was torn down and lovingly reassembled and refurbished at the Whitney.
Inside the sanctuary, we settle into pews under the watchful gaze of lifelike bronze statues of slave children. They represent the 2,300 slavery survivors interviewed by the Federal Writer's Project in the 1930s, who witnessed the day-to-day horrors of slavery first-hand as children.
Etched in stone on the grounds, and related by Johnson during the tour, their personal memories bear witness to a long, winding trail of tears.
As we proceed around the property on a scorching summer day, Johnson reminds us that shackled slaves walked these very paths every day to the sugarcane fields. There they labored in 16-hour shifts with razor-sharp machetes; many lost limbs to errant swings or simply died of heat exhaustion.
Some of the outbuildings are original, like the open-air kitchen, where a single cook prepared three elaborate meals everyday for the Big House after rising before dawn to feed hundreds of slaves on their way to the fields. That she did all this while training several girls as apprentices makes her feat even more astounding.
As Johnson notes: "If my nephew has a flat tire on his bike and asks me to show him how to fix it, it takes me twice as long than if I did it myself."
Other buildings, including most of the slave shacks, have been imported from nearby properties to help tell the story. Each of these crude, two-room buildings housed about a dozen slaves, who slept on mattresses stuffed with Spanish moss teeming with bed bugs. But one shack original to the Whitney has another notable feature.
"You see that rectangle cut in the wall, that looks like where a light switch would be?" asks Johnson. "That's exactly what it is. This was working sugarcane plantation into the 1970s."
And though the workers weren't technically slaves, they never saw a dime for their labor and owed their soul to the Whitney Country Store, "just like in that song, '16 Tons,'" notes Johnson.
That's pretty shocking. So is the fact that Brooks Brothers once made a special "slave line" of tophats and tails to make shackled men more attractive to buyers when they were auctioned off in New Orleans' bustling slave district, now the CBD.
Johnson weaves slave auctions into the narrative while showing us a rusty metal hotbox; moved here from New Orleans, it served as a holding pen for incoming slaves, who were often locked inside for weeks while awaiting sale. Why sell a new arrival for peanuts in August when he could be fattened up and fetch big bucks during harvest season?
The Big House we enter at the end of the tour is beautifully detailed with murals and frescoes, in stark contrast to the slave shanties. But it's part of the story too, and its meticulous restoration caps a multimillion-dollar project funded by retired trial lawyer John Cummings, a native (white) New Orleanian who made it his mission to tell the world the true story of slavery.
Johnson and the other tour guides take that mission very seriously.
"If we can get these youngsters when they're young, and get it in their head that they're valuable, then we can save them," says Johnson, who loves guiding school tours and took a special interest in the tweens in our group today. "We need to get our kids here and educate them, so that they don't fall victim again."
The Whitney Plantation is open daily except Tuesday from 9:30am-4:30pm. Tickets for tours are $22 and $10 for children ages 6-12. Visit the website for more info and to schedule group tours, which must be booked in advance. Image via the Whitney Plantation Facebook page.