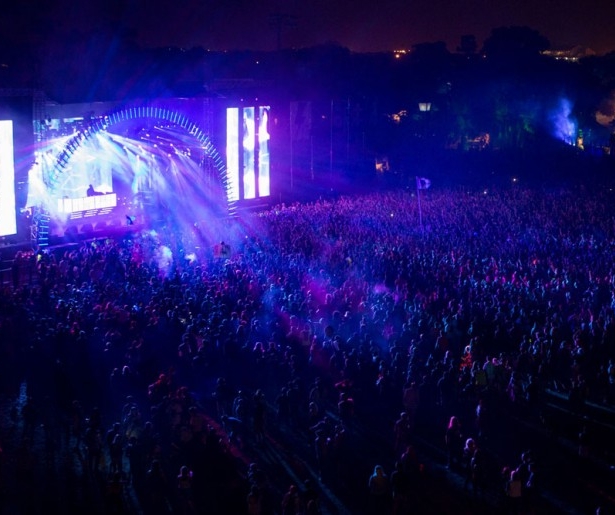 SHARE
Voodoo Fest is synonymous with Halloween weekend in New Orleans. The festival, which began as a single-day event at Tad Gormley Stadium in the fall of 1999, has grown into a three-day, four-stage music and arts showcase, featuring high-profile musical artists such as Jack White, Outkast, Foo Fighters, and many more.
From Friday, October 27th to Sunday, October 29th, the Voodoo Music + Arts Experience returns to New Orleans City Park for its 19th year.
Like many big-ticket festivals around the country, Voodoo's musical lineup has grown more eclectic in recent years, showcasing various genres, including rock, hip-hop, dance, pop, and metal. Who's on tap this year? In the grand old Voodoo tradition of mixing up indie rock, hip-hop and bands I listened to in high school, the headliners are Kendrick Lamar, Foo Fighters,The Killers, LCD Soundsystem and DJ Snake.
The Voodoo Experience is, along with BUKU, the local music festival most friendly to contemporary musical tastes and the under-30 demographic (although an act like Foo Fighters is a nod to folks who grew up without smartphones). This year, more than any we can remember, the genre mixing is reaching new levels of diversity, although this may speak as much to the hard-to-categorize tastes of contemporary pop music as anything else. However you want to slice it, a festival that mixes up Illenium (EDM) with Amine (hip-hop) with Vintage Trouble (soul-funk-rock) with Hayley Kiyoko (R&B-ish crooning) is a festival that refuses to be easily defined.
To that end, Voodoo is one of the most globalized Louisiana music festivals. From the act selection to the general presentation of light shows and interactive art installations, the experience has the vibe of an international music event. Jazz Fest may be bigger, but its stated mission of preserving local heritage has always given it a more localized vibe.
That said, there are some definite New Orleans edges to Voodoo. The food is local, and despite the cliches about Louisiana cuisine, vegetarian and vegan fare is promised at the 2017 Voodoo Experience. And the setting – amidst the bayous and live oaks of City Park – is quintessentially New Orleans. Plus, if you're here for Voodoo, you may as well be here for Halloween, and Halloween in New Orleans is a special kind of holiday.
If you're planning on coming to the Crescent City to Worship the Music, don't forget the area around City Park is one of the most attractive neighborhoods in town. Alternatively called Faubourg St John, Fairgrounds and Esplanade Ridge (depending on where you are in relation to City Park), the tree-lined, upscale area is like a funkier slice of Uptown, but located on the edge of Mid-City.
After you catch a break from the music, make your way onto Esplanade Ave and around and soak up some local flavor. Here are some of our favorite spots.
This inland waterway was originally used by Native Americans as a watery byway. Early settlers had an idea of creating a shipping canal from the Mississippi River to Lake Pontchartrain, and the bayou did connect larger vessels to the now filled Carondelet Canal for a time, but today the body of water serves as a lovely green (and blue) space in the heart of the city, popular for picnics, kayaking and stand up paddling.
This grocery store at 3135 Esplanade is a friendly spot for beer, supplies, and most importantly, very good fried chicken and cheesy potatoes.
Esplanade Ave, Grand Route St John and the impeccably named Mystery St form an odd triangle of land that is taken up by this tiny park. It's filled with bits and bobs of public art, string lights, lawn chairs and general sense of having discovered a tiny urban oasis.
Want to give yourself a splurge after, well, giving yourself a splurge (because we all know those Voodoo wristbands don't come cheap)? Head to Cafe Degas (3127 Esplanade), one of the most romantic restaurants in the city, and enjoy some fine French dining. It's hard not to love a place that allows a tree to grow throughout its dining room. Image courtesy of Cafe Degas.
At 1518 N Lopez, Liuzza's is famous as a Jazz fest destination, but it's also a hop and skip from City Park. Order the barbeque shrimp po' boy, pictured above, and sink into culinary bliss.
If you want a drink after Voodoo, head to 949 N Rendon and order the gingerita at Pal's. This is one of the finest cocktails in the city, and it's served in one of this town's funkiest neighborhood bars – which is saying something, as New Orleans is a town that knows how to do funky neighborhood bars.
For over 90 years, this Italian family grocery has kept the good citizens of New Orleans fed and stocked with pasta, meats, produce and other goods and sundries. Great for a sandwich or just soaking up a true neighborhood institution. Click here to catch a clip of a great documentary on the creole tomato that includes a nice interview with members of Terranova family.
Look, pizza is always a Right Decision, but it's a particularly good choice when you head to this spot, with it's cute outdoor patio and extensive wine list, and get down with some delicious pie and a nice glass of red.
Boasting 100 percent fair trade organic coffee, tea, and a baked goods menu that has me salivating at the thought, Fair Grinds is simply one of the city's great cafes, a reputation it has earned in no small part due to its excellent layout and setting. Plus, they've got a sweet balcony, which is particularly perfect when the weather is nice.
In a city of great fried food, 1000 Figs is a nice surprise – fresh, healthy Mediterranean cuisine that is still undeniably delicious and filling. Enjoy rich plates of falafel, hummus, flatbreads, haloumi and more, plus an incredible beet and pecan yogurt, in a setting that is supremely romantic.
Every neighborhood deserves a great wine ship, and Swirl fits the bill for multiple reasons: fun tasting nights, knowledgeable staff, an excellent section of cheeses and, of course, great (some might even say 'sensational') wines.
A jug of wine, a loaf of bread, some angel hair pasta and incredibly garlic shrimp, and thou: if this sounds like your ideal evening, come to Lola's, the oldest Spanish restaurant in the city, and enter gastronomic heaven (by way of the paella).
Image via Voodoo Music + Arts Experience.