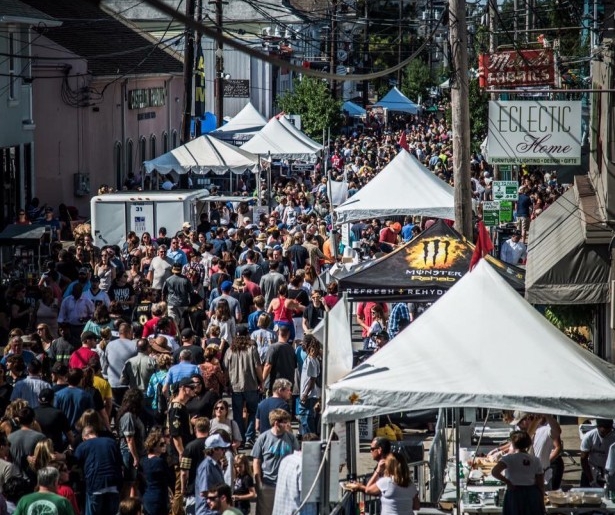 It's not a sub, it's a not a hoagie, and it's not just any sandwich. In a special category of its own, the po-boy is a king, a staple, a legend, and a unique Louisiana creation with colorful history behind it, dating back to the 1920s.
For those reasons alone it deserves a festival. Not that New Orleans is shy on celebration and the staggering number of the food-centric festivals it throws annually. But one of the most popular festivals in New Orleans, at least among the one-day ones, is still the annual Oak Street Po-Boy Festival.
This year, it will be held on Sunday, November 3, from 10 a.m. to 6 p.m., on the commercial strip of Oak Street in the Carrolton area. The festival will stretch for seven blocks of Oak Street between South Carrollton Avenue and the Mississippi River, toward the River Road (8100-8800 blocks). Stages for live music will be set up on side streets to avoid the Oak Street foot-traffic congestion of the past years. A second line will open the fest at 10 a.m., forming at Oak and Carrollton streets.
The shopping district of Oak Street has deep roots in the neighborhood. The strip was a once-thriving commercial hub when Carrollton was a separate city (it was annexed by New Orleans in 1874). In the recent years, Oak Street has been resurfaced and its sidewalks were improved. These infrastructural improvements meant that more businesses could set up tables outside, and the area has been enjoying increased foot traffic.
Expect dozens of traditional variations of the classic sandwich on the menu — from over 30 local vendors — with oyster, shrimp, catfish, and roast beef. There will be plenty of creative concoctions for the adventurous taste buds too, with game, elevated touches, and Asian and Caribbean flavors.
Like last year, admission is free, but you have to get a $5 wristband at one of the fest's eight booths to purchase the po-boys (it's OK if one person in the group buys multiple po-boys, according to the event organizers).
Hate the long lines? Get your hands on the po-boys faster by getting one of the two passes. One option is a $20 "fast pass" to enter through the fast lane. The VIP pass ($99) grants access to the Mellow Mushroom on Oak VIP lounge and balcony and the front-row view of the main stage. There you'll find unlimited Urban South Brewery beer, plus food from the Parkway Bakery and Tavern and other vendors, and specialty cocktails.
As with any fest, there will be an art market and a kids' area. The festival is rain or shine, pedestrian- and bike-friendly, and pets are welcome. Parking options will be limited, so consider biking or taking the St. Charles Avenue streetcar (get off at the Oak Street stop).
And, each year, there's a competition for "Best of" in six categories: seafood, oyster, shrimp, sausage, pork, and beef. We can't wait to see who wins this year!
Image courtesy of Oak Street Po-Boy Festival on Facebook.