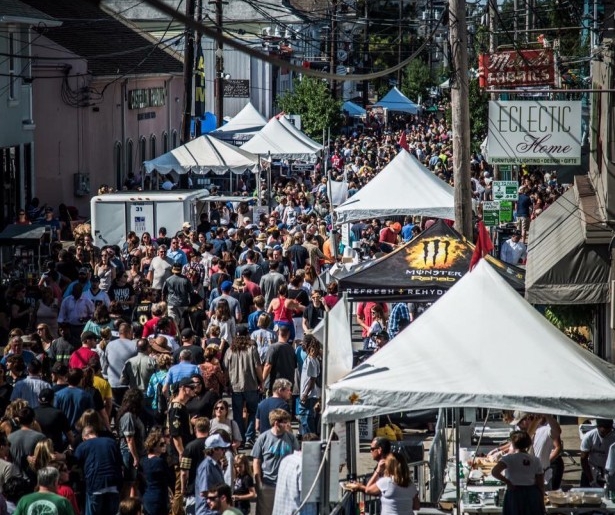 It's not a sub, it's a not a hoagie, and it's not just any sandwich. In a special category of its own, the po-boy is a king, a staple, a legend, and a unique Louisiana creation with colorful history behind it, dating back to the 1920s.
For those reasons alone it deserves a festival. Not that New Orleans is shy on celebration and the staggering number of the food-centric festivals it throws annually. But one of the most popular festivals in New Orleans, at least among the one-day ones, is still the annual Oak Street Po-Boy Festival.
It its 11th year this year, it will be held on Sunday, November 12, from 10 a.m. to 7 p.m., on the commercial strip of Oak Street in the Carrolton area. The festival will stretch for seven blocks of Oak Street between South Carrollton Avenue and the Mississippi River, toward the River Road (8100-8800 blocks). Stages for live music will be set up on side streets to avoid the Oak Street foot-traffic congestion of the past years. The Saints game will be broadcast at the football zone set up at Oak and Eagle streets, and the Where Y'Arts Market returns this year.
Along the business corridor of Oak Streets and the side streets, businesses will open their doors to festival-goers. Coffee shops, specialty retail stores, and larger venues like Jacques-Imo's restaurant and the Maple Leaf Bar will all be open for shopping, dining and eating.
The shopping district of Oak Street has deep roots in the neighborhood. The strip was a once-thriving commercial hub when Carrollton was a separate city (it was annexed by New Orleans in 1874). In the recent years, Oak Street has been resurfaced and its sidewalks were improved. These infrastructural improvements meant that more businesses could set up tables outside, and the area has been enjoying increased foot traffic.
Expect dozens of traditional variations of the classic sandwich, with oyster, shrimp, catfish, and roast beef. There will be plenty of creative concoctions for the adventurous taste buds too, with game, elevated touches, and Asian and Caribbean flavors.
New this year: You'll have to purchase a $5 wristband to buy food from the vendors at the festival (but not beverages). Wristbands can be purchased in advance at participating food vendors' restaurants or during the festival.
Why the change? "The food wristbands help the Po-Boy Fest stay admission-free, support our musicians and restaurants, and raise money for Son of a Saint," explains Min Yang, Co-President of the Oak Street Merchants Residents and Property Owners Group (OSMRPO), the festival's organizer. So, please show your love by buying food from the vendors and drinks from any of the bars that are part of the festival.
The festival is rain or shine, pedestrian- and bike-friendly, and pets are welcome. Parking options will be limited, so consider biking or taking the St. Charles Avenue streetcar (get off at the Oak Street stop).
Until 2016, the festival was held in mid-November, but was moved to October last year to enjoy the milder temps. Last year, "Po-Boys & Pints" combo feature was also introduced, to showcase the local breweries and their products.
And, each year, there's a competition for "Best of" in six categories: seafood, oyster, shrimp, sausage, pork, and beef. Last year, more than 50 po-boy variations were presented by 40 vendors. Past winners Blue Oak BBQ and Ajun Cajun won in beef and seafood categories, respectively (Blue Oak for its pastrami brisket po-boy; Ajun Cajun for the soft-shell crab one). Red Fish Grill won in two categories, for the barbecue oyster, and shrimp and pimento cheese po-boys. Bratz Y'all also won twice, for its Nuernberger sausage and pork schnitzel po-boys. We can't wait to see who wins this year!
Image courtesy of Oak Street Po-Boy Festival on Facebook.