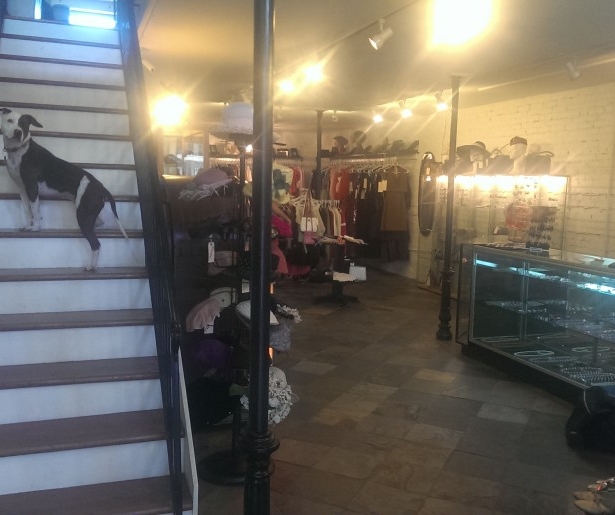 SHARE
More shops should employ curious puppies to welcome guests. As my friend Ariel and I breeze through the doors of Retro Active on Oak Street, a couple of cute canines waddle up, give me the once over and retreat into the shop, nonchalant as all get out.
There's no shortage of vintage stores in the city – a descriptive I would like to see tightened, as surely not just any piece of second hand clothing qualifies as 'vintage.' A faded LSU t-shirt is 'worn out'; I personally don't think it provides quite the same fashionable cache as 'vintage.'
There are no such concerns at Retro Active, and I fear for my checking account as I belly up to the suit rack. There are a dozen or so well-tailored, classily-colored suits hanging up, all in immaculate condition and from that sweet spot of fashion that lays somewhere between Boardwalk Empire and Mad Men.
None of the clothes are the huge, flapping, shiny sofa coverings that you find in many second hand stores. These have been chosen with care and an eye that's used to picking out chic, dapper and confidently stylish period clothing.
Those discerning and perfectly made up eyes belong to Leslie Courreges, who has owned Retro Active for two years, taking the company over from Harold "Joe" Weise in 2011. The store was then located on Magazine; their Oak Street incarnation is only a few months old. I ask Courreges what prompted the move.
"Well, the building housing the previous location went up for sale, and our lease was up, so it was the right time to make a move," she says. "This new space (at 8123 Oak) is just so gorgeous, it really could have been tailor made for us."
It's a pretty sleek affair, with décor on the right side of kitsch and a lovely staircase, which will soon lead to a newly renovated second floor shop space. For now, it's a cute hang out for the dogs.
The company has been around since 1982, and when I ask how they have maintained their business for 30 years, Courreges says, "Well, we've always had this niche. We're one of the few boutiques to create one of a kind custom garments that give off that vintage feel."
My friend has meanwhile disappeared into the changing rooms to try on a striking yellow swimsuit that looks like it was last worn in Atlantic City in the 1930s.
The cinematic feel to their clothing hasn't gone unnoticed, and Retro Active works with many of the movie productions that film in Louisiana: Eve's Bayou, The Skeleton Key, Twilight: New Moon and Beautiful Creatures to name a few.
"We're currently working with the costumers for the third season of American Horror Story, " says Courreges, "And we've just finished assisting with Richard E. Grant's Hotel Secrets for Sky Atlantic in the UK."
As impressive as that is, I wonder if there's any such thing as a typical Retro Active client? "Oh, the usual mix for New Orleans," she replies with a smile. "You know the kind – undertakers, movie
stars, students."
While Retro Active does stock clothing dating right back to the Victorian Era (and right up to the 1980s), it concentrates on the Mid-Twentieth Century, from the 1930s to the 1960s, and has a feel that they live to call Mid Century Modern.
They're very much on the radar of the vintage-themed events that take place with some regularity throughout New Orleans, such as the Storming of the Sazerac, Hotel Monteleone's Mad Men Party, the National Lindy Hop Festival and NOLA Girl Jam.
The swimsuit is paraded around the shop floor, loved, but ultimately decided against. In the meantime, I ask how Courgess felt about the move to the neighborhood, whether the store had been welcomed with open arms?
"We do love being on Oak Street," she says. "We're very friendly with all our neighbours and while I'm struck by the community feel of the area, I'm also completely taken by the walk-ability of the neighborhood."
As a parting question to a New Orleans local, it's obviously obligatory to ask where we should go to eat and drink. No beat skipped, as you might expect, and the answer comes: "We're big fans of the Mellow Mushroom, the Maple Leaf, Pho-Bistreaux, Mona's (1120 S Carrollton Ave) and Oak Street Café."
I think we can chalk this one up to being one happy transplant to the area, even despite coming from such a buzzing previous location. And those puppies, for one, couldn't appear happier.
Photos by Paul Oswell and Retro Active