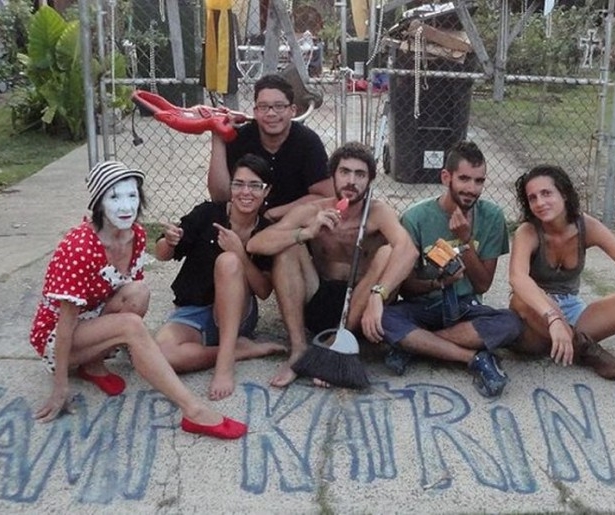 SHARE
The Buskers Bunkhouse in the Bywater has been shut down. The Nola Defender article on the loss is an excellent rundown of how the whole affair played out.
Located at 714 and 718 Alvar St, the bunkhouse offered three days of free lodging for artists, performers and general eccentrics under the age of 25. It looked like a cross between a refugee camp and a circus; the interior was a messy flop house filled with random shit, dazed European backpackers and camaraderie. The outside, once a blighted lot, was a lush garden peppered with tents, hammocks, public art and a cast of characters that squatted in the most bohemian corner of your imagination.
This was all largely the work of Ms Pearl Heart, who is the lady on the left (in mime face paint) in the above photo. Ms Heart is a New Orleans original who lives up to her last name. She's participated in rituals with Darryl Montana and family to heal the river; she's a member of several walking societies; she weeded and planted a garden to pretty up her block in midsummer swelter; she documents and promotes local art, and she took a piece of messed up land and turned it into a free colony for the sort of weird folks who make New Orleans the best city in the world. Kamp Katrina is a great documentary on this effort, and should be required watching if you move to the city. It's hard not to like someone who fights that hard for her neighbors and her city and doesn't ask for a thin dime in return.
The first time I met Ms Pearl we talked about good dive bars in town; I suggested she try out Miss Mae's. She shook her head and said in an unbeatable Yat accent, "I don't get to the American sector very often." As much as we talk about the Uptown American/Downtown Creole population split, that was the first time I heard a native describe the other side of Canal St as a place as far off as Egypt.
Ms Pearl tended the property under a sort of gentleman's agreement with its owner; maintain the grounds and one day, she could buy the lot for cheap. This bargain wasn't put in writing, and you can see where the trouble begins.
The lot's owner became too infirm to manage the land in 2009, and her son, Albert Robinson, took over the land. This summer he finally tore down the gardens and tossed out Ms Pearl's possessions. It's easy to make Robinson out as a villain here, but he did inherit the land from his mother. He has stated that he was worried about liability issues; this is a reasonable concern, as a lot of people stayed at the Bunkhouse and almost nothing in the complex was up to code. Ms Pearl maintains he is interested in real estate and soaring property values in the Bywater, and maybe so; it is still his land under law. Sometimes there's no bad guy – just a crappy situation.
It's hard not to feel sorry for Ms Pearl. She represents an older New Orleans, where a lady who dressed as a silver jester when she testified before the city council was a community leader and a handshake could be good enough for settling a real estate transaction. When you put that kind of bohemian innocence up against bulldozers and the force of law…well, the clowns need more than good will to win that fight.
The facebook page Death of a Garden documents Ms Pearl's fight to save the bunkhouse, and there's so much pathos it makes you choke up. Watch the youtube videos; you can hear Ms Pearl's utter confusion, which eventually becomes a kind of despair – why are people ransacking the garden and home of a 74-year old woman who gave people a free place to stay?
There's an easy legal answer, of course, but that doesn't make her pained question any less heart-wrenching.
Photo courtesy of Death of a Garden. Cover photo of the Krewe of St Ann taken near the Buskers Bunkhouse.