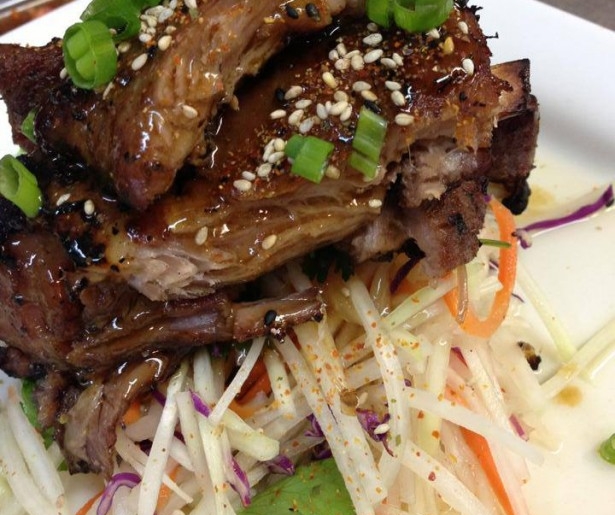 SHARE
In one visit, I have discovered a new favorite under-$10 restaurant in New Orleans.
Enter: Ba Chi Canteen.
Actually, don't enter just yet. Before I go on, I want to point out one of my top three New Orleans area restaurants: Tan Dinh, over on the West Bank. The tan Dinh experience is simple: amazing Vietnamese food for cheap. The menu is enormous, with a ridiculously deep assortment of carbs (rice, sweet rice cakes, noodles) complimented by an even more ridiculously deep reserve of meats (quail, shrimp, fish and Korean short ribs that I would cut you for).
Also: the chicken wings are the best in town. Seriously. The garlic butter wings. A revelation from heaven on high.
Also also: the tofu in a spicy lemongrass sauce could convince me to be a vegetarian (were it not for the above wings).
Also also also: the pho will kick your ass and leave you smiling for more.
So with all that said, you can understand why I sort of flipped my shit when I discovered Tan Dinh was opening a sister establishment on the East Bank: Ba Chi Canteen, at 7900 Maple.
You come inside and the Canteen's vibe compared to Tan Dinh is already apparent. The latter is Vietnamese restaurant 101: linoleum floors, pictures of pagodas, etc. Ba Chi is floodlit neutral colors in the dining rooms overhung with red and black banners. It's a little warmer than Magasin, but wouldn't feel out of place in the Rice Mill Lofts.
This is the sort of interior that appeals to folks who eat on Maple Street: students and young families with parents that don't mind dressing up like students. Plus the odd professor.
The food matches the drapes, as it were. Tan Dinh's gigantic Asian family-style menu is stripped down to essentials; I smiled to see the garlic butter wings, banh mi, pho and other old favorites.
Yet Ba Chi manages to add something. This: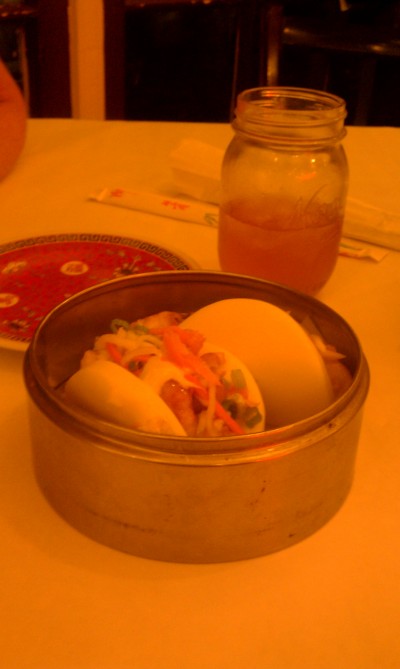 That, friends, is the baco. A Vietnamese taco. The 'tortilla' is a rice-flour pancake; I'm guessing it's steamed. Result? A pliable, light food pocket. Tasty, but bland enough to comfortably carry the main event: the baco fillings. which include a sweet-and-spicy honey ponzu shrimp with wasabi aioli and vinegary pork belly lashed with cool cucumber and scallion.
It's worth noting that 'Ba Chi' means pork belly in Vietnamese, and the item features prominently on the menu, and in this plate.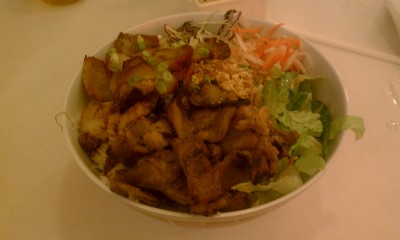 That's the "pork fecta" with vermicelli, which is possibly the least kosher thing since a ham and oyster sandwich. To whit: pork belly, char pork and barbeque pork roast layered over rice noodles, greens and peanuts, drizzled with fish sauce (I added the last bit; I love the DIY nature of Vietnamese cuisine); the ensuing bite packs color, flavors and textures into a mouth bacchanal I spent the next several minutes moaning about like a happily sedated donkey.
What I'm saying is: Ba Chi Canteen is really good. And cheap: bacos are under $4, and two should do for a normal sized eater. One bowl of the above vermicelli (you can swap in jasmine or sticky rice for your carb) easily did me in, and I'm a big guy.
For a limited time, the canteen is serving soft shell crab bacos, and on that note, the menu isn't afraid to go places normal Vietnamese menus don't. We've perused through specials announced via Facebook that include Hennesy spare ribs and deconstructed clams casino with bacon jam. Normally I'm suspicious of this sort of thing; throw around terms like 'deconstructed' and I'm worried 'fusion' will follow, along with bad cooking masked by cans of coconut milk. But I know the guys at Ba Chi build on the solid foundation of Tan Dinh. In this case, their innovation has legs to stand on, and I'm excited to see (and smell, and taste) more of it.
Ba Chi Canteen
7900 Maple Street
504-373-5628
11am-2:30pm & 5:30-9pm Mon-Wed, til 10:00 pm Fri
11am-3:30pm & 5:30-10pm Sat
Some images courtesy of Ba Chi Canteen