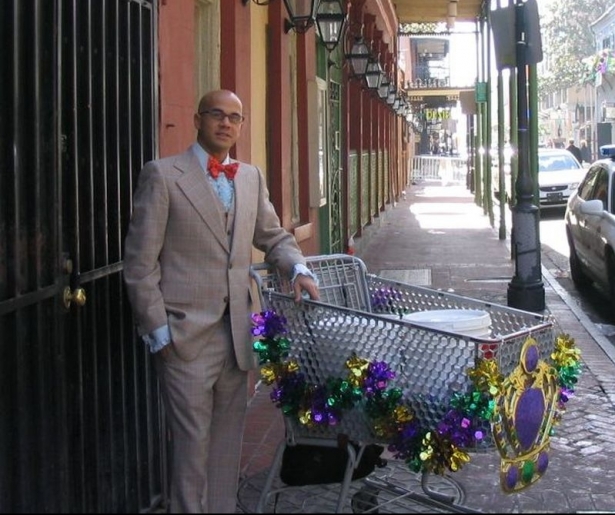 SHARE
Everyone has a plan on Mardi Gras, and everyone changes their plans for Mardi Gras after deliberating the results from previous Mardi Gras. And I do it, too. But there's one thing that has stuck the past seven years that I'll never change, and that's my 5-gallon Tiki cocktail pushed in a shopping cart.
The idea came to me in Ojinaga, Mexico, after Katrina. I was waiting to return to New Orleans, thinking, 'What am I going to do for Mardi Gras when I get back?' I'm a bartender, that's my role in this magical play we call New Orleans, and so serving drinks to the public was always part of the answer.
It's taken off, my Mardi Gras Shopping Cart Cocktail. It's been in featured in the New Orleans Magazine February issue four years in a row, and is a topic of discussion inside and out of my bar every November and December. What's made it more interesting is the decision I've made in regards to which cocktail to be pushed in the shopping card, which changes yearly.
At this stage I need to credit my good friend, Jeff Beachbum Berry – he has given the final word in the previous four Mardi Gras pushcart cocktails. So far I've made five gallons of Nui Nui, Lapu Lapu, Bali Bali, and Pago Pago. This year we agreed to batch Navy Grog, and in fact, prior to writing this, I had just now finished the honey syrup. Seems I have some time to watch Krewe of Thoth after all.
The tradition of the punch is to build it in Arnaud's, where I work, and to then push it along Royal Street until I meet the St Anne's parade. Then I'll follow St Anne's with cocktail friends until Rue St Anne, where we'll break off and congregate in Jackson Sq. Many of my cocktail bartender friends and other friends know by now to meet me there for a cup each Mardi Gras. You should try and show up when you get the chance.