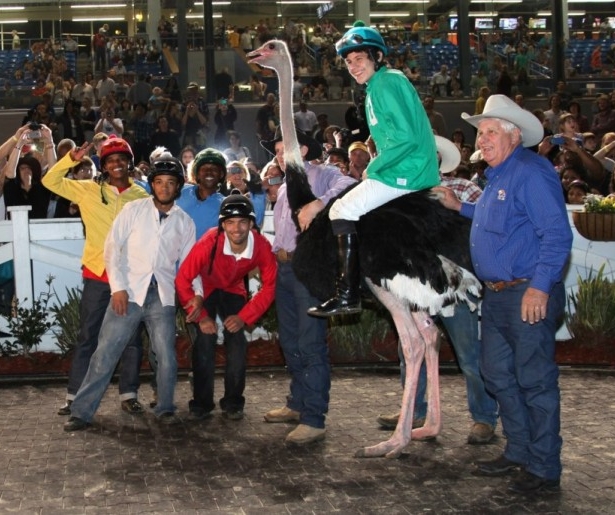 SHARE
Zebras and ostriches and beers, oh my. Heads up, New Orleans: exotic animal racing is returning to the Fairgrounds on Saturday.
You'll want to hit the fairgrounds in the evening on Saturday; the exotic animal race is part of their twilight program. General admission is $15, which isn't too bad when you consider you get to access to good chicken wings, lots of beer and the sight of jockeys getting their asses bounced around by chickens on steroids that are an evolutionary step removed from a Deinonychus.
Tonight, head to Gasa Gasa on Freret for the Revel with Recrear fundraiser ($20 admission), which goes from 6-9pm. There's free food for the first hour, live gypsy jazz, a set spun by the inimitable local DJ Browntown and dancing by BUKU Dance Krewe. It's gonna be a lot of fun. Recrear, in their own words, is "a non-profit organization comprised of young social innovators from around the globe. Our mission is to ensure that young people are actively involved in the development of their communities, because we see young people as essential catalysts and agents for impactful sustainable development."
Also on Saturday: from 5-7pm Nola Mix is having their opening party at 1068 Magazine St (Suite B). This is an all ages sort of event; Nola Mix provides DJ and Music Production classes to students of all ages and skill levels.
Finally, at 8pm Saturday and 9:30pm Sunday, Mike Spara will present Conversations with Body Language, a silent sketch comedy show, at The New Movement Theater (1900 Burgundy). 'Silent sketch comedy' sounds pretty cray, but we've seen Mike perform before; he's talented and hilarious, and we're sure the show will live up to those standards.