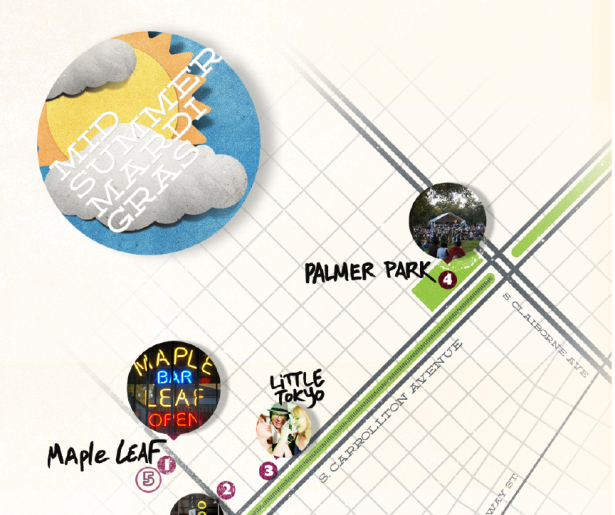 SHARE
There are a lot of stories we can tell you about the origin of Mid-Summer Mardi Gras, but here's our favorite reason for the festival's being: it's summer. Mardi Gras was six months ago, and it's about six months away. We need another Mardi Gras.
So let us bless the Krewe of O.A.K (Outrageous and Kinky) for instilling an oven-hot bridge in the August soup, a Mardi Gras to get us from Mardi Gras to Mardi Gras. The parade begins at the Maple Leaf Bar, 8316 Oak Street, at 7:45pm sharp. This year's theme is Octopussy Riot, so James Bond-coutre and hi-liter day-glo ski masks are all the rage.
Oh, and on that note, wear a costume, because duh.
Step 1) Go to Maple Leaf Bar. Ignore all predictions of the end of the go-cup by getting a couple ofgo-cups.
Step 2) Hungry? Have a burger at Tru Burger (8115 Oak St) because burger. Also, burger burger. You may want to grab this before the parade, to be fair.
Step 3) Note the presence of Little Tokyo at 310 N.Carrollton Ave and consider the benefits of doing very drunk, cheesy karaoke following the parade. To paraphrase Robin Thicke, You Know You Want It.
Step 4) Party at Palmer Park. Get stupid. Not Miley Cyrus stupid, but decently fun stupid.
Step 5) Head back to the Maple Leaf. Enjoy the after party. Then head to Snake and Jake's (7612 Oak St). Nothing tops off the night like a can of Schlitz and hours of shameful behavior.