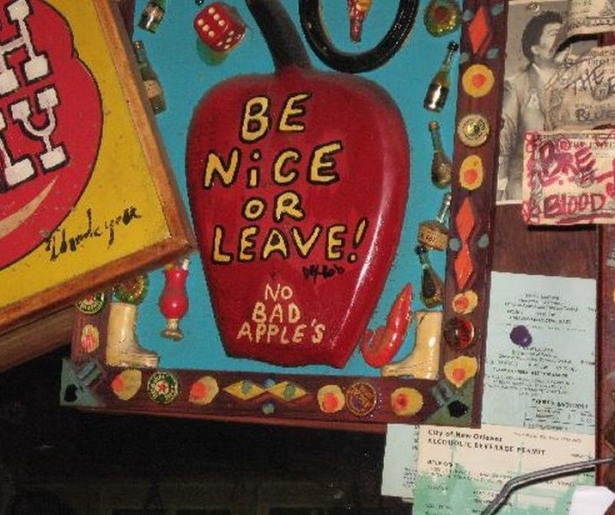 SHARE
We first heard yesterday that Frenchmen St mainstay the Apple Barrel was set to close on Nov. 1; now the word is the Barrel will remain open, but under new management – specifically Adolfo Perez Palavicini and wife Kim Perez, the owners of Adolfo's, the little Italian spot located above the Barrel via a narrow flight of stairs.
Seems like a good fit; Adolfo's is a charmingly cramped, intimate venue and so is the Barrel. Adolfo and Kim have clearly been close enough (physically and, one hopes, emotionally) to the Apple Barrel over the years to understand the clientele and atmosphere of the place, which decidedly takes a leaf from the amicably shabby school of New Orleans vibe.
Rather than try and keep up to date on the fate of the Barrel, we want to list a few of our favorite things about the club.
It's small.
Like, really small. The Spotted Cat and d.b.a are also pretty intimate world class music venues, but compared to the Apple Barrel they're multistory dance warehouses. If more than a dozen people are a the show, you'll be in asshole to elbow proximity, but somehow, this adds to the down-at-heels charisma of the joint.
It's soft
Hey, if we got in a fight we'd want the Apple Barrel to have our back. No, we're saying the Barrel doesn't try and overwhelm you with a sonic wall of speakers and amps. Seriously, some cups and string could feasibly improve the amplification. But you don't need cups and strings. Like we said, the Barrel is tiny. All you have to do is listen and the music is like another guest in the room.
It's eclectic
Frenchmen in particular, and New Orleans in general, is pigeonholed as a jazz location, but the Barrel features blues, folk, funk, lo-fi and a general grab-bag of genres. Here's regular act Honky Tonkin' Donkey bringing some rapid-fire folk and OZ host Sam Cammarata playing Jelly Roll Morton at the Barrel.
It's romantic
Small, quirky and dimly lit, a dinner at Adolfo's followed by a gig at the Apple Barrel is like a guaranteed good date. Out of towners, take your significant others here, smile smugly when they ask "How did you find this place?" and don't forget to mention us.
It's historic
What do you expect from a joint that was essentially the second home of voodoo bluesman Coco Robicheaux Actually, not just the second home; the Barrel was where Robicheaux checked out for that great Jazz Fest in the sky. This is the musical legacy of New Orleans, a city so in touch with her musicians they ended up dying in her live venues. Long may this legend be preserved.
Image courtesy of Tripadvisor.