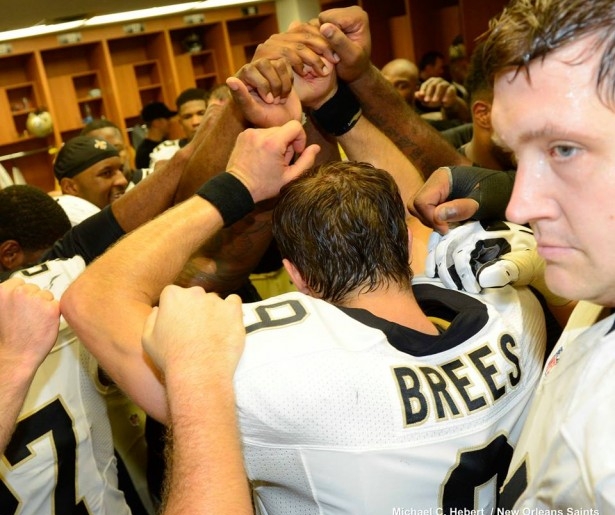 SHARE
The 2012 Saints vs. 49ers playoff game messed me up for life. I'm a haunted man, always looking over my shoulder lest Vernon Davis be lurking around to shatter my dreams. No 4th quarter cushion is safe, especially not after last year's historic defensive performance. But I just watched that defense – well, Rob Ryan's defense – beat the Atlanta Falcons.
I watched the Falcons game from the Louisville Airport Chili's, a place as depressing as the state of Saints fandom last year. After Atlanta's first drive resulted in a punt I became the most obnoxious person in the bar. The Rob Ryan mojo had me fired up. Given all the preseason injuries, and ostensible remaining talent and years of precedent, I wasn't sure that Atlanta would have a sole 3rd down, yet they were continually forced to attempt 3rd and longs. The tackling was mostly on point. Steven Jackson was continually contained and repeatedly stuffed in the red zone.
As for offense, I thought Charles Brown looked pretty shaky at first, but the pass protection was much better than the run blocking, as expected – whether this is a function of Brees' greatness or Ingram's mediocrity will be the topic of many Saints conversations until the rapture. The wide receivers looked good, from the first play from scrimmage to Lance for a first down to Graham catching a low pass off his shoestrings and diving for the pylon. Then there's the titillating, frustrating Kenny Stills. Like Devery Henderson reincarnated, he drops the easy ones and catches the difficult ones.
Brees was Brees. There were some huge third down conversions and a bad playcall on a 4th down that didn't come remotely close to being converted.
But defense won the game. The SAINTS DEFENSE won a football game!
I am sure every good ol' boy in every parish is lavishing Rob Ryan with praise today. I'm not going to hyperbolize or sugar coat, even though I'm in an exultant mood. I think the defense played mostly well. There was that huge turnover that Harper picked up and somehow didn't re-fumble. There was that huge Vaccarro penalty that had us sweating. There was the Vacarro-redeeming end zone tip that has likely catapulted him to "second coming of Sharper" status. As in 2009, and unlike last season, the Saints are causing key turnovers. Plus: A big Welcome to New Orleans to Parys Haralson, who came up with a huge sack when we needed defensive momentum in the second half.
But aside from the defense playing well, another big takeaway is Atlanta has an abysmal offensive line. With Brod Bunkley going down in the first quarter and a dearth of quality rotational personnel, we harried Matt Ryan even when additional blockers were brought into the backfield. So it was a perfect storm, as our defense played well and their offensive line shat the bed.
The last few minutes were super intense, and I had a sinking feeling that the game could end like that 49ers heartbreak. We have come to trust our offense in the clutch and dread playing last minute defense; as local food authority Rene Louapre tweeted, "At least let them score quickly." And it was a roller coaster, as we bottled up Jackson immediately after the two-minute warning only to give up a huge Harry Douglas play.
But then, when things were at their bleakest, with a six point lead and Atlanta inside the ten, we stuff Roddy White and pick off Matty Ice in the end zone. It was NOT Andrew Brees who saved the day yesterday. It was the group of eleven guys coached by Rob the Braveheart extra Ryan.
All of a sudden, the Saints are the only NFC South team with a winning record. And for the first time since Alex Smith and Vernon Davis dashed our hopes of a championship run, there is legitimate hope. It feels like Bountygate is behind us, like we're moving forward, like we're finally chasing away those ghosts of our last postseason trip. And if we hold out and beat the Bucs next week we're going to have some serious inertia. The Saints are back. Who. Dat.
Photos courtesy of the New Orleans Saints.