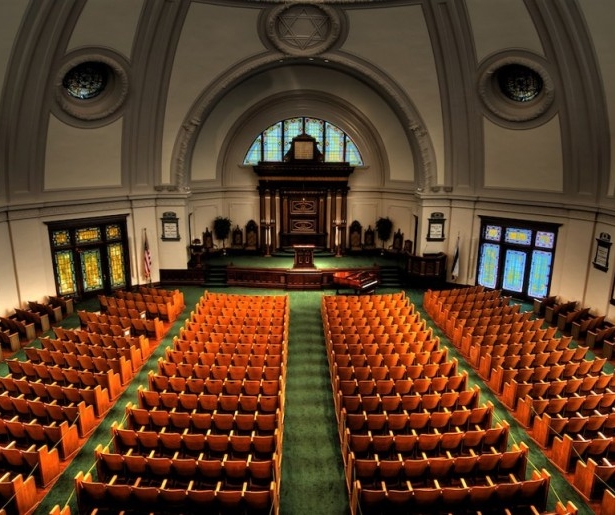 SHARE
The number of Jews in New Orleans is tiny compared to the number of Catholics, yet the community has an outsize impact on the ethical life of the city. For centuries, Jewish New Orleanians have been developing, defending and recommending concepts of right and wrong conduct. And at sunset on Friday, Sept. 13, the Jews of New Orleans – and around the world – will begin their annual observance of Yom Kippur, the day of atonement.
The most important holiday in the Jewish calendar, Yom Kippur is the culmination of the ten Days of Awe, which began with the Jewish new year of Rosh Hashanah on Sept. 4-6. The Days of Awe are a time for repenting of sins against men and God, and resolving to do better in the future.
Yom Kippur is a day of fasting as well as reflection on the discomforts of hunger and thirst, allowing participants to more readily recognize the pain of others and reaffirm their commitment to "tikkun olam" – repairing the world. These themes make social justice a key element of drawing closer to God during the High Holidays.
In her Yom Kippur sermon last year, Rabbi Alexis Berk of Touro Synagogue examined Americans' continuing need to atone for the wrongs committed as a result of racial discrimination. In the future, she suggested, the nation will confront the need to atone for wrongs committed as a result of gender discrimination.
Berk has done more than talk about gender discrimination. In November 2012, Touro withdrew from participation in Boy Scouts' annual Thanksgiving holiday hike to Uptown houses of worship. Berk was pushing back against Scouting's membership policy denying membership to gay troop leaders and adolescent Scouts, which the organization had reaffirmed in July 2012 after a two-year study.
"Maybe it would be one thing if this were a long-standing policy and they'd never revisited it – but the fact that they freshly revisited it and rendered a freshly bigoted opinion, well, I freshly feel like I can't participate," Berk told Bruce Nolan of The Times-Picayune.
Rabbi Uri Topolosky of Congregation Beth Israel, an Orthodox congregation, said Berk made an "impassioned plea" at a meeting of other local rabbis urging them to come out against the Scouting policy as well.
In April 2013, LGBTQ Awareness Week at Touro was marked with a number of programs including film screenings and a reading of "My Two Moms, Lessons of Love, Strength and What Makes a Family" by Zach Wahls.
Under Berk's leadership, Touro has also taken an active role in addressing the problem of violence in New Orleans. The synagogue hosted a crime forum in January 2011 that drew hundreds to hear from District Attorney Leon Cannizzaro and New Orleans Police Superintendent Ronal Serpas. On April 18 of this year, Touro hosted Candince McMillian, founder of the Central City youth center Exodus Place, for a discussion on crime in the city.
Touro is one of four synagogues in New Orleans orthodox (Anshe Sfard and Chabad-Lubavitch of Louisiana) and two reform (Temple Sinai and Touro Synagogue). Nearby, but outside the city limits, are the conservative Shir Chadash congregation in Metairie, the reform Congregation Gates of Prayer in Metairie and Northshore Jewish Congregation in Mandeville, and the orthodox Chabad Center and Congregation Beth Israel in Metairie.
Rabbi Ethan Linden, who earned a degree in international relations and ethics from Cornell University before attending rabbinical school, presides at Shir Chadash. Linden came to the area in 2009 as the congregation was still struggling with the aftereffects of Hurricane Katrina; about a third of those who were members before the 2005 flood did not come back.
With its smaller size, Shir Chadash was able to participate in the Jewish Theological Seminary's rabbinic fellows program for start-up congregations. "After our positive experiences with the two rabbinic fellows, we were open to the idea of a new, young rabbi who would breathe fresh air into our congregation," Lis Kahn, who was the congregation's president right after Katrina, told Bonnie Riva Ras of The United Synagogue of Conservative Judaism.
In 2011, Linden said he was trying to reach out to the hundreds of young people who came to New Orleans to help after Katrina after growing up with conservative backgrounds in the northeast. Friday night services at the Tulane chapel were drawing 120 people, he said.
A talk on the Torah on July 20, 2013, by Laura Taishoff reflects Linden's influence. Taishoff came to New Orleans to participate in AVODAH, the Jewish Service Corps, in 2009-10 and decided to remain.
In her talk, Taishoff reflected on the moment when Moses viewed the promised land from Mount Nevo, knowing that he would never enter it. "At the end of our AVODAH year," Taishoff said, "Rabbi Linden told us that we, like Moses, would not get to witness the positive outcomes of the social justice work we were doing, but that we needed to keep doing it anyway."
"For me," Taishoff said, "the promised land is a place where these kids are not raised amidst shootings and violence — where every school, no matter what neighborhood it is in, provides a high-quality education, and finally, it is a place where the kids of this city, and all cities, are valued and empowered — they re told, like I was when I was a teenager, that I could do anything, be anything."
In their striving to glimpse the promised land on earth, the Jews of New Orleans have had a powerful effect on the life of the city.
According to the Association of Religion Data Archives, there were 3,530 Jews in Orleans Parish in 2010, compared with 106.088 Catholics. In neighboring Jefferson Parish, there were 1,811 Jews, compared with 148,827 Catholics. In St. Tammany Parish, there were 321 Jews compared with 53,149 Catholics.
Photo courtesy of Touro Synagogue