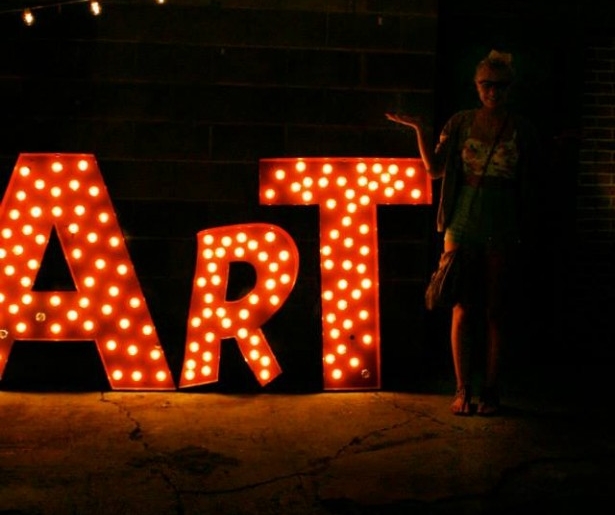 SHARE
If you didn't have the chance to attend this August's annual White Linen Night on Julia St, or the French Quarter's counterpart, Dirty Linen Night on Royal St, there's now an even dirtier, even further downriver option for a good art party.
This Saturday the Frenchmen Art Market teams up with St. Claude Night Market to host the second Filthy Linen Night. While each 'Linen' is distinct in style and scene, this newest member to the calendar promises the same essential ingredients: open galleries, contemporary (mostly local) art, and cocktails. But with the stage set in the Marigny and Bywater there will probably be a little extra umph in the way of eccentricity and adventure.
As mentioned above, Filthy Linen is essentially a melding of two existing arts markets and their respective streets: Frenchmen and St Claude. The Frenchmen Art Market opened for business last fall, occupying an outdoor lot couched between The Spotted Cat and Apple Barrell. The market features local artists whose wares range from fine art to homespun crafts, photography and silk-screened prints to furniture and chicken foot jewelry. Yes, that absolutely means the foot of a chicken turned into earrings. As a weekly event they're usually open Thursday through Saturday from 7pm to 1am, and Sundays from 6pm to midnight.
In the next neighborhood over, a less frequent but equally charming night market has popped up in the Bywater, held in conjunction with the Second Saturday monthly arts walk. THese days, St Claude Ave is clustered with an ever-increasing number of galleries scattered intermittently from Elysian Fields to Mazant,. In its first year, the St. Claude Night Market, conceived and managed by St. Claude Main Street, has drifted inside of this corridor, finding suitable lots to host food and craft vendors as well as live music. In a meeting of the markets, Filthy Linen aims to raise enough money to help the St. Claude Night Market purchase a lighting solution at their new permanent lot on St. Claude and Independence.
Filthy Linen is sponsored by Pabst Blue Ribbon and Sailor Jerry Rum, with donation bars set up at several St. Claude galleries and at the market on Independence. For $3, attendees can purchase a wristband to ride the Filthy Linen Night party bus, which will shuttle crowds back and forth from the Frenchmen Art Market to several different stops along St. Claude from 8 to 10:45 p.m. The ride is free with a purchase of art, and you can get on and off all along the route at your own pace.
The first stop is Barrister's Gallery, featuring an extensive ceramics show. The second is the Hi-Ho Lounge, staging a live mural painting performance. Next is the Night Market at Independence, with all of its vendors and a PBR-sponsored raffle. Last stop is Good Children and The Front on Mazant. The last bus will pick up at this location at 10:45 to shuttle folks back to Frenchment St.
This confluence of art, commerce, and a good cause has a lot to offer, continuing the creative conversation downriver and deepening the linen pile.
Images courtesy of St Claude Main Street and Frenchmen Art Market