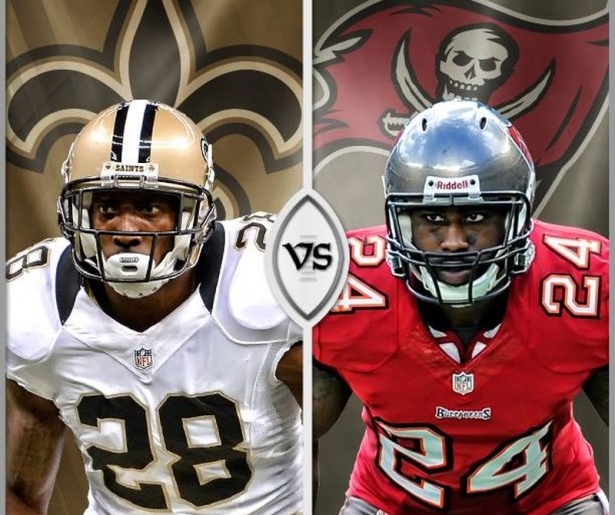 SHARE
When you're a Saints fan, it's nice when there's an afternoon game because you can roll down to Turtle Bay and watch with friends and call it an early night. But then it's 3am and you're at Kajuns watching this girl nail Pat Benetar songs on the karaoke stage and you realize that you have work the next day. Such is the nature of Saints fandom.
The game started off with a nice drive. Then Brees took what would be the first of four sacks and we kicked a field goal before the rain delay — mad props to Garett Hartley for kicking a FG in a monsoon. Then things went on pause.
It would have been great if the game ended here.
An hour later, play resumed and the Saints, not unlike the weather, were sloppy as hell. Brees threw a huge pick on the second drive that led to a Tampa touchdown. In fact, Brees was mostly responsible for every point scored in this game by either team. The next Saints drive was all Jimmy Graham. Huge first down, huge touchdown grab.
After another Tampa punt, they apparently decided to win the game by injuring Saints players, and the resulting penalties would ultimately turn the tables in our favor. First, Adrian Clayborn landed a HUGE helmet-to-helmet hit on Brees, much to the collective anger and terror of all Saints fans in the bar. Almost immediately afterward, Dashon Goldson did the same thing to Sproles, nearly decapitating him. Brees rounded up his remaining neurons and converted a huge third down pass to Jimmy Graham. Unfortunately the drive culminated in a missed 43-yard field goal.
For the next few minutes the game was a sloppy punt-off, both teams competing to see who could underwhelm their fans the most (Josh Freeman won). The next drive was incredibly frustrating, as Ahmad Black landed yet another Tampa helmet-to-helmet hit on Graham which he'll doubtlessly be fined over. Graham dusted himself off and caught a huge pass and went down right before the goal line.
Horrible playcalls to Pierre and Ingram and an offsides later, we fail to convert a fourth down. I should mention here that Mark Ingram is a horrible football player. Horrible.
After halftime, Tampa fumbled out of the gates and we got another field goal out of it. On the next drive we picked off Freeman, just to punt it away. The next time we got the ball, Brees threw the huge pick six that should have lost the game for the Saints.
In the second half Vincent Jackson and Doug Martin were looking unstoppable. Fortunately for the Saints, mounting penalties and the incompetence of Greg Schiano were enough to turn the tides in New Orleans' favor. There was a 73-yard TD pass to Vincent Jackson nullified by a formation penalty that would have sealed the game. There was Josh Freeman's inconsistency. Then there was the horrible playcalling and clock management during Tampa's final drive that gave the ball back to Brees with just over a minute left. He drilled the Saints into field goal range and stopped the clock with five seconds left and somehow we won.
The Saints have not been handed an improbable win like this one since the Redskins game in 2009 (which I actually watched from the sidelines as an employee of that team; I was busted for flagrantly cheering the Saints by my boss). It was great to be able to share this one with a bar filled with rowdy Saints fans made rowdier by the extra hour of drinking thanks to the Tampa weather. It was a nerve-racking roller coaster and much of the Saints' performance, like Erin Andrews covered up in a parka, was disappointing. Ugly weather, ugly game, but another sweet divisional win for the 2-0 Saints.
Photo courtesy of the New Orleans Saints