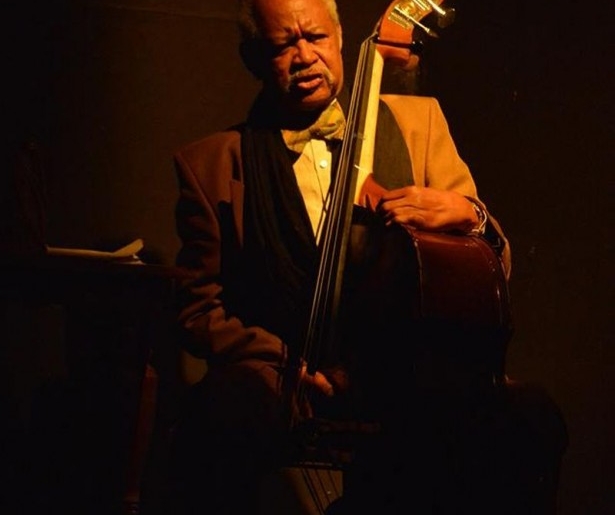 SHARE
As I climb the stairs to the Anthony Bean Community Theater, it smells like church (sulfur, wax, and stone), which makes perfect sense, because the theater shares the building with the St. Matthew United Church of Christ. But once I'm in the foyer, it's all theater, the hallway a bright catalogue of posters for productions past and future. Tonight I'm here to see Ma Rainey's Black Bottom, August Wilson's award-winning play from the "Pittsburgh Cycle" of dramas about the African-American experience in America.
Now, disclaimer: I am not a person of color, so I am bound to put my foot all the way inside my mouth at some point during this review (it's a talent of mine), so please forgive me for any grievous errors of judgment . But that aside, this production is solid for a company that looks a little short on cash—no curtain, folding chairs covered with banquet covers in the auditorium—and I admire the work they've done here.
Black Bottom is set in a recording studio in Chicago in the 1920s. While the band and the studio bigwigs wait for the eponymous Ma Rainey, the band discusses race, philosophy, art, and God in a corner of the stage walled off to represent a rehearsal room.
Set designer John Grimsley smartly pressed the band into a cramped space; it's claustrophobic, too small to contain the men and their ideas. Tensions rise as world-weary philosopher Toledo (Alfred Aubry), paterfamilias Cutler (Wilbert L. Williams Jr.), Slow Drag (Harold X. Evans) and brash young trumpet player Levee (Sean Jones) verbally spar about the changing world before them.
As the pivotal character Levee, Jones is cocky and bright, angry and ambitious. He's practically jumping out of his suit with energy, and pulls the first act forward at a breakneck pace, which doesn't necessarily work in the other players' favor -I would like to have seen Toledo, with his digressive monologues, act as more of an anchor. But Jones' fervor works well when he springs to his feet, taunting a god that doesn't seem to care about black people. With that level of intensity, one can imagine, as Cutler suggests, God striking him down on the very spot.
By the time Ma Rainey arrives, we're as worn-out and testy as the band and the effete, bean-counting executive Sturdyvant (Rick Hammontree). She swoops into the recording studio in eccentric sequins, furs, and rhinestones, entourage in tow, and proceeds to demand everything from Coca-Cola to a part for her stuttering nephew, much to the irritation of Sturdyvant. As Ma, Demitrus Wesley does a wonderful job imbuing her character with the quality of presence. She fills up the stage with Ma's imperious charisma, and as her grand, brassy voice rings out, there's no doubt we're in the presence of royalty.
The great irony, of course, is that the white Sturdyvant views Ma as nothing more than a commodity to be bought and sold, with her manager (Carlos M. Gonzalez) acting as an uneasy middleman between "them" and "us ." Ma's divalicious behavior is a justifiable grab for whatever control she can get. Levee's dreams of having his own band will no doubt put him in the same compromised position. Playwright Wilson underscores these points extensively, though their repetition makes the play is talky and perhaps a little too long.
In the production I saw, there were some minor tech screw-ups (music not playing on cue, difficulties with lighting), and I wish director Anthony Bean had done a better job building tension throughout the second act—its climax, dramatic as it is, took me by surprise.
But ultimately, the production succeeds: in the easy rapport between the older band members (a hilarious monologue by Slow Drag, Cutler dropping twenty years as he slides into remembered dance steps), Jones as the bristling but eager Levee, and the dazzling Wesley as Ma Rainey. I'd go again just to see her raunchy song-and-dance number—the moment the spotlight falls on her, there's no doubt who's running the show.
When Weekends through Sept. 29, Fridays & Saturdays at 8:00, Sunday matinee at 3 p.m.
Where Anthony Bean Community Theater (1333 S. Carrollton, 504-862-PLAY)
How Much $20, $18 students and seniors (with ID )
Photos courtesy of the Anthony Bean Community Theater