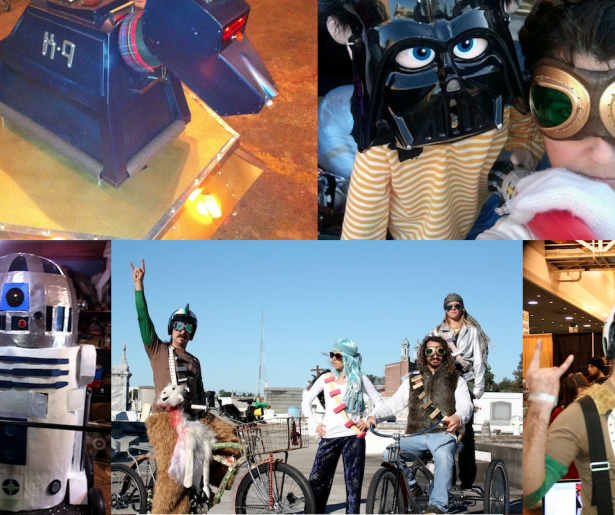 SHARE
The creation of a major new event to a krewe's Mardi Gras fundraising calendar is exciting, and the Intergalactic Krewe of Chewbacchus are hoping their inaugural Contraption Contest will be free of – and please indulge me or this opening paragraph will all be for nothing – any 'wookie' mistakes. Ahem.
With contrived puns out of our (Dagobah) systems (sorry), let's set phasers to stun (nope. Not even Star Wars. Travesty) and approach the triple-breasted whore of Eroticon Six that is the IKoC's Season Kickoff Extravaganza, taking place at various downtown venues this Saturday, 28th September.
If you're unfamiliar, the Hitchhiker's Guide to the Galazy entry for IKoC would read something along the lines of "Mardi Gras parade organisation for Star Wars freaks, Trekkies, Whovians, gamers, cosplayers, UFO conspiracy nuts and fans of everything from Harry Potter to Night of the Living Dead." Over 500 fabulous nerds rolled last year, in an armada of home made craft that celebrate the best creative aspects of sci-fi and Mardi Gras.
It's this aspect that the Extravaganza looks to celebrate, says Overlord Space Commander Chewbaccacabra, founder member of the IKoC. "We believe this is the first ever contraption contest in New Orleans," he tells me. "We already have 50 to 60 vehicles in the parade, from mini floats to adapted trikes and bikes to golf carts and all manner of crazy conveyances."
The idea is to open up to the public what Chewbacchus does really well: trick out rides in homage to everything from Battlestar Galactica to mythical beasts (though the latter must be subsumed into the sub-Krewe, People for the Inclusion of Unicorns, Elves and Whinebots in Chewbacchus, the PUEWC).
The contest (at the Den of Muses from 2pm-6pm, $10 entry) challenges newcomers to bring their geekiest articulated and mobile inventions, with Krewe memberships and all manner of attractive prizes from local businesses being dangled like space carrots from the end of a light sabre. Sponsors include PBR, NOLA Brewing, Bodyology, New Orleans Coffee Exchange and NOLA Social Ride.
"There are also joke prizes," says Chewbaccacabra. "I'm going to give cans of black paint to the ugliest contraption so that they may start afresh. The loudest will get some ear plugs and a copy of our new CD and the most complicated will receive a huge jar of aspirin to attend to the headaches that must have accompanied its construction."
After the victors have been awarded their prizes, those that wish can join what will surely be one of the most eclectic social bike rides ever down to Frenchmen Street Art Market. It's at this free event that all manner of Krewe attendees will further display their legendary hospitailty, not least at the mobile robotic hostelry (a good name for your new future-retro synth band?) known as Bar2D2.
The revelry will continue apace as the party moves to Maison on Frenchmen, where the final chapter in the Extravaganza takes place from 8pm. The party here ($5 cover) celebrates the release of the debut Chewbacchus album. Yes, this Krewe have their own CD.
"We are friends with a lot of local musicians," Chewbaccacabra says. "We thought it would be a good idea to get them to write and record original compositions about time travel, alien abductions and how awesome the organising Krewe committee members are. Happily some people took us up on the latter suggestion and those songs will definitely be on heavy rotation."
Among the musical cosmonauts are heavyweight local tunesmiths including Rotary Downs, The Local Skank, COG and Some Metry Guy. MC Chewbacon will be providing tunes that hopefully stretch beyond the annoying space-earworm that is the theme tune from the cantina in Star Wars and the day-long mission will wind up around 2am.
If you've ever told anyone that you "just need some space", then you're unlikely to find space on such a scale as this anywhere else in NOLA. Find your fantasy niche at this hugely broad sci-fi church – finally those rocket-booster-powered unicorns have somewhere to hang out.