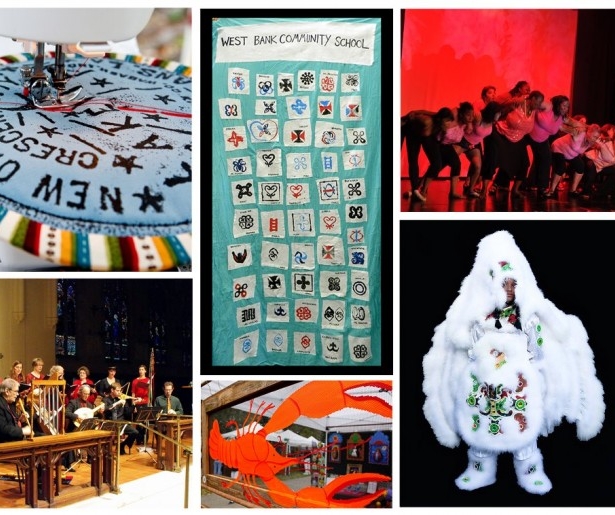 SHARE
The Community Arts Awards, presented by the Arts Council of New Orleans, go off at the Contemporary Arts Center tonight from 5-7pm tonight. General admission tickets can be bought at the door for $30. Here, we speak with Arts Council event planner Morgan Sasser about the year's biggest public awards ceremony for the city's creative community.
Why are these awards important?
This event really honors the individuals and institutions that have made significant and extraordinary contributions to the arts community in New Orleans. It's a way to give thanks and appreciate to these individuals.
Can you speak to the accomplishments of some of the award recipients?
All of them are so wonderful. Jan Gilbert is not only a native New Orleans girl and an artist through and through; she cares for her craft and she cares so much for so many of her colleagues.
That seems to be a theme – the talent getting recognized has not just been doing good work, but has been helping others do good work.
Yes. John Lawrence is an amazing photographer and curator. Brilliant, but also one of the mot accesible and down to Earth people you'll ever meet. He really honors the medium of photography in a humble way. And with his photographic skill in mind, a lot of his achievements have to do with the impact he has made at the Williams Research Center, the Historic New Orleans Collection and the general photographic history of new Orleans.
James Rivers is a musical legend of New Orleans, and as New Orleanian as possible. Henri Schindler may be the world's foremost scholar of Carnival and Mardi Gras. He has so much understanding of where we've been as a culture. His work is really beautiful, and solidifies the fact that Mardi Gras is not just a holiday, but a culture and way of life. Three of his float design related works will be on display animating the CAC warehouse.
Besides his notoriety on Mad Men, Bryan Batt is just a proud artist and actor. He's made so many inroads within the theater community, procuring spaces and funding. He's been at the forefront of keeping theater alive and well in New Orleans.
The recipients aren't just individuals, right?
We have two art organizations and institutions that are being honored as well. I don't think anyone can think of any top five cornerstones of New Orleans without mentioning Preservation Hall. It's a beautiful space, and a beautiful institution that honors the music and history of New Orleans. That it manages to do so a block from Bourbon speaks to its power. The Shakespeare Festival at Tulane has grown by leaps and bounds, and is now on the same wavelength of NYC's Shakespeare in the Park.
So what can people expect at the awards?
Tonight is going to be be different from how this event was structured in the past. Those were great, but this is gonna be a lot of fun.There's a wider range in terms of price, first of all. In previous years the ceremony attendees were only sitting in a table structure, but now we have general admission. This means different levels of accessibility, which we wanted to expand.
You'll see the recipients in all their glory escorted by a dancers done up in Hunger Games style makeup by Buff Beauty Bar. We're saying this will be somewhere between the Hunger Games tribute parade and MTV video awards. It seems appropriate to have dancers acting as escorts, as [award recipient] Mary Munro is such a foundation of dance in this city.
OperaCreole will be closing out the ceremony. Dr. Karen DeSalvo, the Health Commissioner of New Orleans, will be the keynote speaker, and will speak to how art relates to public health, how it needs to be cultivated for good public heart.
Anything else you'd like to add?
This is an opportunity for the Arts Council to make a statement that we are going to honor the artists as we have in the past, but to do so in a unique and stimulating way that is as creative as the artists themselves. And I feel like we're touching on every single medium tonight.We have musicians, carnival float designers, painters and photographers.
Above image courtesy of the Arts Councilof New Orleans.