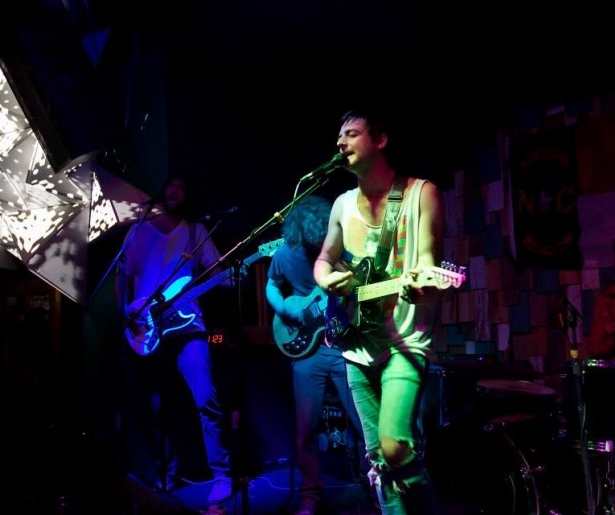 SHARE
So, here's the deal. I'm brand spanking new to New Orleans (just moved here from Richmond, VA last month) and I like music. All kinds – rock, folk, jazz, hip-hop, commercial, indie, whatever – though I'm more likely to see something intimate at an off-the-radar venue than I am to see Coldplay sell a stadium out and bore me to sleep.
New Orleans is filled to the brim with off-the-radar places. A lot of them book the traditional jazz acts the rest of the world associates with The Big Easy, but many host excellent young musicians of all genres eager to put on a good show and build a following
Nowadays, an over-saturation of available musical content provides a nearly infinite array of listening options, making it more important than ever to support bands and artists that are actually, you know, good.
Here's my first impressions on some of the hip places to see indie music in New Orleans, what kind of music and crowd to expect, and some important thoughts on where to stand so you can get the most out of a performance.
Tipitina's 501 Napoleon Ave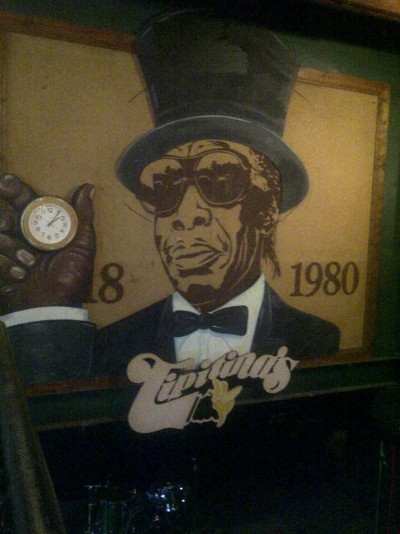 Okay, this is a bit of a cheat because Tipitina's is anything but off the radar. It's likely the most celebrated music venue in the city, and maybe the most famous in the American South. But despite its rich history and a consistent calendar of high-profile acts, Tips' also stays true to its self-proclaimed reputation as a "neighborhood juke joint." Both local veteran and up and coming musicians get the chance to take the stage, especially in the summer time during the Foundation Free Friday Concert Series.
I went to Tipitina's on the last Free Friday of this year's series to see Flow Tribe, the much ballyhooed local brass band that's just starting to expand their fan base beyond Louisiana. It's by no means a small venue, with two floors, multiple bars, and ample space to sit, stand, and socialize, but the place was packed before the opener—"The Mike Dillon Band":https://www.facebook.com/TheMikeDillonBand, a punk/funk/jazz hybrid—ever set foot on the stage. I attribute this to the lack of a cover, to Flow Tribe's escalating popularity, and, of course, to the beginning of a new fall semester, because at least on this night, Tipitina's felt almost exclusively populated by college kids, all there to sing along, dance, and have as debauched a time as their livers could allow.
While a raucous college crowd might not be every concertgoer's cup of tea, at Tip's, all that youth enhances the experience. You will get cheap beer spilled on your shoes, you will see drunken make-out sessions dotting the dance floor (I spotted at least three during the opening act alone), and you will witness all that crowd energy be absorbed, harnessed, and unleashed back into the air by the musicians with a vibrant, reckless abandon that makes the whole experience as surreal as it is entertaining. During The Mike Dillon Band's set, trombonist Carly Meyers danced herself into a brass-infused frenzy, complete with multiple New Orleans themed props and a few well-timed jumps into the crowd. At one point Mike Dillon took a short break from banging away on his vibraphone to actually stand on top of it. I thought he would play the rest of the set with his feet. I have no doubt he could if he wanted to.
Flow Tribe was less unhinged, but just as capable of keeping the party going. Their horn lines are melodic and calculated, their sound nostalgic yet hip, without ever coming off as cheesy, despite each band member's well-coiffed hair and the occasional synchronized dance move. Okay, maybe sometimes it was cheesy, but it was always charming and catchy.
The throngs of die-hards singing along near the front lent an almost boy-band quality to the show, and I mean that as a compliment. Their vibe is simply infectious. So much happens at once that I thought there must be at least a dozen musicians on stage. Only after I escaped the mass of jumping and dancing on the first floor to the upstairs balcony did I see there were only six members of the band. This, I suspect, is typical of all shows at Tipitina's; any band's presence is amplified by the history and inherent NOLA energy of the room, so it can feel like several groups from various eras all playing at once. It's quite the trip.
Near the end of Flow Tribe's set, after doing a fair amount of exploring all night around the venue, I settled against the railing on the stage-left side of the balcony, close to the upstairs bar and the men's room. It was about as good a spot for people-watching as one can find in the entire city. The friend I came to the show with eventually found me smirking to myself as I scanned the dance floor below. "This place is nuts," I said. She smiled and replied, "We all have our drunken Friday nights at Tips." Here's to many more.
Circle Bar 1032 St. Charles Ave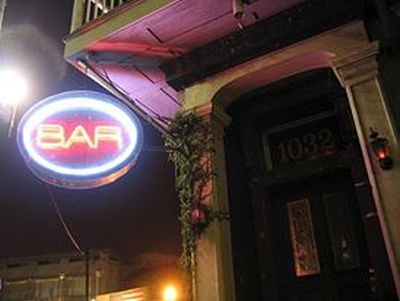 Cheap drinks, nightly live music, and as unique a layout as you'll find in all of New Orleans, Circle Bar is a mainstay for local and touring indie rock/pop/folk bands and it's a prime spot for fun DJ nights. Located in the warehouse district at Lee Circle, right off the St. Charles streetcar line, the venue caters more to an artsy, quirky, and dare I say it, hipster crowd. Those are all loaded terms these days, but it's safe to say you won't often run into the same college contingent you'd likely see further uptown. There's not much else around the area, helping Circle Bar act as an oasis for indie music lovers.
Inside, dim lighting, red brick, and stylish but not overly kitschy decor creates a casual, warm atmosphere. I know it never gets all that cold in New Orleans, but if it ever did, Circle Bar would be my go-to spot for a drink to escape the freeze. There's just something cozy and inviting about the place. The Victorian building feels slightly haunted, but in that safe, theme-park ride way, and the friendly, quick bartenders pour drinks with a smile and seem genuinely excited to help folks enjoy themselves. Out back there's a tiny patio for people to get fresh air, or more likely, get their daily dose of secondhand smoke, but it's so quaint no one seems to mind the haze.
My first night there I saw Portland based synth-heavy dance duo Soft Metals, though the opening band, Kindest Lines, a trio from New Orleans, left more of a lasting impression. Both bands rely heavily on keys and owe a debt to 80's influenced post-rock pop, but Kindest Lines often tossed in some shoegaze and New Wave sounds for good measure. They stayed focused on their instruments, constantly tinkering and adjusting, allowing lead-singer Brittany Terry's crisp vocals to command your attention. It was a subtle performance, music for listeners with an ear for tonal nuance, and despite the close quarters—the audience is basically standing in the aisle between the bar and a small zone segmented off for the band—the sound system never overwhelmed the space.
By the time Soft Metals began, everyone seemed to forget about any lack of personal space and just swayed along. I was tucked against the wall into a little nook between the patio door and a pile of the band's equipment, and though I was a little close to the stage-left speaker, it was worth it to not be right in the center of the crowd as people danced and wriggled past each other to order more drinks. One long-haired guy towards the front was having the time of his life, eyes closed, lost in his own world, dancing up a storm. His zoned out bliss kind of embodied the whole vibe of Circle Bar for me; music lovers having a great time without having to look over their shoulders.
Gasa Gasa 4920 Freret St.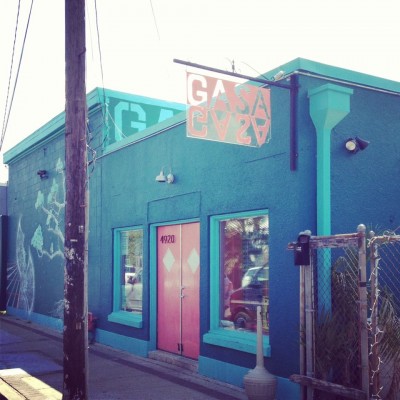 Before I even had the chance to sip my first drink at Gasa Gasa, a stranger offered me cake. I was in the thick of the crowd admiring the venue's bizarre woman-hanging-off-a-steamship sculpture protruding from the far wall of the venue, when a group of people close by offered me a bite of chocolate-bourbon birthday cake. Well, it's not everyday one gets a chance for free dessert, so I accepted, and as I chewed I got the feeling that, at Gasa Gasa, amidst the sculptures, the mermaid art, the multi-colored lights, and the art adorning the orange walls, this was not the first time someone had accepted cake from a stranger before a show.
Such is the friendly, hodgepodge, we're-all-here-to-party-together attitude that Gasa Gasa prides itself on. The crowd out to see Dent May wasn't limited to twenty-somethings or college kids; people of all ages and ethnicities filled the house area, as well as the lounge near the doorway and the sidewalk outside.
It bears repeating; the art on the walls at Gasa Gasa would be worth your time and money if there was no music playing at all. I can't recall another venue with so many detailed pieces integrated so fluidly into a concert-space. There's a somewhat consistent "Age of the Exploration" theme, but there's also eclectic modern touches, like the wood-paneled sound baffle design behind the stage and the spiked projector screen just above the booth for the soundboard operator. Between the art and the cake I hardly noticed when the second opener began their set.
Dead Gaze, a four-piece from Jackson, Mississippi, played their self-described brand of weirdo pop with precision and enthusiasm. When their lead singer broke a string in the middle of the set, he asked the crowd if members of the first band were still around and if he could borrow a guitar. Of course, they obliged. Gasa Gasa is all about sharing and caring.
The audience took this momentary lull in the action as an excuse to whip out their phones and text friends, telling them all to come check out the show (Okay, maybe they weren't all texting that, but I did briefly glance at someone's phone as they finished typing the message "Dude, you should come check it out. It's actually pretty cool here!" Actually pretty cool. Well said, my friend. Gasa Gasa could use that phrase to self-promote!).
By the time Dent May (also from Mississippi) took the stage, the phones were away and everyone was eager to dance. The easiest way to describe Dent May is Brian Wilson, Beach Boy-esque harmonies meet mid 80's yacht rock. It's a weird mix to think about in the abstract, but Dent has such control over every vocal tic and melody that he pulls it off with style. The harmonies and arrangements of his live show were nowhere near as complex as what is exhibited on his new record, but he made up for that with the overall tightness of his touring band.
The crowd ate the whole thing up, and, even if the cake hadn't been involved, the music, combined with the offbeat charm of the venue, really made the experience feel like someone's birthday party—a wholesome, simpler birthday party—like the ones you'd go to in elementary school, except here there was a lot more alcohol, and no children.
Oh, best place to stand here is underneath the ship sculpture where you can place your beer on the counter against the wall and take in all the action from the corner of the room. It's an easy spot to find, trust me.
Hey! Café 4332 Magazine Street
This place is a shotgun-house turned coffee-shop turned makeshift house-show venue. It feels like your buddy's basement, and it pretty much is that, except no one has basements in New Orleans, so it feels like your buddy's shotgun house, which, essentially, it is, because the guys running the place couldn't be more friendly and welcoming. Located near the corner of Magazine and Napoleon, right next to the world's cheapest bar (Ms. Mae's more on them in a second), Hey! Café is truly a hybrid cafe lounge, complete with coffee, tea, food, arcade games, VHS tapes, some records for sale and probably other goodies I didn't even notice.
During the day, Hey! Café strikes me as a fairly mellow coffee shop, populated mostly by artist/student types, but on show nights they clear out the back room with the stairwell so bands can set up their amps and instruments along the wall. The square footage of the room equals the size of a college dorm, and there's not much in terms of decoration except for a chandelier with a green light bulb, some wrinkled pictures taped to the wall and a large rectangular mirror (Side note on mirrors: Circle Bar had a mirror behind the band as they played as well. Of course, this is a well-known way to make a small space appear bigger, but I find it interesting that at the more than one indie venue I've been to, mirrors hang behind the bands, allowing audience members to watch the performance, as well as glance at themselves and others when their interest wanes. Is this some reflection of our shortening attention spans, of youth-culture's growing narcissism? Maybe I'm just reading into the whole thing more than I should).
Dilapidated and dark by design, the stage attempts to feel like an off-the-cuff practice space more than an actual venue, and the acts they book are mostly young, local punk/rock/metal/hardcore bands just looking for a place to put on a show.
I checked out to Hey! Café to see indie rock band Krill, a young Boston three-piece whose self-deprecating lyrics, dark sense of humor, and crunchy guitar work on their first LP, Lucky Leaves, landed them a fair amount of music blog press (I first read about them on Stereogum). A few songs into their set, they had most of the audience bobbing their heads and tapping their feet, though you could tell some dudes were itching to start a mosh pit the first chance they could get.
But Krill wasn't quite heavy enough for that. Lead singer Jonah Furnam consistently transfixed the crowd with his cracked, desperate falsetto; the dirt in his voice matched the grime of the venue. Again, this may not be the prettiest spot to see music in the city, but the intimacy of that cramped room, the sweat, the grit, the youthful energy—it all takes you right back to the grungy punk shows you saw as a teenager, if you were into that kind of thing back in high school.
Once Krill finished I decided to stick around to check out Sun Hotel, a local band from Loyola, but, and this is where things get weird, Hey! Café ran out of beer! That's right, a New Orleans venue ran out of alcohol. If the college-party house show analogy hadn't sunk into my brain yet, it locked into place then. Of course, the place defines itself as more as a coffee house than a bar or venue, so it was an understandable problem. The barista suggested I go next store to Ms. Mae's and come on back, which I was more than happy to do (three dollars for an LA. 31 IPA!).
I spent most of Sun Hotel's set people-watching more than engaging with the music, though they were catchy, more of a pop/rock counterbalance to Krill's grunge. There's really no one spot in the place that allows for a better vantage point than others, though the first few steps of the stairway give you a bit of a height advantage to survey the land. It's more fun to be near the front though, right alongside the crowd as they push and shove to the music with glee.
Hey! Café is no doubt a gritty venue, dim and confined like Circle Bar, but much less polished. It's almost the antithesis to Gasa Gasa's fresh shine, or Tipitina's historical charm—an alternative for folks seeking a different kind of authentic New Orleans experience.
Images courtesy of Tipitina's, Gasa Gasa, Circle Bar and Hey! Café